Museum buys working gun made on 3-D printer
The "Liberator" gun was developed by a University of Texas law student.
LONDON (AP) — Britain's Victoria & Albert Museum says it has bought a working gun made on a 3-D printer, which sparked alarm among anti-firearms campaigners when it was unveiled in the United States.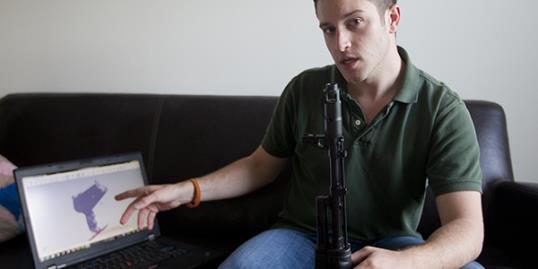 The museum says the gun is an addition to its collection of "new, influential, innovative or experimental" contemporary design.
The "Liberator" gun was developed by University of Texas law student Cody Wilson, and made from plastic components created on a 3-D printer.
Wilson fired the gun in May and posted blueprints online, sparking a debate about potential uses of the machines, which pump out layers of plastics, metal and other materials to create 3-D objects with moving parts.
The museum said Sunday it had acquired two Liberator prototypes, a disassembled gun and a number of archive items.
More from Daily Dose:
Roller coaster to reopen after fatal accident
9/11 museum unveils Survivor Tree seedling program
Wash. firefighters rescue man stuck in chimney
Subscribe to the Daily Dose | Friend us on Facebook, follow us on Twitter and find us on Pinterest.
Photo: Cody Wilson points to his laptop screen displaying an image of a prototype plastic gun, while holding a weapon he calls "Invivdual Mandate," in Austin, Texas.(©Statesman.co​m/AP)
inspire: live a better life
Drowning in debt? Maybe there's a silver lining.

"But it's not real life, you know. It's a vacation."

Our list of must-dos before hitting the road.

Summer traditions can be great, but if you're on year six of packing the same people into the same car to go on the same vacation, it's time to switch things up. Surfing in Portugal, perhaps – or cycling through Northern Ireland. We've put together a list of 15 places well off the beaten path that you should go to when you're ready to try something new.

Grab a sleeping bag and head out to one of these amazing campsites.

A dozen adventures that are well worth the trip.

Paper downplays the significance of practice over raw talent.

Survey says American teens aren't great at complex or basic financial tasks.

Fear of Moving Away: How to conquer the latest cultural anxiety and embrace the unknown.

Adulthood has no eureka moment.

Just like your body, your brain needs a regular workout too.

Being a winner is a good feeling to have — especially in life. Winning doesn't solely relate to competitions or Charlie Sheen's coining of the term back in 2011. From achieving success to maintaining a work-life balance, find out what characteristics mean your life is going the way it should be. You may just even find an inspiration or two that you'll want to incorporate into your daily routine!