Vampire on the loose, Serbs are warned
Garlic sales boom in western Serbia, as locals try to ward off the country's most famous bloodsucker.
Long before Twilight, True Blood, Vampire Diaries and Buffy the Vampire Slayer, the idea of bloodsucking, flesh-eating vampires existed in many early cultures. Although most people consider these mythical fanged creatures folkloric beings, in some regions of the world, vampires are cause for real fear. 
When the local council of Zarozje village in western Serbia issued a public health warning that famous local vampire, Sava Savanovic was on the loose, the announcement induced mass hysteria, reports DailyMail.co.uk.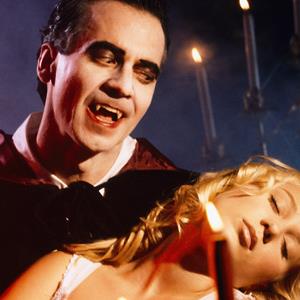 More on MSN Living: 50 things everyone should know about marriage
The news in Serbia came after the collapse of a dilapidated mill, which was believed to have been the home of the storied figure featured in the 1880 story Posle Devedeset Godina (After Ninety Years) by Milovan Glišić.
Locals who cashed in on vampire-curious tourists are having second thoughts cites the British tabloid newspaper, wishing they'd stayed away. But why can't we get enough of these creatures?
"Vampires have always held appeal; the idea of never aging and having immortality, yet at a high price of drinking blood is both romantic and tragic," said Adrienne Monson, debut author of the Blood Inheritance Trilogy to be released in Feb. 2013.
Monson believes that over the past decade, vampire books and movies have had huge success for a combination of reasons. The top one being that the vampire characters have turned from villains to heroes.
"They've become the character who must face dramatic choices and live with the consequences," she said.
More on MSN Living: The top 10 traits women want in a man
Whether you believe in these bloodsucking beasts or not, people are scared in Serbia. In the DailyMail.co.uk article, local mayor Miodrag Vujetic was quoted, "People are worried, everybody knows the legend of this vampire and the thought that he is now homeless and looking for somewhere else and possibly other victims is terrifying people. We are all frightened."
Read the full story at DailyMail.co.uk.
Photo: Purestock/Alamy
Bing: Vampire legends from around the world
More from MSN Living:
25 things she finds sexiest about you
8 words that give away a liar
The trends men love ... and the ones they hate
inspire: live a better life
Great gear for an afternoon spent shoreside.

Use these bucket-list ideas to enjoy the little time you have left.

Study points to benefits of improved living conditions.

Don't leave home without these must-have items.

Handshakes spread 20 times more germs, study says.

Drowning in debt? Maybe there's a silver lining.

"But it's not real life, you know. It's a vacation."

Our list of must-dos before hitting the road.

Vacations are relaxing, yet sometimes stressful.

Summer traditions can be great, but if you're on year six of packing the same people into the same car to go on the same vacation, it's time to switch things up. Surfing in Portugal, perhaps – or cycling through Northern Ireland. We've put together a list of 15 places well off the beaten path that you should go to when you're ready to try something new.

Grab a sleeping bag and head out to one of these amazing campsites.

A dozen adventures that are well worth the trip.