Vampire on the loose, Serbs are warned
Garlic sales boom in western Serbia, as locals try to ward off the country's most famous bloodsucker.
Long before Twilight, True Blood, Vampire Diaries and Buffy the Vampire Slayer, the idea of bloodsucking, flesh-eating vampires existed in many early cultures. Although most people consider these mythical fanged creatures folkloric beings, in some regions of the world, vampires are cause for real fear. 
When the local council of Zarozje village in western Serbia issued a public health warning that famous local vampire, Sava Savanovic was on the loose, the announcement induced mass hysteria, reports DailyMail.co.uk.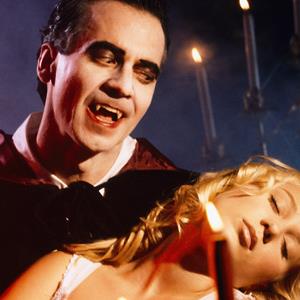 More on MSN Living: 50 things everyone should know about marriage
The news in Serbia came after the collapse of a dilapidated mill, which was believed to have been the home of the storied figure featured in the 1880 story Posle Devedeset Godina (After Ninety Years) by Milovan Glišić.
Locals who cashed in on vampire-curious tourists are having second thoughts cites the British tabloid newspaper, wishing they'd stayed away. But why can't we get enough of these creatures?
"Vampires have always held appeal; the idea of never aging and having immortality, yet at a high price of drinking blood is both romantic and tragic," said Adrienne Monson, debut author of the Blood Inheritance Trilogy to be released in Feb. 2013.
Monson believes that over the past decade, vampire books and movies have had huge success for a combination of reasons. The top one being that the vampire characters have turned from villains to heroes.
"They've become the character who must face dramatic choices and live with the consequences," she said.
More on MSN Living: The top 10 traits women want in a man
Whether you believe in these bloodsucking beasts or not, people are scared in Serbia. In the DailyMail.co.uk article, local mayor Miodrag Vujetic was quoted, "People are worried, everybody knows the legend of this vampire and the thought that he is now homeless and looking for somewhere else and possibly other victims is terrifying people. We are all frightened."
Read the full story at DailyMail.co.uk.
Photo: Purestock/Alamy
Bing: Vampire legends from around the world
More from MSN Living:
25 things she finds sexiest about you
8 words that give away a liar
The trends men love ... and the ones they hate
inspire: live a better life
Become a master of your own fate and maximize your happiness with a few easy tweaks.

Sure, you realize that your daily lattes aren't exactly necessities. But once you discover what they, and other regular purchases, add up to, you'll realize it's time to think twice about shelling out. Trim the fat from your budget with these expert tips for saving big.

When you stumble upon an unflattering photo of yourself, you can make excuses for it, or you can change your ways.

For those who would rather pay it forward, proceeds from this gift guide go to deserving charities — and these presents happen to be pretty fabulous as well. Plus, shop more gifts for stylish women.

Miss Manners considers when to celebrate milestones

Miss Manners provides guidance on meeting others

No, money doesn't grow on Christmas trees, but you can green up your holiday with readers' savviest money-saving tips.

A look back on all of the tiny tasks that 30 years of technology has saved you from.

What sets you apart from everyone else looking for a new job or bigger paycheck? Your profile!

With all those deals you snagged on Black Friday, Small Business Saturday, and Cyber Monday, today is your chance to give back to those in need with #GivingTuesday.

Miss Manners provides guidance on how to handle a request for party contributions

Miss Manners instructs on why tit-for-tat never works