Vampire on the loose, Serbs are warned
Garlic sales boom in western Serbia, as locals try to ward off the country's most famous bloodsucker.
Long before Twilight, True Blood, Vampire Diaries and Buffy the Vampire Slayer, the idea of bloodsucking, flesh-eating vampires existed in many early cultures. Although most people consider these mythical fanged creatures folkloric beings, in some regions of the world, vampires are cause for real fear. 
When the local council of Zarozje village in western Serbia issued a public health warning that famous local vampire, Sava Savanovic was on the loose, the announcement induced mass hysteria, reports DailyMail.co.uk.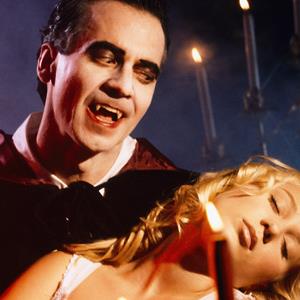 More on MSN Living: 50 things everyone should know about marriage
The news in Serbia came after the collapse of a dilapidated mill, which was believed to have been the home of the storied figure featured in the 1880 story Posle Devedeset Godina (After Ninety Years) by Milovan Glišić.
Locals who cashed in on vampire-curious tourists are having second thoughts cites the British tabloid newspaper, wishing they'd stayed away. But why can't we get enough of these creatures?
"Vampires have always held appeal; the idea of never aging and having immortality, yet at a high price of drinking blood is both romantic and tragic," said Adrienne Monson, debut author of the Blood Inheritance Trilogy to be released in Feb. 2013.
Monson believes that over the past decade, vampire books and movies have had huge success for a combination of reasons. The top one being that the vampire characters have turned from villains to heroes.
"They've become the character who must face dramatic choices and live with the consequences," she said.
More on MSN Living: The top 10 traits women want in a man
Whether you believe in these bloodsucking beasts or not, people are scared in Serbia. In the DailyMail.co.uk article, local mayor Miodrag Vujetic was quoted, "People are worried, everybody knows the legend of this vampire and the thought that he is now homeless and looking for somewhere else and possibly other victims is terrifying people. We are all frightened."
Read the full story at DailyMail.co.uk.
Photo: Purestock/Alamy
Bing: Vampire legends from around the world
More from MSN Living:
25 things she finds sexiest about you
8 words that give away a liar
The trends men love ... and the ones they hate
inspire: live a better life
Summer and winter tend to hog all the glory when it comes to travel high seasons. Sure, you want to soak up all the time at the beach you can during the summer, and you just want to escape the cold during the last months of the year.

Who just wants to stand around and watch the red and gold leaves slowly fall from their tree branches to the ground as we move from summer to fall? Instead, take in the changing seasons while you're on the move.

In September, I'll turn 38. I'm at the age now where, when people ask how old I am, it takes me a minute to remember. I don't know if that's because I've already been 37 different ages and it's hard to keep straight which one I am now, or if it's because I'm in denial, or if it's because I am going senile. Maybe a combination of all of the above. Regardless, my 30s have flown by and soon they will be but a memory. So, in an effort to preserve the memory I have left (or at least keep a record of it), and to celebrate what has been an amazing decade so far, here are 30 things that have happened to me in my 30s (and will probably happen to you too):

Traveling doesn't have to be stressful. And what you can fit in your carry-on can make all the difference (and not just a fresh pair of socks), especially when you get that low battery signal.

Volunteering (and these other rituals) might be just as good as exercise when it comes to extending your life.

Use these tricks to set a better tone for the rest of the week.

Whether it involves a food fight, mermaids or a torch-lit procession, people the world over know how to have a good time. Here are some of the biggest, boldest, booziest celebrations around, along with some tips to get the full experience.

Research could mean more effective treatment for human disorders.

An entry a day might keep the doctor away (or at least the shrink).

One woman's shout-outs to daily moments of joy — and how to cultivate them.

Our best health and fitness tips including the one move that tones all, berry news, and more.