War vet arrested and disarmed while hiking
A vocal veteran is in a legal battle to recover his guns and his reputation.
While on a hike with his son along a country road in Texas, a U.S. Army veteran was disarmed by police, who confiscated the AR-15 assault rifle and .45 caliber pistol the man had in his possession.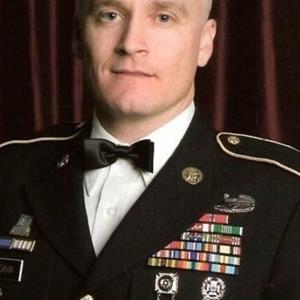 Master Sgt. C.J. Grisham had the proper permit to carry his loaded assault rifle and a conceal permit for the .45 at his side. But Temple Police say that Grisham initially refused the officer's request to surrender his weapons — justifying the officer's call for backup, cuffing of Grisham and confiscation of his weapons.The March 16 incident was reported by KCEN TV in Temple, Texas.
Grisham, meanwhile, maintains he had complied with the officer's request from the start. He instructed his teenage son to capture video of the event, which FOX News has posted. In the footage, an agitated and handcuffed Grisham can be heard arguing with two police officers about the arresting officer's actions and the legal guidelines for disarming citizens.
More from MSN Living: 50 Facebook dos and don'ts
"Just 'cause a guy's got a firearm, he's dangerous?," Grisham demands.
"Yes, sir," responds an officer.
Grisham is a Bronze Star veteran of the Iraq War and has twice been a guest at the White House — once invited by President George W. Bush and once by President Obama — for roundtable discussions on military outreach. But he is no stranger to controversy, and has made a lot noise before when authorities would rather he stick on a silencer on it.
Bing: Which state has the toughest gun laws?
He is the blogger formerly behind A Soldier's Perspective, a popular military blog on which Grisham alternately praised and criticized the military, the government and so-called "Repugnicans" and "Dumbocrats" alike. His frank opinions strained the limits of what the military allows its people to say on certain topics. Grisham's loud criticisms of President Obama helped earn him an investigation by the inspector general, and he was ordered to close down the blog, ArmyTimes reported in 2009.
More from MSN Living: High school proms: Then and now
"The facts are clear," Grisham wrote to his mailing list about shutting down his blog. "The army does NOT want honest bloggers. They want sheep."
In his blog posts, Grisham emphasized the irony of limiting the free speech of a soldier who has fought to protect that very freedom.
Grisham is now in a legal battle to recover his weapons and prove his innocence. A charge of resisting arrest in the March 16 incident was reduced earlier this month to interfering with a public offical. But if found guilty, Grisham could still face a $2,000 fine and up to six months in prison — and, potentially, the loss of his military career.
More from Daily Dose:
'Frog whisperer' helps de-croak neighborhoods
Conspiracy theories Americans believe today
Law would force employees to give up Facebook passwords
Love content like this? Friend us on Facebook, follow us on Twitter and find us on Pinterest.
Photo: Master Sgt. C.J. Grisham via Facebook
inspire: live a better life
Study points to benefits of improved living conditions.

Don't leave home without these must-have items.

Handshakes spread 20 times more germs, study says.

Drowning in debt? Maybe there's a silver lining.

"But it's not real life, you know. It's a vacation."

Our list of must-dos before hitting the road.

Summer traditions can be great, but if you're on year six of packing the same people into the same car to go on the same vacation, it's time to switch things up. Surfing in Portugal, perhaps – or cycling through Northern Ireland. We've put together a list of 15 places well off the beaten path that you should go to when you're ready to try something new.

Grab a sleeping bag and head out to one of these amazing campsites.

A dozen adventures that are well worth the trip.

Paper downplays the significance of practice over raw talent.

Survey says American teens aren't great at complex or basic financial tasks.

Fear of Moving Away: How to conquer the latest cultural anxiety and embrace the unknown.