Girl Scout, 99, recalls traditions, values of 100-year-old group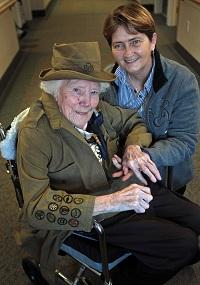 by Sachi Fujimori, The Record (Hackensack N.J.)
McClatchy-Tribune News Service
Once Libbie Lindsay first put on her Girl Scout uniform in 1925, she never wanted to take it off.
The oldest living Girl Scout in northern New Jersey, Lindsay, 99, of Lyndhurst, still keeps the khaki knee-length jacket and matching ranger hat in pristine condition.
Her mom was homebound with a weak heart, and her father, the town's sewage superintendent, didn't want his daughter out without adult supervision.
Being a Scout was her ticket to a wider world. She could hike nine miles with her troop from Lyndhurst to Garret Mountain Reservation. She landed her first of many jobs with the Scouts as a camp bugler. "You could be strong, and didn't have to depend on anybody," said Lindsay, who was a record-setting track star in high school and competed at the 1936 Olympic Trials in discus.
The Girl Scouts, who marked their 100th anniversary this year, are still an integral part in the lives of North Jersey girls: One in five girls participate, double the national average.
For Lindsay, who also turns 100 this year, it's a celebration of the 87 years she's been Scouting, the best friends she made and the thousands of girls she influenced as a troop leader.
"On my honor, I will do my best for my country. I never drank, never swore," said Lindsay, as her long, wrinkled fingers gripped a small jewelry box with the collection of Scouting pins she's earned.
In the century since the first group of 18 girls met in Savannah, Ga., the organization's core values and purpose have remained unchanged. Founder Juliette Gordon Low believed that girls should gain life experience in the outdoors and in their communities and have opportunities to lead.
The first Scouts learned how to set a table for four and tie up a robber with an 8-inch cord. Today, in addition to traditional badges such as cooking and baby-sitting, girls can earn badges in website design, entrepreneurial skills and water conservation.
Shanell Pommells, 12, is a member of a troop that meets in the basement of Paterson's Second Baptist Church. Like Lindsay, she became a Scout to try new experiences. Her favorite memories include volunteering in the food pantry at the Father English community center, planting roses and attending camp - which is like Shangri-La for Girl Scouts.
"You learn how to be independent, work well with others, and later on in life it will be with you," Pommells said.
That flexible and pragmatic attitude can be traced to the origins of Girl Scouting.
"Even at the beginning they were quite open, and what I think is most important, they were willing to have a national organization but allow it to have a local flavor," said Susan Miller, a historian at the Rutgers Center for Children and Childhood Studies. Girl Scout troops quickly sprang up in ethnic communities, serving Jewish girls in Philadelphia, and later African-Americans, Mexican-Americans and Native Americans. In 1956, the Rev. Martin Luther King Jr. praised mixed-race Girl Scout troops as a "force for desegregation."
From the beginning, Low, the founder, set a strong precedent that girls could do anything that boys can do. She had her girls chopping wood, building fires and erecting tents out of ponchos. The early leaders of the Boy Scouts, founded in 1910, disapproved of their counterpart's unfeminine activities and threatened to sue the organization in the 1920s for trademark violation, including use of the word Scout in the name, according to Miller.
"They very much objected to thinking about Scouting in general as something girls could do," Miller said. Robert Baden-Powell, founder of the worldwide boys Scouting movement, envisioned his Scouts as active, adventurous and possessing the survival skills of a soldier.
Those traits were the exact ones Low wanted for her Girl Scouts. She never backed down, and the Boy Scouts eventually dropped their complaints.
"She wanted to claim this vigorous idea of Scouting for her girls," said Miller.
inspire: live a better life
Three out of four of you say the most anxiety-inducing part of your job is your boss. Sound familiar?

The holidays are upon us, so whether you're heading to your hometown, getting away for New Year's, or just taking a few days off to relax with friends and family, it's almost time to set your OOO (out-of-office) message.

Become a master of your own fate and maximize your happiness with a few easy tweaks.

Sure, you realize that your daily lattes aren't exactly necessities. But once you discover what they, and other regular purchases, add up to, you'll realize it's time to think twice about shelling out. Trim the fat from your budget with these expert tips for saving big.

When you stumble upon an unflattering photo of yourself, you can make excuses for it, or you can change your ways.

For those who would rather pay it forward, proceeds from this gift guide go to deserving charities — and these presents happen to be pretty fabulous as well. Plus, shop more gifts for stylish women.