Girl Scout, 99, recalls traditions, values of 100-year-old group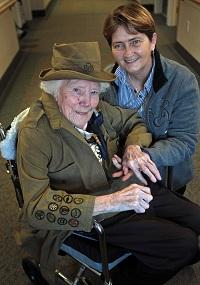 by Sachi Fujimori, The Record (Hackensack N.J.)
McClatchy-Tribune News Service
Once Libbie Lindsay first put on her Girl Scout uniform in 1925, she never wanted to take it off.
The oldest living Girl Scout in northern New Jersey, Lindsay, 99, of Lyndhurst, still keeps the khaki knee-length jacket and matching ranger hat in pristine condition.
Her mom was homebound with a weak heart, and her father, the town's sewage superintendent, didn't want his daughter out without adult supervision.
Being a Scout was her ticket to a wider world. She could hike nine miles with her troop from Lyndhurst to Garret Mountain Reservation. She landed her first of many jobs with the Scouts as a camp bugler. "You could be strong, and didn't have to depend on anybody," said Lindsay, who was a record-setting track star in high school and competed at the 1936 Olympic Trials in discus.
The Girl Scouts, who marked their 100th anniversary this year, are still an integral part in the lives of North Jersey girls: One in five girls participate, double the national average.
For Lindsay, who also turns 100 this year, it's a celebration of the 87 years she's been Scouting, the best friends she made and the thousands of girls she influenced as a troop leader.
"On my honor, I will do my best for my country. I never drank, never swore," said Lindsay, as her long, wrinkled fingers gripped a small jewelry box with the collection of Scouting pins she's earned.
In the century since the first group of 18 girls met in Savannah, Ga., the organization's core values and purpose have remained unchanged. Founder Juliette Gordon Low believed that girls should gain life experience in the outdoors and in their communities and have opportunities to lead.
The first Scouts learned how to set a table for four and tie up a robber with an 8-inch cord. Today, in addition to traditional badges such as cooking and baby-sitting, girls can earn badges in website design, entrepreneurial skills and water conservation.
Shanell Pommells, 12, is a member of a troop that meets in the basement of Paterson's Second Baptist Church. Like Lindsay, she became a Scout to try new experiences. Her favorite memories include volunteering in the food pantry at the Father English community center, planting roses and attending camp - which is like Shangri-La for Girl Scouts.
"You learn how to be independent, work well with others, and later on in life it will be with you," Pommells said.
That flexible and pragmatic attitude can be traced to the origins of Girl Scouting.
"Even at the beginning they were quite open, and what I think is most important, they were willing to have a national organization but allow it to have a local flavor," said Susan Miller, a historian at the Rutgers Center for Children and Childhood Studies. Girl Scout troops quickly sprang up in ethnic communities, serving Jewish girls in Philadelphia, and later African-Americans, Mexican-Americans and Native Americans. In 1956, the Rev. Martin Luther King Jr. praised mixed-race Girl Scout troops as a "force for desegregation."
From the beginning, Low, the founder, set a strong precedent that girls could do anything that boys can do. She had her girls chopping wood, building fires and erecting tents out of ponchos. The early leaders of the Boy Scouts, founded in 1910, disapproved of their counterpart's unfeminine activities and threatened to sue the organization in the 1920s for trademark violation, including use of the word Scout in the name, according to Miller.
"They very much objected to thinking about Scouting in general as something girls could do," Miller said. Robert Baden-Powell, founder of the worldwide boys Scouting movement, envisioned his Scouts as active, adventurous and possessing the survival skills of a soldier.
Those traits were the exact ones Low wanted for her Girl Scouts. She never backed down, and the Boy Scouts eventually dropped their complaints.
"She wanted to claim this vigorous idea of Scouting for her girls," said Miller.
inspire: live a better life
When you think of Las Vegas, noisy casinos, clubs, smoking, crowds and loud music all come to mind. In the past few years, an increasing number of non-casino hotels have opened, catering to business travelers or leisure travelers seeking a peaceful retreat. According to the NY Times, tourists are coming to Las Vegas, but the amount they're spending on gambling is down. From the Mandarin Oriental to the Vdara Hotel & Space, many of these luxury hotels are smaller than their non-casino counterparts, which offers a more personalized experience. Visitors to these quiet, high-end hotels tend to spend their time in Las Vegas going to shops, eating at upscale restaurants, shopping and relaxing by the pool. Most of the quiet hotels are located on or near the strip, giving visitors easy access to activities but also an escape from the strip's sensory overload. I've rounded up a list of the top 5 non-casino hotels.

Happify shares their results of a recent study on how money affects our happiness.

A top exec reveals the company's secret code

Pro tips from the guy who's done it four times

Not all mistakes are as blatant as posting party pics when you're 'sick' at home.

Everyone struggles through weekday drudgery to reach their weekend fun. But what if you could reclaim every day of your life?

Ranked from the least to the most involved, here are the services, strategies, and products that can throw the data trackers off your trail.

Here are the 10 worst cities to have a morning commute, and a few tips for getting around the gridlock.

Zooming up the ladder is great, but questioning yourself 24/7 is no way to succeed. Manage your stressed self with these surefire tips.

Forget trying to control every little detail. Life is lots more fun (and less stressful) when you let go from the get-go.

Some compulsions come from urban legends -- that never shutting down your computer, for example, means never forcing it to make the processor-straining effort to turn itself back on. Others are fully unconscious, such as papering your PC desktop with saved files and wondering why it's suddenly stuttering or crashing, or charging your phone whenever you're near an outlet, and later complaining about your plummeting battery capacity. Here are some of the most common maladaptive tech habits, and the easiest ways to break them.

So, what exactly is this thing we call "happiness" and how do we get it?