Merriam-Webster Dictionary's top 10 words for 2012
Thanks to the election, 'capitalism' and 'socialism' tie for the No. 1 spot.
Since 2003, the Merriam-Webster Dictionary has been choosing the top ten words of the year. Today, editor-at-large Peter Sokolowski announced the top 10 most looked-up words of 2012, reports the Associated Press.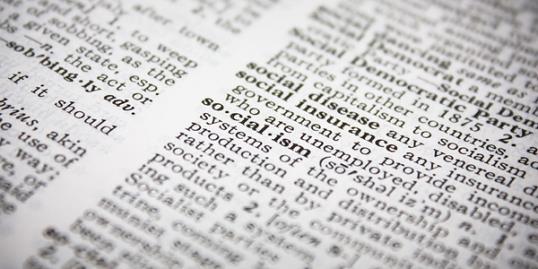 More on MSN Living: Best sweater for your body type
Thanks to a year of politically-fueled interests – an election, health care debate and fight for same-sex marriage – discussion intensified over "American capitalism" versus "European socialism," Sokolowski was quoted.
More on MSN Living: 10 habits that keep marriages strong
This is the first time Merriam-Webster has awarded two words of the year. Last year's word of the year was 'austerity;' before that, it was 'pragmatic.'
Take a look at Merriam-Webster's top 10 words for 2012:
1. socialism and capitalism
2. touché
3. bigot
4. marriage
5. democracy
6. professionalism
7. globalization
8. malarkey
9. schadenfreude
10. meme
Bing: How to talk politics with friends
Photo: picturelibrary/Alamy​
More from MSN Living:
Worst cringe-worthy style and beauty fashions of 2012
The best beauty and style looks of the year
Marriage counselors: The trickiest issues we've ever solved
inspire: live a better life
March 14 is Pi Day, a sacred celebration in which radius and circumference lovers rejoice over circular snacks and decimal-reciting contests.

Test your intellect with these unusual facts and find out how much you know about the luck of the Irish.

From international roaming fees to skipping travel insurance, these mistakes can put a damper on your next vacation.

Where in the world do you want to go? Somewhere unique? Any of the places described here are sure to make your next world-travel adventure truly memorable.

It's easy to lead, but it takes courage and conviction to be a truly great leader. Here are 10 inspiring leaders and what we can learn from them.

Some say it's a small world. We beg to differ. Earth has so many wondrous places worth exploring, and most of us are lucky to see a handful of them. Here are 30 of the top trips of a lifetime.

The semi-annual glitch in your daily routine is back this weekend.

You'll stave off credit card debt by the end of the year if you account for these often-forgotten expenses.

Mark Zuckerberg has an even bigger effect on your life than you thought.

Take this advice to finally tackle that nagging to-do list.

The iconic storyteller would have been 110-years-old

Take the time to appreciate women's contributions to society. Here are some of the women who inspire us by their example.