Merriam-Webster Dictionary's top 10 words for 2012
Thanks to the election, 'capitalism' and 'socialism' tie for the No. 1 spot.
Since 2003, the Merriam-Webster Dictionary has been choosing the top ten words of the year. Today, editor-at-large Peter Sokolowski announced the top 10 most looked-up words of 2012, reports the Associated Press.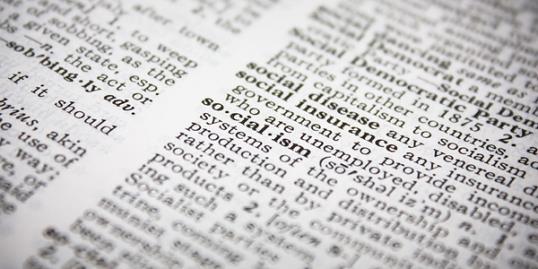 More on MSN Living: Best sweater for your body type
Thanks to a year of politically-fueled interests – an election, health care debate and fight for same-sex marriage – discussion intensified over "American capitalism" versus "European socialism," Sokolowski was quoted.
More on MSN Living: 10 habits that keep marriages strong
This is the first time Merriam-Webster has awarded two words of the year. Last year's word of the year was 'austerity;' before that, it was 'pragmatic.'
Take a look at Merriam-Webster's top 10 words for 2012:
1. socialism and capitalism
2. touché
3. bigot
4. marriage
5. democracy
6. professionalism
7. globalization
8. malarkey
9. schadenfreude
10. meme
Bing: How to talk politics with friends
Photo: picturelibrary/Alamy​
More from MSN Living:
Worst cringe-worthy style and beauty fashions of 2012
The best beauty and style looks of the year
Marriage counselors: The trickiest issues we've ever solved
inspire: live a better life
A look back on all of the tiny tasks that 30 years of technology has saved you from.

What sets you apart from everyone else looking for a new job or bigger paycheck? Your profile!

With all those deals you snagged on Black Friday, Small Business Saturday, and Cyber Monday, today is your chance to give back to those in need with #GivingTuesday.

Miss Manners provides guidance on how to handle a request for party contributions

Miss Manners instructs on why tit-for-tat never works

Miss Manners offers thoughts on guests who disregard dinner party instructions

Make big bucks, from home, having fun? These women got creative and figured out a way to have it all. You can too.

Your boss. You might like her, you probably respect her, but do you know how to approach someone who seems so different from you? (Spoiler: She's actually not.)

Over the weekend, Oprah decluttered her Montecito mansion and three other properties in a Santa Barbara yard sale that brought in more than $600,000(!). (Proceeds will benefit her girls' leadership academy in South Africa, and not half of a Crate and Barrel chair, the traditional end goal of yard-sale proceeds.)

Exclusively for MSN, we bring you a six-part series from the new book: MISS MANNERS MINDS YOUR BUSINESS by Judith and Nicholas Ivor Martin.

Miss Manners weighs in on the financial burdens of remote weddings