Merriam-Webster Dictionary's top 10 words for 2012
Thanks to the election, 'capitalism' and 'socialism' tie for the No. 1 spot.
Since 2003, the Merriam-Webster Dictionary has been choosing the top ten words of the year. Today, editor-at-large Peter Sokolowski announced the top 10 most looked-up words of 2012, reports the Associated Press.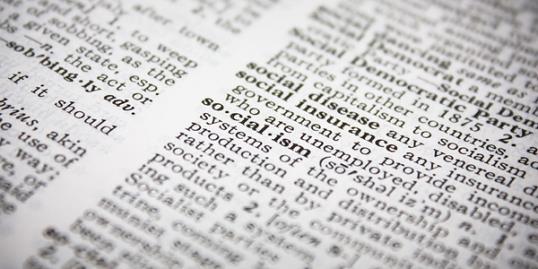 More on MSN Living: Best sweater for your body type
Thanks to a year of politically-fueled interests – an election, health care debate and fight for same-sex marriage – discussion intensified over "American capitalism" versus "European socialism," Sokolowski was quoted.
More on MSN Living: 10 habits that keep marriages strong
This is the first time Merriam-Webster has awarded two words of the year. Last year's word of the year was 'austerity;' before that, it was 'pragmatic.'
Take a look at Merriam-Webster's top 10 words for 2012:
1. socialism and capitalism
2. touché
3. bigot
4. marriage
5. democracy
6. professionalism
7. globalization
8. malarkey
9. schadenfreude
10. meme
Bing: How to talk politics with friends
Photo: picturelibrary/Alamy​
More from MSN Living:
Worst cringe-worthy style and beauty fashions of 2012
The best beauty and style looks of the year
Marriage counselors: The trickiest issues we've ever solved
inspire: live a better life
Miss Manners advises on how to respond when one gets unsolicited advice about weight issues.

Editor's note: We will now be publishing Miss Manners articles twice weekly, but you will only see one question and answer per article. You can expect to see these articles appear on Tuesdays and Thursdays going forward.

President Harry S. Truman was behind efforts to establish the first Armed Forces Day in 1950, and decades later the nation continues to set aside the third Saturday in May to recognize and thank members of the U.S. military for their patriotic service. With these five homecoming images, we salute all service members at home and abroad.

There's much to be desired about working from home: the stress-free commute, flexible hours, and improved work-life balance.

Wishing for the fountain of youth? You may not need it. We've rounded up real-women secrets, tried-and-true beauty tips, and the latest research to help you fight aging.

Experts weigh in on when to bite your tongue at the office.

Oh, the places you'll go — to get some "me" time, that is. REDBOOK readers confess all on Facebook.

How much money you make isn't nearly as important as how you use it, according to Elizabeth Dunn and Michael Norton, authors of the new book Happy Money.

Plus, how do you ask people to not bring gifts to a shower?

Looking for a career upgrade? Follow these tips for a foot in the door.

These tanning and skin cancer myths aren't just wrong — they can do serious harm. Wise up and head into a healthier future. P.S. You'll look a lot younger too.

It's possible to rejigger your brain circuitry and feel more joy, even on Monday mornings. Here's how.