10 facts about guns in America
Firearm ownership and violence in the U.S.
Right now, more than ever, gun control is a hot topic. The powerful gun lobby is once again at odds with reputable polls that indicate Americans believe in limits on gun use, reports The New York Times.
As both sides argue over the meaning of the Second Amendment to the U.S. Constitution: "A well regulated Militia, being necessary to the security of a free State, the right of the people to keep and bear Arms, shall not be infringed," let's take a look at some of the facts surrounding gun ownership and violence in the U.S.
Violence in the U.S.
Kieran Healy, a sociologist at Duke University, made this graph of "deaths due to assault" in the United States and other developed countries.
As Healy writes, "The most striking features of the data are (1) how much more violent the U.S. is than other Organization for Economic Co-operation and Development (OECD) countries (except possibly Estonia and Mexico, not shown here), and (2) the degree of change—and recently, decline—there has been in the U.S. time series considered by itself."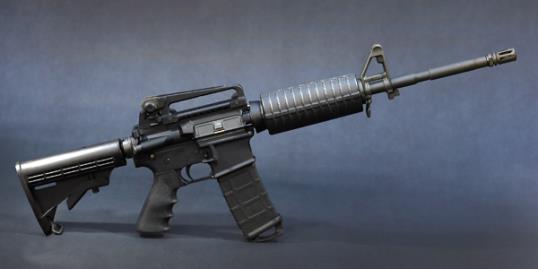 Gun ownership in U.S.
Gallup's October 2011 report finds that 47 percent of Americans reported that they have a gun in their home or elsewhere on their property. This is up from 41 percent a year ago and is the highest Gallup has recorded since 1993.
A separate survey (General Social Survey) by NORC at the University of Chicago indicates that the percentage of gun-owning households has fallen since 2004 to 32 percent in 2010. The survey indicates at least 1.8 firearms per household, or at least 70 million in households nationwide.
Meanwhile, a 2004 study done by the Harvard School of Public Health, estimates 260 to 300 million guns in civilian hands in the U.S.
Private-party gun sales
Perhaps 40 percent of all gun sales nationwide – roughly 6.6 million transactions in 2008 – are made by private parties, reports The New England Journal of Medicine. Moreover, private parties can sell handguns to anyone 18 years of age or older; licensed retailers cannot sell handguns to anyone under 21 years of age.
Gunshot wounds
More than 200 people go to U.S. emergency rooms every day with gunshot wounds, Garen Wintemute, director of the Violence Prevention Research Program at the University of California, Davis.
Guns in the home
Living in a home where there are guns increases the risk of homicide by 40 to 170 percent and the risk of suicide by 90 to 460 percent.
More on MSN Living: A global view on American gun violence
Decrease in murder rate
Daniel Webster, director of the Johns Hopkins University Center for Gun Policy and Research in Baltimore. Homicides may be up this year, though the murder rate from 2006 to 2011 fell 19 percent, to 4.7 for every 100,000 people
Guns will out-kill car fatalities by 2015
Guns and cars have long been among the leading causes of non-medical deaths in the U.S. By 2015, firearm fatalities will probably exceed traffic fatalities for the first time, based on data compiled by Bloomberg. Shooting deaths in 2015 will probably rise to almost 33,000, and those related to autos will decline to about 32,000, based on the 10-year average trend, reports Bloomberg.
15 of the 25 worst mass shootings in the last 50 years took place in the United States.
Time has the full list here. In second place is Finland, with two entries.
More on MSN Living: Newtown to the media: 'Enough is enough'
Of the 11 deadliest shootings in the US, five have happened from 2007 onward.
That doesn't include Friday's shooting in Sandy Hook, Connecticut. The AP put the early reported death toll at 27, which would make it the second-deadliest mass shooting in US history.
In 2011, there were 94 murders in Connecticut due to firearms.
For a state-by-state breakdown of crime, check out the Federal Bureau of Investigation's 'Uniform Crime Reports.'
Bing: Who owns the most guns in America?
Photo: Joe Raedle/Getty Images/Getty Images
More from MSN Living:
Mom of mentally ill son asks for help
Whether - and what - to tell your kids about this tragedy
How to help your kids feel safe
inspire: live a better life
Editor's note: We will now be publishing Miss Manners articles twice weekly, but you will only see one question and answer per article. You can expect to see these articles appear on Tuesdays and Thursdays going forward.

President Harry S. Truman was behind efforts to establish the first Armed Forces Day in 1950, and decades later the nation continues to set aside the third Saturday in May to recognize and thank members of the U.S. military for their patriotic service. With these five homecoming images, we salute all service members at home and abroad.

There's much to be desired about working from home: the stress-free commute, flexible hours, and improved work-life balance.

Wishing for the fountain of youth? You may not need it. We've rounded up real-women secrets, tried-and-true beauty tips, and the latest research to help you fight aging.

Experts weigh in on when to bite your tongue at the office.

Oh, the places you'll go — to get some "me" time, that is. REDBOOK readers confess all on Facebook.

How much money you make isn't nearly as important as how you use it, according to Elizabeth Dunn and Michael Norton, authors of the new book Happy Money.

Plus, how do you ask people to not bring gifts to a shower?

Looking for a career upgrade? Follow these tips for a foot in the door.

These tanning and skin cancer myths aren't just wrong — they can do serious harm. Wise up and head into a healthier future. P.S. You'll look a lot younger too.

It's possible to rejigger your brain circuitry and feel more joy, even on Monday mornings. Here's how.

Inner peace just got easier. You don't need quiet, incense or hours to meditate, and you can scrap the chanting. Better: Ninety-five percent of you say you're calmer after a single 10-minute session. Whatever your excuse (see ours), get your om on and reap the rewards.