'Texting Zones' on highways aim to curb distracted driving
Pull-off areas for texters and callers who just can't wait.
In the latest effort to curb distracted driving in New York, Gov. Andrew Cuomo announced yesterday that dozens of pull-off areas along state roadways will be designated as "Texting Zones." 
Highway and thruway signs reading TEXT STOP and IT CAN WAIT: TEXT STOP 5 MILES will provide a cue to clueless drivers who fail to recognize, or fail to care about, the dangers of operating a smartphone while driving.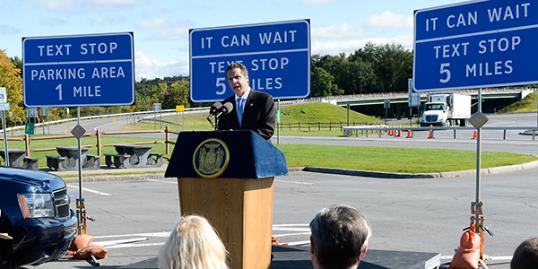 Reducing the number of accidents and fatalities due to distracted driving has been a mission of Gov. Cuomo's. An enforcement crackdown in New York state over the summer yielded a 365 percent increase in tickets issued to motorists for distracted driving (from 5,208 tickets in the summer of 2012 to 21,580 tickets in the summer of 2013). Violators caught using a hand-held cell phone are subject to the same penalties now applicable for speeding and reckless driving, including a 60-day license suspension for first convictions.
Bing: Texting and driving

According to the CDC, 3,331 people were killed in 2011 in crashes involving a distracted driver. In 2010, distracted driving played a role in nearly one of every five crashes in which someone was injured.

The immediacy of portable technology today has given way to the perception that users must respond to every demand for their attention. But that demand is at odds with our hopelessly human need for a little time to get from one meatspace to the next. At significant risk to life and limb, users will take their eyes off the road to tell a friend they're running five minutes late, or to look at a snapshot, or to answer urgent questions like, "What r u wearing 2nite"? The content of the messages themselves is irrelevant and seldom, if ever, worth the risk of responding. But respond they do.

Technology itself may ultimately prove a greater help in curbing distracted-driving habits. Apps are available now that send auto-reply messages saying the driver is currently unavailable; cut off texting capabilities when the device is moving faster than 10 miles per hour (passengers can request an override); disallow incoming messages and calls during drive times; or read texts and emails aloud in real time, allowing a driver to keep an eye on the road and both hands on the wheel.
More from Daily Dose:
Man's epic obituary goes viral
US death toll from mass shootings has doubled since Columbine
Thief returns bike after written plea
Subscribe to the Daily Dose | Friend us on Facebook, follow us on Twitter and find us on Pinterest.
Photo: New York ​Gov. Andrew Cuomo speaks at a news conference at a highway rest stop (New York Governor's Office/AP)
inspire: live a better life
Summer traditions can be great, but if you're on year six of packing the same people into the same car to go on the same vacation, it's time to switch things up. Surfing in Portugal, perhaps – or cycling through Northern Ireland. We've put together a list of 15 places well off the beaten path that you should go to when you're ready to try something new.

Grab a sleeping bag and head out to one of these amazing campsites.

A dozen adventures that are well worth the trip.

Paper downplays the significance of practice over raw talent.

Survey says American teens aren't great at complex or basic financial tasks.

Fear of Moving Away: How to conquer the latest cultural anxiety and embrace the unknown.

Adulthood has no eureka moment.

Just like your body, your brain needs a regular workout too.

Being a winner is a good feeling to have — especially in life. Winning doesn't solely relate to competitions or Charlie Sheen's coining of the term back in 2011. From achieving success to maintaining a work-life balance, find out what characteristics mean your life is going the way it should be. You may just even find an inspiration or two that you'll want to incorporate into your daily routine!

Sometimes it seems like you need a vacation from your vacation.

That'll get you and your 2 kids a house, SUV, and more, per a 'USA Today' analysis.

While most of us associate the Fourth of July with fireworks and barbecue (and taking a long weekend off from work), it's also an important day to give thanks to the people who help keep us safe.