The Quickest Way to Clean Your Couch
A clean couch in just two steps.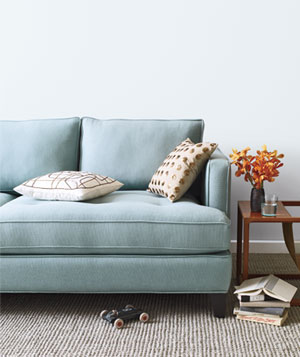 Spring is here—let the cleaning commence! When it comes to cleaning the couch, these two products are going to be your new best friends: the dry cleaning sponge and the lint roller.
To get your clean your sofa in no time flat, first remove the cushions and put them on a clean sheet on the floor. Go over them with the dry cleaning sponge, which will remove dirt and oils that you can't see. Then follow up with the lint roller to get any surface dirt that might be left behind.
Finish up by going over any trouble spots on the rest of the couch and running a vacuum over the base, and you're done!
Related:
50 All-Time Favorite New Uses for Old Things
10 Unexpected Natural Cleaners
Ace hardware carries them where I live, but I am sure you can find them cheaper online. They are a super dense cellular foam, and are great for cleaning upholstery as well as getting soot off of walls from fireplace or from burning candles without smearing into your paint. You use them without water. Good luck hope this helped a little.



Are you sure you want to delete this comment?