Surprising New Use for Old Bleach Bottles
More hidden tricks to get your house sparkling in record time.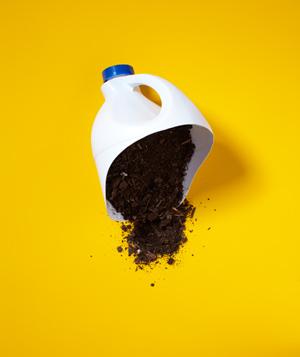 Bleach Bottle as Cat Litter Scoop
Cut diagonally across the middle of an empty, clean bottle, toss the base, and use the half with the handle to scoop up soil or cat litter.
More New Uses: pets, laundry, recyclable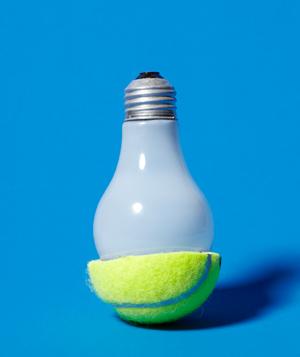 Tennis Ball as Light Bulb Remover
Remove a hot bulb that's just burned out, using the other half of the ball.
Related:

New Uses for Things in the Bathroom
Cooking New Uses for Old Things

Photo: Courtesy of Real Simple.
A potato cut in half will remove a broken light bulb. Need a pot scrubber! Try a piece of alumimun foil. Squeaky door! Try rubbing it with a bar of soap or use petroleum jelly on the runners. I use my potholders to take out hot light bulbs. Clear sudsy ammonia will clean windows and mirrors, but so will baby shampoo and baby shampoo is recommended for glazed windows. Also let us not forget the many uses for corn starch,. Other than puddings and gravies, it makes a great dusting powder and it great to help soak up spills in carpets. The idea is that the liquid will soak into the corn starch and then you can spoon the corn starch up with the liquid. Then you can vaccumm later as this allows the corn starch to soak up more while refreshing the carpet. Activate Charcoal is not just for the fish bowl. It can be used in your vehicle, bathroom and in the refrigerator. Not the same ones at the same time, but you can reuse this after washing. You can also place it over a clean white cotton dish towel that is sitting over a container. Pour water through this and have clean water to drink.

Is it just me or are there only two suggestions in this article?  Not very creative either.  A child could figure out the bleach bottle scooper without any help.  "Benjoh" has some better ones though.  The only thing good about this article will come with great suggestions from posters, not the author.  Sorry to sound a little cynical.  Peace!

Are you sure you want to delete this comment?