Use Croquet Wickets as Hose Guides in Your Garden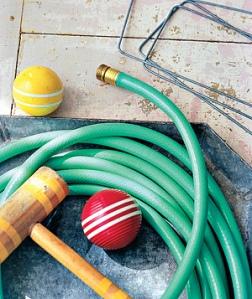 After being coiled up all winter, stretching a rubber hose across your lawn might take a Herculean effort. And once you do manage to get it unwound, and aimed at the flower beds, you'll need a way to keep it there.
Instead of buying a set (or four) of hose guides, dig around in the back of your garage for your old croquet set. The wickets (those metal arches you hit the balls though) make the perfect hose stakes. Until you host your next croquet tournament, that is.
Do you have a new use for something in your garden?
Photo: Courtesy of Real Simple.
Related:
How to Deal with Nuisance Neighbors
How Do You Snap Out of a Bad Mood?