Use 3rd Grade Science to Unclog Your Drain
Rather than pouring a veritable cocktail of chemicals down your drain, use a couple of kitchen (or science experiment) supplies and a pot of boiling water to get things flowing smoothly again.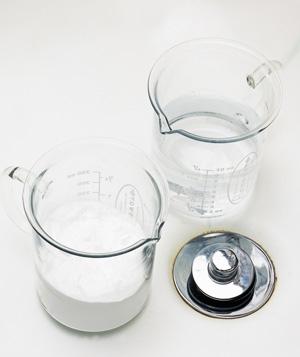 Here are the step-by-step instructions:
1. Pour 1/2 cup of baking soda followed by 1/2 cup of vinegar down the clogged drain. 
2. Cover the drain with a wet cloth for 5 minutes.
3. Remove the cloth and flush the drain with steaming-hot water.
Related:
66 All-Natural Cleaning Solutions