Dog survives 13 days on snowy mountain
Rescue team saves stranded pup.
A 2-year-old Bernese mountain dog named Ohly got spooked and ran off during a snow trek on a part of British Columbia's Mount Seymour nearly two weeks ago.
Ohly's family and friends tried to search for him, but with the dog in a ravine that's so steep it's known as "Suicide Gully," the North Shore Rescue team stepped in so that the searchers weren't putting themselves in danger.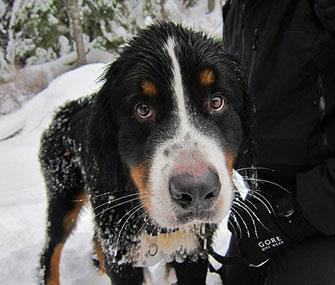 The team found Ohly, but the scared dog kept running away. On Saturday, with the help of a helicopter, the team was finally able to recover to Ohly, and reunited him with his relieved family.
More from Off the Leash: Miley Cyrus' dog dies
He was dehydrated, but otherwise O.K. after his 13-day adventure. The Goad family took to Facebook to thank the team, other volunteers and those whose donations covered the $9,000 cost of the rescue, calling Ohly's return the "best Christmas present ever."
— Read it at the Huffington Post Canada 
More from Off the Leash: World's largest elephant range found
Photo: Flickr // Ohly was rescued Saturday by the North Shore Rescue team.
Bing: Dogs in the news.
More from Vetstreet:
Do All Dogs Need Sweaters or Coats?
5 Once-Popular Dog Breeds Sadly Losing Popularity
Puppy Saves Boy From Speeding Truck
10 Dog and Cat Breeds With Magical Origins
10 Best Holiday Awkward Family Pet Photos
Are you sure you want to delete this comment?
News, stories, tips and laughs for moms & dads
A thrill-obsessed subculture claimed another life this week.

A few suggested answers for the diciest questions

Must-haves for every mommy on the road

Here's our list of fifteen moms in the food industry that deserve some recognition.

The site gets high marks for its user-friendly interface and excellent and responsive customer service. And the reviews are also pretty accurate. Compare amenities and prices next to a hotel's in the same area, and you're likely to see Airbnb come out on top.

We captured a frame-by-frame look just for you.

Other moms can be ruthless when it comes to picking apart your parenting choices. From dissing your decision to go back to work to criticizing when you started baby on solids, here are the most ridiculous comments moms have heard. Bonus, we've got just the right way to respond to the haters! You're welcome.

Nope, you don't have to spend the next nine months in black elastic-waist pants and oversize sweaters. And you don't have to shell out a fortune on your "temporary" wardrobe either. Check out these stylish and affordable maternity clothes.

Because society crumbles without us

Another kid figured out how to get into a claw machine.

As a new mom, you've recently discovered there are many things you can live without—sleep and modesty being chief among them. But what can't you live without? Seasoned moms share their Top 10 list for how to survive the early months of motherhood.

Here are our experts' best tips for how to be a positive role model for your kids so that they grow up healthy, strong and confident about the way they look.