Dog survives 13 days on snowy mountain
Rescue team saves stranded pup.
A 2-year-old Bernese mountain dog named Ohly got spooked and ran off during a snow trek on a part of British Columbia's Mount Seymour nearly two weeks ago.
Ohly's family and friends tried to search for him, but with the dog in a ravine that's so steep it's known as "Suicide Gully," the North Shore Rescue team stepped in so that the searchers weren't putting themselves in danger.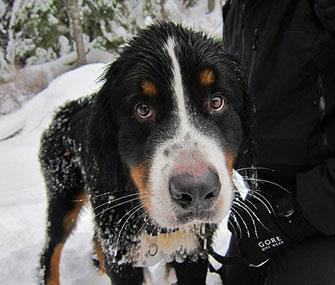 The team found Ohly, but the scared dog kept running away. On Saturday, with the help of a helicopter, the team was finally able to recover to Ohly, and reunited him with his relieved family.
More from Off the Leash: Miley Cyrus' dog dies
He was dehydrated, but otherwise O.K. after his 13-day adventure. The Goad family took to Facebook to thank the team, other volunteers and those whose donations covered the $9,000 cost of the rescue, calling Ohly's return the "best Christmas present ever."
— Read it at the Huffington Post Canada 
More from Off the Leash: World's largest elephant range found
Photo: Flickr // Ohly was rescued Saturday by the North Shore Rescue team.
Bing: Dogs in the news.
More from Vetstreet:
Do All Dogs Need Sweaters or Coats?
5 Once-Popular Dog Breeds Sadly Losing Popularity
Puppy Saves Boy From Speeding Truck
10 Dog and Cat Breeds With Magical Origins
10 Best Holiday Awkward Family Pet Photos
Are you sure you want to delete this comment?
News, stories, tips and laughs for moms & dads
Transform the fall vegetable into cool decor pieces.

Put together these creative, but simple, Halloween looks for your youngsters.

We know you're documenting just about every move baby makes. (Do you even have any memory left on your phone? We didn't think so.) These tips from professional photographers can help you perfect your pics.

These six on-trend ideas will make baby's room your new favorite place to hang out.

Baby probably won't remember his first birthday party, but that doesn't mean you can't go all out (after all, parents need to celebrate making it through this first year, right?). These fun, colorful themes take planning to the next level.

See what celebrities who had problems conceiving have to say.

You'll be hearing a lot of advice and opinions. Some of it will be really helpful and some will be just plain wrong. Here are the most common things people say about babies that aren't true.

A new dad finds an Epcot Center's worth of innovation after expecting none at all.

The dog days of summer may be well behind us, but that doesn't mean it's time to pack in the outdoor adventures quite yet.

Protect yourself and your family with these ingenious gizmos and smartphone apps.

Make sure your go-to gadgets are as cute as your style, with these trendy tech finds!

Oh, how the times have changed...