What can schools sell instead of candy? Trash bags
Principal says school makes $20K a year selling garbage bags.
NEW YORK (AP) — When Beth Hendrickson first proposed selling garbage bags instead of candy as a school fundraiser, "People laughed at us."
They don't laugh anymore. Hendrickson, principal of St. Ann Interparochial School in Morganfield, Ky., says the school makes $20,000 a year selling garbage bags. And it's not just parents of the school's 230 students who buy them. Local businesses and government offices in Morganfield — population 3,500 — buy garbage bags from the school as well.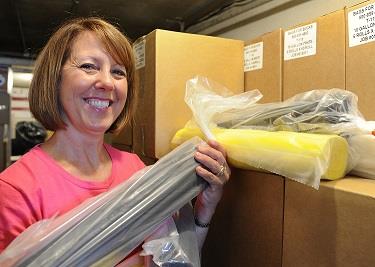 "Nobody needs candy," Hendrickson says. "But trash bags — that's something everybody needs."
MSN Living: 15 things moms overshare on Facebook
The trash bag sale, done through Bags for Bucks, is just one alternative to the candy and gift-wrap sales that so many communities hold when school fundraising efforts resume each fall. Some PTAs are going high-tech, using online platforms to solicit and process donations, selling digital images of kids' artwork on coffee mugs or magnets, and hosting scavenger hunts where clues are collected with cellphone photos. A few school groups have stopped selling products altogether, instead encouraging parents to simply write checks.
Bing: Richest schools in America
Bed sheets and Greenraising 
But others, like Hendrickson, are experimenting with sales of unusual products. The garbage bags were such a hit that when a company called Amadora approached Hendrickson about selling bed sheets, she gave it a try. The first year, the school sold about $16,000 worth of sheets to fund new classroom technology. Last year, sheet sales dropped to $9,000 — after all, how many sheets do families at one small school need? — but the company introduced new prints this year, so Hendrickson's giving it another go.
MSN Living: Funny tweets from parents
Not all schools have found success with alternative products, however. Potter Road Elementary School in Framingham, Mass., tried selling organic goodies and items made from recycled materials through a company called Greenraising. Nancy Novo O'Connor, co-president of the parent-teacher organization, said Greenraising was a great vendor to work with, but the organic products "did not raise nearly as much money" as the traditional sale of chocolates and wrapping paper, so they went back to a previous vendor.
Direct donations
Some schools have done away with catalog sales altogether, instead asking parents to make direct donations. Alison Oleson, former president of the Sleepy Hollow PTA in Falls Church, Va., said with both parents working in so many families, people just don't have time "to go out and get their kids to sell things. And schools can't get the volunteers to sit there and sort the wrapping paper and candy when it comes in."
Another reason to drop catalog sales is that schools keep only a portion of what they sell — 42 percent on average, according to the Association of Fund-Raising Distributors and Suppliers. A letter to Sleepy Hollow parents explaining the switch noted that "the exciting part of this fundraising program is that 100 percent of your donation goes to support PTA programs (not 50 percent, as before) and it is tax deductible!"
But there's one line of products Oleson hopes schools keep selling: mugs, T-shirts, bags and trivets bearing images of kids' artwork. "I like that because it has sentimental value," Oleson said. "They do it right before Mother's Day, and the kids can feel proud of it."
Online platforms 
Some parent organizations now accept donations online. But that involves third-party sites that charge fees to process the money, which raises the question: If supporters can click on a link in an email to donate by credit card, will more people give because it's easier than writing a check? Or will the fees hurt the bottom line?
Michael Nilsen, spokesman for the Association of Fundraising Professionals, says there's no clear answer, but the best approach is probably "a mix," such as a letter physically sent home with an option to mail back, followed by an email reminder with an online payment option. He added that because online sites charge different fees for various services, the right one depends on the group's needs.
For example, PayPal takes a 2.2 percentage fee for donations to registered charities, plus a 30-cent transaction fee, so if a parent donates $100, the PTA gets $97.50. Razoo.com charges 4.9 percent, so the PTA only gets $95.10 from $100, but Razoo also provides easily customized websites, social media integration, video thank-yous and email confirmations for tax-deductible donations. Melissa Panszi-Riebe, former PTA president of Burroughs Community School in Minneapolis, said Razoo helped the school raise $90,000 by making it easy for the 800 kids to send out invitations and thank-yous for read-a-thon pledges.
"People knew that a percentage was being taken out and asked why should we do online giving if we can give a straight check?" Panszi-Riebe recalled. "We said you can still give a check if you're more comfortable doing it." But because there were out-of-state givers like grandparents, she thinks more people donated online than would have if they'd had to "write a check, find a stamp and mail it."
Events
Many schools host tried-and-true fundraising events throughout the year, such as bake sales and raffles any time there's a crowd in school. Other events are more labor intensive: Carnivals require volunteers to run games and activities. Auctions need committees to solicit donations, track bids and arrange delivery and payment.
In San Francisco, the Alvarado Elementary School's annual scavenger hunt has a high-tech spin: Teams get lists of clues, then use cellphones to photograph answers as they scour their neighborhoods. Teams pay to participate, but most money raised comes from corporate sponsors making donations in exchange for having their names attached to the event.
Beth Sperber has organized a variety of fundraisers for the three Manhattan public schools her son has attended — everything from sales of donated used books and CDs, to bake sales and talent shows, to sales of bags, hoodies, T-shirts and other apparel bearing the school name. She's also hosted jewelry sales in her home where designers come in person to offer unique items, priced from $20 to $200, then give the school 35 percent or more of their sales.
Judy Antell of Brooklyn, N.Y., has hosted three or four "house parties" for the high school her three daughters attended. Since parents of teens spend very little time at kids' schools, the parties were conceived partly as a way for parents to socialize. Tickets were $25 to $50, with parties hosted in neighborhoods around the city on different nights.
Lorraine Esposito helps organize an annual "Night of Rock" event to fund a teen center in Scarsdale, N.Y. A number of parents there work in the entertainment industry and put on a first-class show at a local bar with a stage. Esposito says it's important to find a theme that's a good fit, whether it's a 4H-style fair in a rural area or a ski night in a mountain town.
And as with most fundraisers, Esposito said, the money raised is only part of it: "It's really about building community."
More from The Family Room:
Scuba-diving Afghan vet surprises family
Fans cross off Talia Joy Castellano's bucket list wishes
Parents want pregnancy book banned from high school library
Subscribe to The Family Room | Friend us on Facebook, follow us on Twitter and find us on Pinterest.
Photo: Beth Hendrickson, principal of St. Ann Interparochial School, showing some of the trash bags being sold to raise money for the school in Morganfield, Ky. (AP Photo/The Gleaner, Mike Lawrence)
News, stories, tips and laughs for moms & dads
Transform the fall vegetable into cool decor pieces.

Put together these creative, but simple, Halloween looks for your youngsters.

We know you're documenting just about every move baby makes. (Do you even have any memory left on your phone? We didn't think so.) These tips from professional photographers can help you perfect your pics.

These six on-trend ideas will make baby's room your new favorite place to hang out.

Baby probably won't remember his first birthday party, but that doesn't mean you can't go all out (after all, parents need to celebrate making it through this first year, right?). These fun, colorful themes take planning to the next level.

See what celebrities who had problems conceiving have to say.

You'll be hearing a lot of advice and opinions. Some of it will be really helpful and some will be just plain wrong. Here are the most common things people say about babies that aren't true.

A new dad finds an Epcot Center's worth of innovation after expecting none at all.

The dog days of summer may be well behind us, but that doesn't mean it's time to pack in the outdoor adventures quite yet.

Protect yourself and your family with these ingenious gizmos and smartphone apps.

Make sure your go-to gadgets are as cute as your style, with these trendy tech finds!

Oh, how the times have changed...