Parents use drug-sniffing dogs to monitor kids
Some parents are going above and beyond, hiring drug-sniffing dogs to check out their kids' bedrooms and other parts of the house.
How far would you go to keep your kids drug-free?
Some parents are hiring drug-sniffing dogs to make house calls, reports KSAT.com.
In Texas, trained narcotic detecting dog Roxy and her handler, Kristin Mauer, make house calls as part of a service called Confido Searches for parents who suspect their kids are using drugs.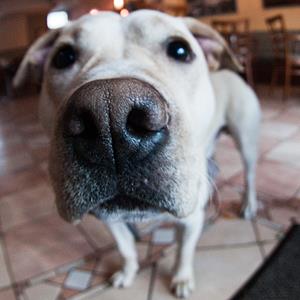 More from MSN Living: Think outside the lunch box
When Peggy Dwyer noticed behavioral differences in her 15-year-old son, she hired Confido Searches to examine her home. After abusing alcohol, her son moved onto pot. So when he completed a stint in residential treatment, Dwyer wanted to make sure nothing was stashed that could cause her son to lapse back into old habits, she told
KSAT.com
.
When Mauer's drug-sniffing sidekick discovers drugs, she directs parents to search the entire area. "I kind of give them an idea of what they need to do next," she was quoted. For legal reasons, she never comes in direct contact with any drugs.
Roxy has found drugs in the strangest of places – stashed behind air conditioning vents and taped to walls in the attic.
But using a drug-sniffing dog can make matters worse, child psychologist and TODAY contributor Jeffrey Gardere told TODAY.
"Looking for the drugs with a dog, I think, is an overkill," Gardere told TODAY. "What it comes down to is having a relationship, and I don't know if you can do that if you're bringing in drug-sniffing dogs."
More from MSN Living: 10 secret mom confessions
Drug-sniffing dogs may help detect drugs on the home front, but what about the prevalence of drugs in schools?
Illicit drug use among teenagers has continued at high rates, largely due to the popularity of marijuana reports National Institute on Drug Abuse. Eighty-six percent of American high school students report that some of their classmates use alcohol, tobacco, or other drugs during the school day, cites a 2012 survey by the National Center on Addiction and Substance Abuse at Columbia University (CASAColumbia) in New York.
Drug-sniffing dogs may not be the perfect solution, but for some parents, it may help confirm or deny suspicions without accusing the child of something.
"It's a tool that the parents can use to help get their child the help that they need," Mauer was quoted. 
Would you ever hire a drug-sniffing dog to search your own home?
Bing: Facts about teens and drug use
More from Family Room:
Teen mom denied right to breast feed
Toddler death raises concern over car seat rules
Violent video games and child aggression
Love content like this? Friend us on Facebook, follow us on Twitter and find us on Pinterest.
Readers: Calling all mom bloggers – we're looking for fresh voices on MSN Living. Email us your samples and contact info!
Photo: Roman Sulovsky/Getty Images
News, stories, tips and laughs for moms & dads
Find out which classroom supplies and dorm-room buys you don't need to spend a fortune on

4 steps for raising a child who doesn't feel emotionally stranded.

Any of these sound familiar?

Fire challenge involves pouring alcohol on one's chest and lighting it

A coincidence after the furlough?

Helpful tips for easing first day jitters.

Getting ready for fall has never been more fun.

Great reads for the back-to-school mindset.

Remember the concept of weekends being a time for rest, relaxation, and togetherness? No? Us either. Between soccer games, playdates, dragging your kids to see the new exhibition at the local children's museum, and we need to pick up a gift for that birthday party that starts in . . . 20 minutes, juggling a busy family's weekend schedule can be more stressful than a weekday. While we know it's simply not realistic to cancel all your plans and obligations moving forward, clearing the calendar for just one weekend can be just the refresher that your family's craving. Here's why.

You just had a baby? You're a superstar! All those diapers, all that spit up, and you're makin' magic happen. But you're also likely tired - really tired - and busy (so, so busy). Taking time for yourself might seem like an indulgence but a happy mom makes for a happy baby. Here are 7 things you should definitely do to keep your sanity intact and your spirit high. <more, below>

Summertime is on, and the kids are out of school. Every mom knows that for these three months it's more important than ever to keep the kids busy. But you don't have to schedule your life away with camps, or drop a bundle on activities and games that come in a box. You can make your own fun, and even include the kids in the prep, with some simple, inexpensive DIY crafts that will keep them playing 'til the lightening bugs come out. Make your own fingerpaint, bubbles, and crayons. Create a fort-building kit and superhero capes that will kick their imaginations into overdrive. Here are 10 of our favorite kid-friendly DIY crafts to fuel your summertime fun.