Poll: We become our parents by 32
Plus, a few signs that you've turned into mom or dad.
We all have that awkward moment when we realize we've become our parents. According to a new poll, most of us experience that moment at 32.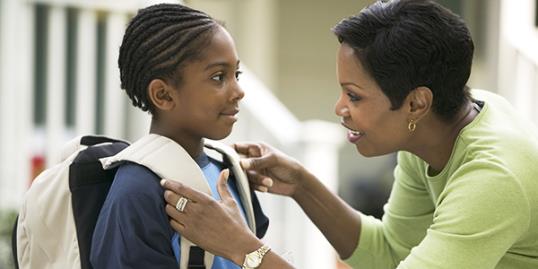 MSN  Living: Funny tweets from parents
U.K. parenting site Netmums surveyed more than 1,000 moms and dads and found that the majority of them identified 32 as the age that they turned into their own parents. Homeownership and having children were cited as factors leading to the transformation.
Bing: Best celebrity parents
Have you ever told your kids, "Because I said so," and cringed a little? Women in the poll said hearing themselves say this phrase made them realize they had turned into their mother. For men, a telltale sign they had become their father was dancing poorly at family functions.
MSN Living: Avoid what-not-to-say moments with new parents
Below are a few more signs that you've become your parents, according to the poll. Have another sign? Tell us in the comments.
Thinking 6 a.m. is a time for getting up, not getting in.
Finding yourself saying, "Turn that racket down" or, "You're not going out dressed like that."
Leaving Facebook because you're jealous of your childless friends' posts.
Buying coasters.
Listening to AM radio.
More from The Family Room: 
Cute kid love story: Women and shoes edition
Spanking in public: Another great parenting debate
Kate applauded for not hiding new-mommy tummy
Subscribe to The Family Room | Friend us on Facebook, follow us on Twitter and find us on Pinterest.
News, stories, tips and laughs for moms & dads
Adopting an animal is a major commitment. Yet all too often people put more effort into researching what kind of car to get than the type of pet that would best fit their lifestyle.

'Tis the season to send out holiday greeting cards to all your friends and family. But, as our friends at Awkward Family Pet Photos know, not all holiday snapshots are the same. Some are just plain kooky — especially when pets are included. So with good tidings and great cheer, here are 10 wacky holiday animal portraits that are sure to make you laugh out loud and get you in the holiday spirit. And possibly make you think twice about dressing up the family cat this year.

King of the jungle? Nah, it's just a labradoodle!

Side-by-side images of adorable babies and their celebrity doppelgängers

Do you have a finicky furry friend on your holiday gift list this year? You're in luck! We've rounded up the coolest cat-approved products to bring you purrfect gift ideas for every kind of cat -- from the curious kitten to the most refined feline. Any one of these special gifts could make your resident kitty purr with pleasure and maybe, just maybe, like the present this year even more than the box and wrapping paper it came in!

Plus, puppy names to watch

This holiday season's hottest toy has yet to be revealed, but more often than not, the best gifts are the ones kids don't even know to ask for. So this year, surprise your kids with unique presents under the tree, and watch as their eyes light up when they unwrap them. From space-age sand to a DIY race track, these out-of-the-box gift ideas will provide some serious shopping inspiration. Click through the slideshow above for all our favorite picks.

Yep, you're older than you think

Avoid these gaffes for a better relationship with your stepchildren—and your spouse.

The top 25 best holiday movies for kids and their families, from old school classics like Miracle on 34th Street and It's a Wonderful Life, to newer classics like Elf and The Nightmare Before Christmas.

Since the dawn of time, we men have been preprogrammed with two biological imperatives: Number one: to bravely kill bathtub spiders; and number two: to reproduce. (Actually, I really should have ordered those in reverse.) So what happens when we find out we're infertile?

New mamas weigh in on all the things they wish someone had warned them about before baby arrived.