Incredible story of brotherly love
Brother with special needs gets sweet treatment
9-year-old Conner Long wanted 7-year-old brother Cayden, who has hypertonic cerebal palsy, to be able to play sports. So Conner decided they should compete in triathalons together, despite the fact that Cayden can't walk on his own. With the help of race organizers and a triathalon coach, Conner and his parents figured out a way to make it happen.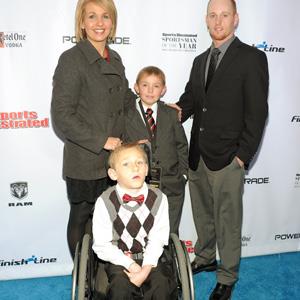 Together, the brothers have competed in 14 races up and down the East Coast.  Conner pulls his brother in a raft for the swim portion and a trailer for the biking, and then pushes the trailer during the run.
Plus: How to Talk to Kids About a Special Needs Sibling
For this amazing accomplishment, the brothers have won Sports Illustrated Kids' Sports Kids of the Year Award. Read Conner and Cayden's story, then prepare to turn into a puddle when you watch this video.
Photo: Michael Loccisano/Getty Images
News, stories, tips and laughs for moms & dads
What are we teaching our children when we focus on their achievements rather than their kindness?

Discover the seemingly insignificant things that can affect your chances of getting pregnant.

A thrill-obsessed subculture claimed another life this week.

A few suggested answers for the diciest questions

Must-haves for every mommy on the road

Here's our list of fifteen moms in the food industry that deserve some recognition.

The site gets high marks for its user-friendly interface and excellent and responsive customer service. And the reviews are also pretty accurate. Compare amenities and prices next to a hotel's in the same area, and you're likely to see Airbnb come out on top.

We captured a frame-by-frame look just for you.

Other moms can be ruthless when it comes to picking apart your parenting choices. From dissing your decision to go back to work to criticizing when you started baby on solids, here are the most ridiculous comments moms have heard. Bonus, we've got just the right way to respond to the haters! You're welcome.

Nope, you don't have to spend the next nine months in black elastic-waist pants and oversize sweaters. And you don't have to shell out a fortune on your "temporary" wardrobe either. Check out these stylish and affordable maternity clothes.

Because society crumbles without us

Another kid figured out how to get into a claw machine.