Incredible story of brotherly love
Brother with special needs gets sweet treatment
9-year-old Conner Long wanted 7-year-old brother Cayden, who has hypertonic cerebal palsy, to be able to play sports. So Conner decided they should compete in triathalons together, despite the fact that Cayden can't walk on his own. With the help of race organizers and a triathalon coach, Conner and his parents figured out a way to make it happen.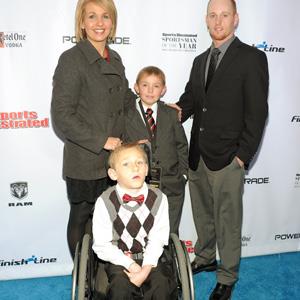 Together, the brothers have competed in 14 races up and down the East Coast.  Conner pulls his brother in a raft for the swim portion and a trailer for the biking, and then pushes the trailer during the run.
Plus: How to Talk to Kids About a Special Needs Sibling
For this amazing accomplishment, the brothers have won Sports Illustrated Kids' Sports Kids of the Year Award. Read Conner and Cayden's story, then prepare to turn into a puddle when you watch this video.
Photo: Michael Loccisano/Getty Images
News, stories, tips and laughs for moms & dads
A new dad finds an Epcot Center's worth of innovation after expecting none at all.

The dog days of summer may be well behind us, but that doesn't mean it's time to pack in the outdoor adventures quite yet.

Protect yourself and your family with these ingenious gizmos and smartphone apps.

Make sure your go-to gadgets are as cute as your style, with these trendy tech finds!

Oh, how the times have changed...

Get ready to hit the mall! Check out the hottest back-to-school trends—and get ready to make a major style statement this year.

Unique, or downright strange?

This is Kevin Droniak and his grandma. They're besties, they're awesome and they're YouTube stars.

It can be difficult to entice little ones to eat anything at all, let alone to devour a healthy plate. But feeding your kids nutritious snacks after school just got way easier, thanks to these adorably clever and cute snack ideas! For more smart and fun ways to get your kids to enjoy healthful and delicious foods, try one of these amazingly artsy lunch ideas.

Through a tonsillectomy all the way to brain surgery, my mother deserves some recognition. She's my spine, my birthday shadow, my BFF, my thunder buddy, so Mommy, thank you.

My son needs me, as much as yours needs you. Sadly, my son needs me more. He needs someone to have his back, when it seems that the police, the men he'd wave to with excitement as a little boy, see him as a being worthy only of prison or death.

If you know someone who has adopted and have made some of these comments, don't fret... now you know!