Incredible story of brotherly love
Brother with special needs gets sweet treatment
9-year-old Conner Long wanted 7-year-old brother Cayden, who has hypertonic cerebal palsy, to be able to play sports. So Conner decided they should compete in triathalons together, despite the fact that Cayden can't walk on his own. With the help of race organizers and a triathalon coach, Conner and his parents figured out a way to make it happen.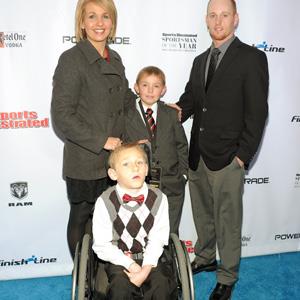 Together, the brothers have competed in 14 races up and down the East Coast.  Conner pulls his brother in a raft for the swim portion and a trailer for the biking, and then pushes the trailer during the run.
Plus: How to Talk to Kids About a Special Needs Sibling
For this amazing accomplishment, the brothers have won Sports Illustrated Kids' Sports Kids of the Year Award. Read Conner and Cayden's story, then prepare to turn into a puddle when you watch this video.
Photo: Michael Loccisano/Getty Images
News, stories, tips and laughs for moms & dads
This kid despises poetry and he's not afraid to let you know.

I used to be one of those moms who thought, 'who on earth would bring their child to an event like that?' and then I had a son. Here's why you might become a convert, too.

Take a look at your house for these telltale signs that a cat is running the show.

Check out this list of requirements you should meet before getting a new puppy or adult dog.

Virtually everything you need to know about relationships, you learned in nursery school: Treat people as you want to be treated, clean up after yourself, and don't be a know-it-all.

Here are our experts' best tips for how to be a positive role model for your kids so that they grow up healthy, strong and confident about the way they look.

Much like their famous owners, these pooches live a fabulous life. Some are rescues, others purebred, but one thing is certain – these dogs play an important part in their famous parents' lives. Can you guess who owns each of these dogs?

We captured a frame-by-frame look just for you.

Two controversial science projects resembled weapons, school officials said.

Make the most of the summer with these family-oriented activities!

Pets are part of many children's lives. Learn how to help them foster strong, healthy relationships.