'Fifty Shades' ordered off shelves
Brazilian judge says bookstores need to keep the racy novel under lock and key
If you've read 
Fifty Shades of Grey
or have lived anywhere but under a rock this past year, you're well aware of the erotic novel's racy sex scenes. But did you know that recently, a Brazilian judge has ordered bookstores to ensure that the trilogy remains out of the hands of minors?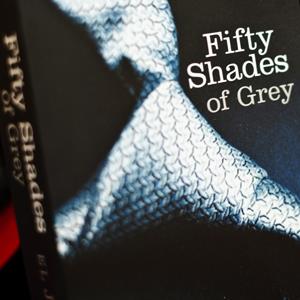 According to a statement by the Rio de Janeiro State Judiciary Department, on January 14, the order was handed down by Judge Raphael Queiroz Campos after he saw kids having a big ole team leafing through the series in one of city's bookstores.
Bing: More weird news about 50 Shades
Eleven copies of the "Grey" series were among 64 books taken from the shelves of two bookstores because their content was deemed improper for those under the age of 18.
Shortly following the removal of the books, they were returned to shelves, but sealed and out of reach of minors.
More from MSN: Would you dress your baby in a 50 Shades onesie?
E.L James' works were the most-sold books in Brazil last year, according to newsweekly Veja. "Fifty Shades Freed" was the top seller, followed by "Fifty Shades of Grey" and "Fifty Shades Darker."
Photo: Will Oliver/AFP/Getty Images
 Tell us on Facebook: Do you think the erotic trilogy should be kept under lock and key here in the States?
 More from MSN Living: Other 50 Shades products in development
More from Family Room:
Most addictive video games for kids
Toddler death raises concern over car seat rules
Violent video games and child aggression
News, stories, tips and laughs for moms & dads
What are we teaching our children when we focus on their achievements rather than their kindness?

Discover the seemingly insignificant things that can affect your chances of getting pregnant.

A thrill-obsessed subculture claimed another life this week.

A few suggested answers for the diciest questions

Must-haves for every mommy on the road

Here's our list of fifteen moms in the food industry that deserve some recognition.

The site gets high marks for its user-friendly interface and excellent and responsive customer service. And the reviews are also pretty accurate. Compare amenities and prices next to a hotel's in the same area, and you're likely to see Airbnb come out on top.

We captured a frame-by-frame look just for you.

Other moms can be ruthless when it comes to picking apart your parenting choices. From dissing your decision to go back to work to criticizing when you started baby on solids, here are the most ridiculous comments moms have heard. Bonus, we've got just the right way to respond to the haters! You're welcome.

Nope, you don't have to spend the next nine months in black elastic-waist pants and oversize sweaters. And you don't have to shell out a fortune on your "temporary" wardrobe either. Check out these stylish and affordable maternity clothes.

Because society crumbles without us

Another kid figured out how to get into a claw machine.