'Fifty Shades' ordered off shelves
Brazilian judge says bookstores need to keep the racy novel under lock and key
If you've read 
Fifty Shades of Grey
or have lived anywhere but under a rock this past year, you're well aware of the erotic novel's racy sex scenes. But did you know that recently, a Brazilian judge has ordered bookstores to ensure that the trilogy remains out of the hands of minors?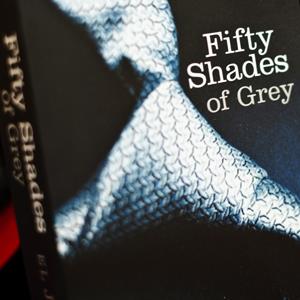 According to a statement by the Rio de Janeiro State Judiciary Department, on January 14, the order was handed down by Judge Raphael Queiroz Campos after he saw kids having a big ole team leafing through the series in one of city's bookstores.
Bing: More weird news about 50 Shades
Eleven copies of the "Grey" series were among 64 books taken from the shelves of two bookstores because their content was deemed improper for those under the age of 18.
Shortly following the removal of the books, they were returned to shelves, but sealed and out of reach of minors.
More from MSN: Would you dress your baby in a 50 Shades onesie?
E.L James' works were the most-sold books in Brazil last year, according to newsweekly Veja. "Fifty Shades Freed" was the top seller, followed by "Fifty Shades of Grey" and "Fifty Shades Darker."
Photo: Will Oliver/AFP/Getty Images
 Tell us on Facebook: Do you think the erotic trilogy should be kept under lock and key here in the States?
 More from MSN Living: Other 50 Shades products in development
More from Family Room:
Most addictive video games for kids
Toddler death raises concern over car seat rules
Violent video games and child aggression
News, stories, tips and laughs for moms & dads
From the confusing to just plain cringe-worthy, check out the worst celebrity baby names this year.

This year, we saw a ton of celeb moms and dads choose unique, glamorous and totally timeless names for their baby boys and girls. From traditional to trendy, here are our picks for the best celebrity baby names.

The top 25 best holiday movies for kids and their families, from old school classics like Miracle on 34th Street and It's a Wonderful Life, to newer classics like Elf and The Nightmare Before Christmas.

Parenting has its up and downs, like any aspect of life. The people who really excel as parents are the ones who keep things interesting, at least in our book. Check out these Imgur posts from parents who really raised the bar.

Maybe you used to greet your partner at the door with a smile and a kiss (and sometimes even more than that!) but now, when he arrives, you launch into a fight because he's two minutes late and you need to take a shower or cook dinner or have a moment of baby-free sanity. That's pretty typical for new parents.

Watch them on a live stream!

We talked to 122 veterinary professionals and got their take on which canines are the smartest of them all.

Find out which names topped the lists

But will they get to stay together?

Readers share their favorite holiday family traditions that really make it the most wonderful time of the year. By Lauren Passell

Brand new Babycenter.com baby-naming reports reveal a few naming trends that may surprise you (or not).

Every family has its oddballs. And the holiday season is the one time of year when you're pretty much forced to interact and play nice with the grand majority of them. Click through the slideshow above for our guide to dealing with the five worst kinds of kin. *Disclaimer: All characters appearing in this work are fictitious. Any resemblance to real persons, living or dead, is purely coincidental.