'Fifty Shades' ordered off shelves
Brazilian judge says bookstores need to keep the racy novel under lock and key
If you've read 
Fifty Shades of Grey
or have lived anywhere but under a rock this past year, you're well aware of the erotic novel's racy sex scenes. But did you know that recently, a Brazilian judge has ordered bookstores to ensure that the trilogy remains out of the hands of minors?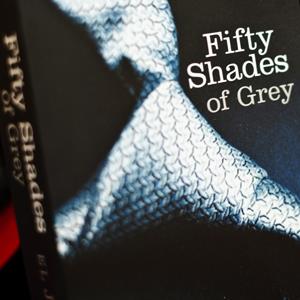 According to a statement by the Rio de Janeiro State Judiciary Department, on January 14, the order was handed down by Judge Raphael Queiroz Campos after he saw kids having a big ole team leafing through the series in one of city's bookstores.
Bing: More weird news about 50 Shades
Eleven copies of the "Grey" series were among 64 books taken from the shelves of two bookstores because their content was deemed improper for those under the age of 18.
Shortly following the removal of the books, they were returned to shelves, but sealed and out of reach of minors.
More from MSN: Would you dress your baby in a 50 Shades onesie?
E.L James' works were the most-sold books in Brazil last year, according to newsweekly Veja. "Fifty Shades Freed" was the top seller, followed by "Fifty Shades of Grey" and "Fifty Shades Darker."
Photo: Will Oliver/AFP/Getty Images
 Tell us on Facebook: Do you think the erotic trilogy should be kept under lock and key here in the States?
 More from MSN Living: Other 50 Shades products in development
More from Family Room:
Most addictive video games for kids
Toddler death raises concern over car seat rules
Violent video games and child aggression
News, stories, tips and laughs for moms & dads
Transform the fall vegetable into cool decor pieces.

Put together these creative, but simple, Halloween looks for your youngsters.

We know you're documenting just about every move baby makes. (Do you even have any memory left on your phone? We didn't think so.) These tips from professional photographers can help you perfect your pics.

These six on-trend ideas will make baby's room your new favorite place to hang out.

Baby probably won't remember his first birthday party, but that doesn't mean you can't go all out (after all, parents need to celebrate making it through this first year, right?). These fun, colorful themes take planning to the next level.

See what celebrities who had problems conceiving have to say.

You'll be hearing a lot of advice and opinions. Some of it will be really helpful and some will be just plain wrong. Here are the most common things people say about babies that aren't true.

A new dad finds an Epcot Center's worth of innovation after expecting none at all.

The dog days of summer may be well behind us, but that doesn't mean it's time to pack in the outdoor adventures quite yet.

Protect yourself and your family with these ingenious gizmos and smartphone apps.

Make sure your go-to gadgets are as cute as your style, with these trendy tech finds!

Oh, how the times have changed...