'Fifty Shades' ordered off shelves
Brazilian judge says bookstores need to keep the racy novel under lock and key
If you've read 
Fifty Shades of Grey
or have lived anywhere but under a rock this past year, you're well aware of the erotic novel's racy sex scenes. But did you know that recently, a Brazilian judge has ordered bookstores to ensure that the trilogy remains out of the hands of minors?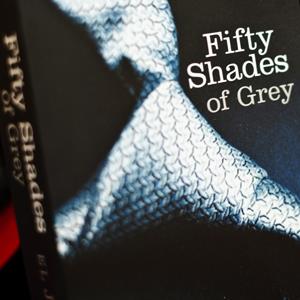 According to a statement by the Rio de Janeiro State Judiciary Department, on January 14, the order was handed down by Judge Raphael Queiroz Campos after he saw kids having a big ole team leafing through the series in one of city's bookstores.
Bing: More weird news about 50 Shades
Eleven copies of the "Grey" series were among 64 books taken from the shelves of two bookstores because their content was deemed improper for those under the age of 18.
Shortly following the removal of the books, they were returned to shelves, but sealed and out of reach of minors.
More from MSN: Would you dress your baby in a 50 Shades onesie?
E.L James' works were the most-sold books in Brazil last year, according to newsweekly Veja. "Fifty Shades Freed" was the top seller, followed by "Fifty Shades of Grey" and "Fifty Shades Darker."
Photo: Will Oliver/AFP/Getty Images
 Tell us on Facebook: Do you think the erotic trilogy should be kept under lock and key here in the States?
 More from MSN Living: Other 50 Shades products in development
More from Family Room:
Most addictive video games for kids
Toddler death raises concern over car seat rules
Violent video games and child aggression
News, stories, tips and laughs for moms & dads
Got kids that are questioning whether or not the Easter Bunny is real? If you want to keep the tradition going at least one more year, try one of these ideas...

You're cold-hearted? We'll take care of that for you...read on.

This kid despises poetry and he's not afraid to let you know.

I used to be one of those moms who thought, 'who on earth would bring their child to an event like that?' and then I had a son. Here's why you might become a convert, too.

Take a look at your house for these telltale signs that a cat is running the show.

Check out this list of requirements you should meet before getting a new puppy or adult dog.

Virtually everything you need to know about relationships, you learned in nursery school: Treat people as you want to be treated, clean up after yourself, and don't be a know-it-all.

Here are our experts' best tips for how to be a positive role model for your kids so that they grow up healthy, strong and confident about the way they look.

Much like their famous owners, these pooches live a fabulous life. Some are rescues, others purebred, but one thing is certain – these dogs play an important part in their famous parents' lives. Can you guess who owns each of these dogs?

We captured a frame-by-frame look just for you.

Two controversial science projects resembled weapons, school officials said.