What not to name your baby
The stats are out from the Social Security Administration — and we're cringing.
Mention baby names at a party — and I do, frequently — and someone invariably brings up the name urban legends: the twins named Oranjello and Lemonjello, the baby girl called Female, pronounced fe-MAHL-ee.
We're not sure those stories were ever true, but if you look at the very bottom of the Social Security baby name records, you can find plenty of other ill-advised names that people actually gave their babies, and really really shouldn't have.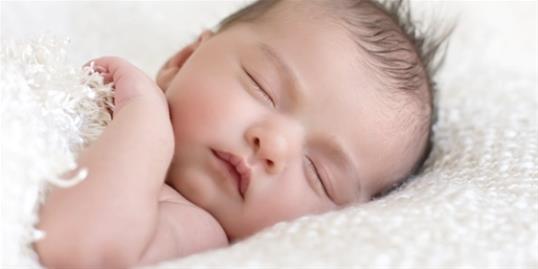 The choices here were gathered from names given to five babies in 2012.  To protect privacy, the government only records names used for five or more babies each year, so chances are there are even worse choices out there that didn't make the official statistics.
As well as some truly terrible names that were given to more than five children last year. Seven little girls were named Anally in 2012, for instance, and nine boys named Havoc.
But focusing just on the very bottom of the government list, here's what not to name your baby, and why:
Girls
Ahmiracle and Dmiracle — There were nearly 800 girls named just plain Miracle, and then you've got your Jamiracles and your Lamiracles.  But we draw the line.
Assia — You just can't give an American baby a name that contains the word "ass."
Beautyful and Pretty — She better be.
Disney — Product placement?
Erie — Lake, yes.  Ontario or Michigan, maybe.  But Erie is just eerie.
Goodness — Most teenagers would take this as a dare.
Ikea — A Big Box name.
Money and Pryce — Uh…no.
Richard — Every year there are a handful of girls named Richard….and George and David, and boys named Charlotte and Sophia.  Clerical mistakes?  Sometimes, probably.  And then other times, they're just mistakes.
Rosary — Saints' names and other religious names can work, but this takes baby-name-as-devotio​n too far.
Shady — Weather names — Sunny, Snow — can work, but then there's the other meaning of Shady.
Stonie — Will create a rocky path for your child.
Vegas — What happens in Vegas…
Younique — Unfortunately not.

More from MSN: Check out our new mommy bloggers
Boys
Abass — See Assia.
Carrion — Baby name roadkill.
Dolton — If Colton is a popular baby name, and Bolton and Knowlton can work as first names, then Dolton….nah.
Emperor — Why not Tyranius?
Hamlet — Shakespearean names as far out as Romeo can work, but  Hamlet is also saddled with that "Ham" syllable.
Handsome — See Beautyful and Pretty.
Harshit — Harshit and Harshita are Sanskrit names with a lovely meaning: full of happiness.  But they don't translate well into English.
Kartier — Klassy.
Maximum — Max or Maxim would have made the point.
Messer — Takes the Badass Baby Name idea, ala Ranger and Wilder, too far.
Patch — His big brother's name is AOL
Princeten or Prinston — Maybe he'll get into Yale.
Ralphy — Middle name: Boy.
Rambo — Scary, yet not as scary as the six boys named (yes, really) Rage.
Vader — Ready for a lifetime of Star Wars jokes?
For thousands of really unusual names you can give your baby, get Nameberry's new e-book, The Nameberry Guide to Off-the-Grid Baby Names.
More from MSN Living:
21 adorable Etsy finds for babies and kids
The top baby names of 2012
15 things moms overshare on Facebook
Amazing nursery inspiration and ideas
Photo: Ali Johnson Photography/Getty Images
Tell us on Facebook: What's the worst of these baby name offenders?
News, stories, tips and laughs for moms & dads
A new dad finds an Epcot Center's worth of innovation after expecting none at all.

Alcohol and tattoos are not meant for the pre-teen set

But Debra Harrell now has custody of daughter again

I am probably not the first to tell you this: Kids come with lots of stuff. Even if you try to be as minimal as possible, the little creatures require an awful lot to keep things running smoothly. Here's a master-plan slideshow of ways to cut corners on space in every room to accommodate all the things that come along with kids.

You never know for certain what type of parent you'll be until you've actually become one and your parenting style, as it becomes evident, may surprise you. Here are 4 parenting books to help you figure it all out.

Sunshine! Camping! Pool parties! BBQs! The sunny season is here and to help you make the most of it, we've hand-picked 7 great products to make this summer the best your family has ever had. Click through for our list to inspire your sunny day fun. From our sponsor: Walmart

We all love a picnic. But do one quick search for 'picnic ideas' on Pinterest and you're instantly teleported into a land of overachieving home chefs clearly looking for their big break on Food Network. Well, never mind that, we say. Scratch the 25-ingredient recipes and the incessant trips to the craft store for that perfect tablescape. Here are 5 truly simple picnic ideas that will look great, taste great, and make you feel like the winner you are! From our sponsor: Walmart

Admit it — you do these things, too! And that's OK. But maybe — just maybe — it's time to think about changing things up a little bit, for the sake of your sanity, your relationship with your kids, and because life's too short.

We asked veterinary experts and readers which breeds they think and if it is OK to shave longhaired pets in the summer.

Celeb moms post photos to show off their weight loss, but then they undermine their progress in the captions.

Kriste Lewis was inspired by her kidney disease to try out

Hittin' the road, moms and dads? Plan for these five things to happen...