Most parents lie to their kids to get them to behave
We tell our kids that lying is flat-out wrong, but a new study shows that parents aren't afraid to fib to their children in order to influence their behavior.
Admit it. Like millions of parents, you've probably fallen prey to playing the Santa Claus card (or other forms of bribery) to influence your kids' behavior or emotions.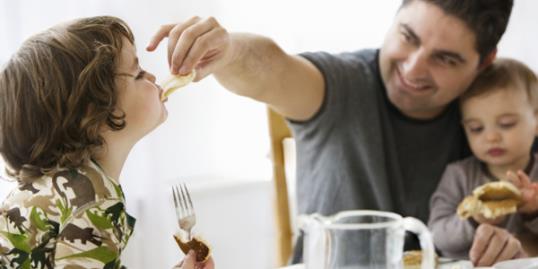 You're not alone, says a new study from the University of California, published by the International Journal of Psychology. According to the research, "The vast majority of parents lie to their children in order to get them to behave," reports Boston.com.
The study took a look at parents in both the U.S. and China, where the practice of telling white lies ran rampant – 84 percent in the US and 98 percent in China reported having lied to their children for this purpose. Their go-to threat? Falsely threatening to leave a child alone in public if he or she refused to follow the parent.
More from MSN Living: 10 mom sayings it's ok to ditch
If you've been raised on "The Boy Who Cried Wolf" message, this can be confusing for a child's moral compass of what's right and wrong.  
"Children who discover that their parents have lied to them to achieve a desired goal may wonder why different standards of conduct should apply to different people, and they may begin to justify their own lying with reference to lies their parents have told," cites the study.
More from MSN Living: The top 10 worst moments in mom judgment
Parents who reported that they were strongly committed to the goal of teaching their children that lying is always wrong were no less likely to have lied to their children than were other parents.
Parents, when, if ever, is 'parenting by lying' okay?
Bing: Weird celebrity parenting tips
More from Family Room:
Most addictive video games for kids
Toddler death raises concern over car seat rules
Violent video games and child aggression
Photo: KidStock/Getty Images
News, stories, tips and laughs for moms & dads
Do you have a finicky furry friend on your holiday gift list this year? You're in luck! We've rounded up the coolest cat-approved products to bring you purrfect gift ideas for every kind of cat -- from the curious kitten to the most refined feline. Any one of these special gifts could make your resident kitty purr with pleasure and maybe, just maybe, like the present this year even more than the box and wrapping paper it came in!

Plus, puppy names to watch

This holiday season's hottest toy has yet to be revealed, but more often than not, the best gifts are the ones kids don't even know to ask for. So this year, surprise your kids with unique presents under the tree, and watch as their eyes light up when they unwrap them. From space-age sand to a DIY race track, these out-of-the-box gift ideas will provide some serious shopping inspiration. Click through the slideshow above for all our favorite picks.

Yep, you're older than you think

Avoid these gaffes for a better relationship with your stepchildren—and your spouse.

The top 25 best holiday movies for kids and their families, from old school classics like Miracle on 34th Street and It's a Wonderful Life, to newer classics like Elf and The Nightmare Before Christmas.

Since the dawn of time, we men have been preprogrammed with two biological imperatives: Number one: to bravely kill bathtub spiders; and number two: to reproduce. (Actually, I really should have ordered those in reverse.) So what happens when we find out we're infertile?

New mamas weigh in on all the things they wish someone had warned them about before baby arrived.

We scoured Pinterest for 30 way-too-cute Elf on the Shelf poses we'd never seen before...let these inspire you during your family's funniest tradition.

Stroll down any aisle of a Toys"R"Us these days and you'll be confronted with a billion options that are light-years beyond anything you had to entertain yourself with as a kid. Lego cruise ships (complete with flatscreen TVs in the lounge and sideboard jet-skis), battery-operated Mercedes-Benz sedans, and hi-tech tablets with Android operating systems abound. We wondered, as we let ourselves get nostalgic for a moment, if any of the beloved toys we played with as children were still even on the market. Thanks to a quick hunt on the Internet we were able to find that Fisher Price still makes their classic Two Tune TV, and you can still get your hands on a good ol' Slinky. Here's a roundup of the best old-school toys for kids-- we encourage you to click through the slideshow and consider wrapping up a well-loved classic for your little one this year.

Cabbage Path Kids turn 30 this year.