Most parents lie to their kids to get them to behave
We tell our kids that lying is flat-out wrong, but a new study shows that parents aren't afraid to fib to their children in order to influence their behavior.
Admit it. Like millions of parents, you've probably fallen prey to playing the Santa Claus card (or other forms of bribery) to influence your kids' behavior or emotions.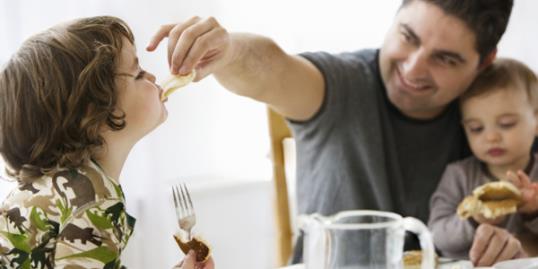 You're not alone, says a new study from the University of California, published by the International Journal of Psychology. According to the research, "The vast majority of parents lie to their children in order to get them to behave," reports Boston.com.
The study took a look at parents in both the U.S. and China, where the practice of telling white lies ran rampant – 84 percent in the US and 98 percent in China reported having lied to their children for this purpose. Their go-to threat? Falsely threatening to leave a child alone in public if he or she refused to follow the parent.
More from MSN Living: 10 mom sayings it's ok to ditch
If you've been raised on "The Boy Who Cried Wolf" message, this can be confusing for a child's moral compass of what's right and wrong.  
"Children who discover that their parents have lied to them to achieve a desired goal may wonder why different standards of conduct should apply to different people, and they may begin to justify their own lying with reference to lies their parents have told," cites the study.
More from MSN Living: The top 10 worst moments in mom judgment
Parents who reported that they were strongly committed to the goal of teaching their children that lying is always wrong were no less likely to have lied to their children than were other parents.
Parents, when, if ever, is 'parenting by lying' okay?
Bing: Weird celebrity parenting tips
More from Family Room:
Most addictive video games for kids
Toddler death raises concern over car seat rules
Violent video games and child aggression
Photo: KidStock/Getty Images
News, stories, tips and laughs for moms & dads
6-year-old has rare brain condition

He wanted to know if woman was pregnant

Did your state make the grade?

A new dad finds an Epcot Center's worth of innovation after expecting none at all.

Alcohol and tattoos are not meant for the pre-teen set

But Debra Harrell now has custody of daughter again

I am probably not the first to tell you this: Kids come with lots of stuff. Even if you try to be as minimal as possible, the little creatures require an awful lot to keep things running smoothly. Here's a master-plan slideshow of ways to cut corners on space in every room to accommodate all the things that come along with kids.

You never know for certain what type of parent you'll be until you've actually become one and your parenting style, as it becomes evident, may surprise you. Here are 4 parenting books to help you figure it all out.

Sunshine! Camping! Pool parties! BBQs! The sunny season is here and to help you make the most of it, we've hand-picked 7 great products to make this summer the best your family has ever had. Click through for our list to inspire your sunny day fun. From our sponsor: Walmart

We all love a picnic. But do one quick search for 'picnic ideas' on Pinterest and you're instantly teleported into a land of overachieving home chefs clearly looking for their big break on Food Network. Well, never mind that, we say. Scratch the 25-ingredient recipes and the incessant trips to the craft store for that perfect tablescape. Here are 5 truly simple picnic ideas that will look great, taste great, and make you feel like the winner you are! From our sponsor: Walmart

Admit it — you do these things, too! And that's OK. But maybe — just maybe — it's time to think about changing things up a little bit, for the sake of your sanity, your relationship with your kids, and because life's too short.

We asked veterinary experts and readers which breeds they think and if it is OK to shave longhaired pets in the summer.