Most parents lie to their kids to get them to behave
We tell our kids that lying is flat-out wrong, but a new study shows that parents aren't afraid to fib to their children in order to influence their behavior.
Admit it. Like millions of parents, you've probably fallen prey to playing the Santa Claus card (or other forms of bribery) to influence your kids' behavior or emotions.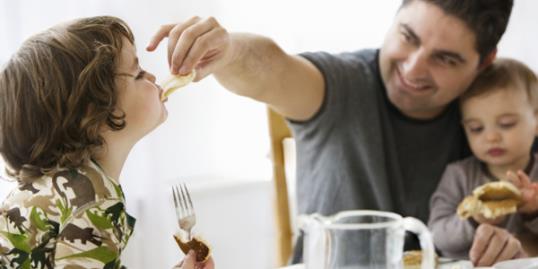 You're not alone, says a new study from the University of California, published by the International Journal of Psychology. According to the research, "The vast majority of parents lie to their children in order to get them to behave," reports Boston.com.
The study took a look at parents in both the U.S. and China, where the practice of telling white lies ran rampant – 84 percent in the US and 98 percent in China reported having lied to their children for this purpose. Their go-to threat? Falsely threatening to leave a child alone in public if he or she refused to follow the parent.
More from MSN Living: 10 mom sayings it's ok to ditch
If you've been raised on "The Boy Who Cried Wolf" message, this can be confusing for a child's moral compass of what's right and wrong.  
"Children who discover that their parents have lied to them to achieve a desired goal may wonder why different standards of conduct should apply to different people, and they may begin to justify their own lying with reference to lies their parents have told," cites the study.
More from MSN Living: The top 10 worst moments in mom judgment
Parents who reported that they were strongly committed to the goal of teaching their children that lying is always wrong were no less likely to have lied to their children than were other parents.
Parents, when, if ever, is 'parenting by lying' okay?
Bing: Weird celebrity parenting tips
More from Family Room:
Most addictive video games for kids
Toddler death raises concern over car seat rules
Violent video games and child aggression
Photo: KidStock/Getty Images
News, stories, tips and laughs for moms & dads
Protect yourself and your family with these ingenious gizmos and smartphone apps.

Make sure your go-to gadgets are as cute as your style, with these trendy tech finds!

Oh, how the times have changed...

Get ready to hit the mall! Check out the hottest back-to-school trends—and get ready to make a major style statement this year.

Unique, or downright strange?

This is Kevin Droniak and his grandma. They're besties, they're awesome and they're YouTube stars.

It can be difficult to entice little ones to eat anything at all, let alone to devour a healthy plate. But feeding your kids nutritious snacks after school just got way easier, thanks to these adorably clever and cute snack ideas! For more smart and fun ways to get your kids to enjoy healthful and delicious foods, try one of these amazingly artsy lunch ideas.

Through a tonsillectomy all the way to brain surgery, my mother deserves some recognition. She's my spine, my birthday shadow, my BFF, my thunder buddy, so Mommy, thank you.

My son needs me, as much as yours needs you. Sadly, my son needs me more. He needs someone to have his back, when it seems that the police, the men he'd wave to with excitement as a little boy, see him as a being worthy only of prison or death.

If you know someone who has adopted and have made some of these comments, don't fret... now you know!

"Because you shine from within," I said, touching my finger to her heart. "Not everybody sees it, but I do. I see it. And my job is to protect that light. So when people say mean comments that squelch that light, I want you to tell me. I will protect your light by listening and loving you, my brave, courageous, and unique little firefly."

Studies have shown that it helps, top education officials have recommended it, and now doctors are officially saying the same.