Most parents lie to their kids to get them to behave
We tell our kids that lying is flat-out wrong, but a new study shows that parents aren't afraid to fib to their children in order to influence their behavior.
Admit it. Like millions of parents, you've probably fallen prey to playing the Santa Claus card (or other forms of bribery) to influence your kids' behavior or emotions.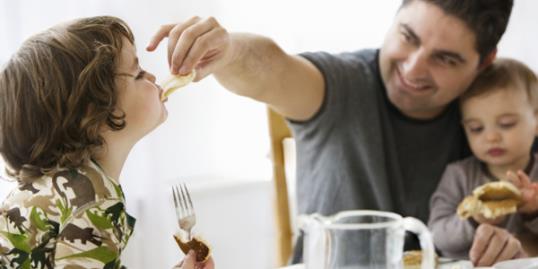 You're not alone, says a new study from the University of California, published by the International Journal of Psychology. According to the research, "The vast majority of parents lie to their children in order to get them to behave," reports Boston.com.
The study took a look at parents in both the U.S. and China, where the practice of telling white lies ran rampant – 84 percent in the US and 98 percent in China reported having lied to their children for this purpose. Their go-to threat? Falsely threatening to leave a child alone in public if he or she refused to follow the parent.
More from MSN Living: 10 mom sayings it's ok to ditch
If you've been raised on "The Boy Who Cried Wolf" message, this can be confusing for a child's moral compass of what's right and wrong.  
"Children who discover that their parents have lied to them to achieve a desired goal may wonder why different standards of conduct should apply to different people, and they may begin to justify their own lying with reference to lies their parents have told," cites the study.
More from MSN Living: The top 10 worst moments in mom judgment
Parents who reported that they were strongly committed to the goal of teaching their children that lying is always wrong were no less likely to have lied to their children than were other parents.
Parents, when, if ever, is 'parenting by lying' okay?
Bing: Weird celebrity parenting tips
More from Family Room:
Most addictive video games for kids
Toddler death raises concern over car seat rules
Violent video games and child aggression
Photo: KidStock/Getty Images
News, stories, tips and laughs for moms & dads
Some families spend their after-dinner time playing card games, watching television, or prepping for the next day. And that is fine and dandy, but be sure to incorporate some new, fun games and activities into your evenings to keep it fresh and exciting during the school year.

Head back to school in style with these fashionable, affordable picks

Helpful tips for easing first day jitters.

Get savvy tips for saving cash on your children's school supplies

There's the list of supplies the school sends you; then there's what your kid really needs. Here's how to get off to a smart start and keep things organized all year.

After a long, fun, and relaxing summer, the thought of going back to school is a harsh one. It's only been three months since you walked the halls of your school, but it might as well have been an eternity because your brain pretty much remembers nothing. From getting lost trying to find your class in Hallway C to trying to figure out which table to eat at for lunch, here are just some of the many first day struggles we've all been through.

It's time to start rifling through bins of composition notebooks, glue sticks and highlighter pens. Your kids are heading back to school! We've rounded up 10 relatively easy DIY ideas from Pinterest to satisfy any crafty (or wannabe) parent. Send your kids off with one of these cute concepts that are sure to deliver lots of 'likes' on your Facebook page.

Family had lived in Portugal for several years

Dining hall food, delish? Yes! With a little know-how and maybe a few minutes waiting to use the communal microwave, you can DIY concoctions that are healthy, yummy, and will definitely keep you from snoozing through your afternoon classes.

The dog days of summer may be well behind us, but that doesn't mean it's time to pack in the outdoor adventures quite yet.

Between the Halloween costume sewing and pumpkin patch outings, you probably don't have time to give your little one's nursery a full-blown Fall makeover. But luckily there are plenty of simple, sweet ways to incorporate the season.

During the prekids phase of marriage, the focus of your relationship is on a party of two, and if you're lucky, it's pretty blissful.