Most parents lie to their kids to get them to behave
We tell our kids that lying is flat-out wrong, but a new study shows that parents aren't afraid to fib to their children in order to influence their behavior.
Admit it. Like millions of parents, you've probably fallen prey to playing the Santa Claus card (or other forms of bribery) to influence your kids' behavior or emotions.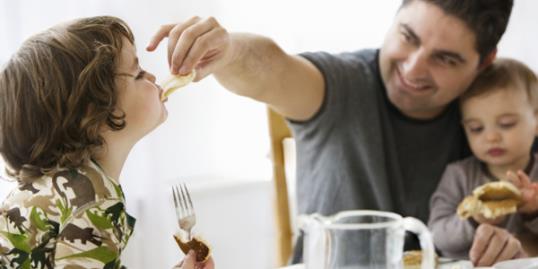 You're not alone, says a new study from the University of California, published by the International Journal of Psychology. According to the research, "The vast majority of parents lie to their children in order to get them to behave," reports Boston.com.
The study took a look at parents in both the U.S. and China, where the practice of telling white lies ran rampant – 84 percent in the US and 98 percent in China reported having lied to their children for this purpose. Their go-to threat? Falsely threatening to leave a child alone in public if he or she refused to follow the parent.
More from MSN Living: 10 mom sayings it's ok to ditch
If you've been raised on "The Boy Who Cried Wolf" message, this can be confusing for a child's moral compass of what's right and wrong.  
"Children who discover that their parents have lied to them to achieve a desired goal may wonder why different standards of conduct should apply to different people, and they may begin to justify their own lying with reference to lies their parents have told," cites the study.
More from MSN Living: The top 10 worst moments in mom judgment
Parents who reported that they were strongly committed to the goal of teaching their children that lying is always wrong were no less likely to have lied to their children than were other parents.
Parents, when, if ever, is 'parenting by lying' okay?
Bing: Weird celebrity parenting tips
More from Family Room:
Most addictive video games for kids
Toddler death raises concern over car seat rules
Violent video games and child aggression
Photo: KidStock/Getty Images
News, stories, tips and laughs for moms & dads
Actress Kimberly Williams-Paisley hated the dementia that made her mother seem like a different person—erratic, silent, sometimes angry. Then she found a way to love that mom too.

Getting back into dating after baby can be tough -- and complicated -- but you deserve a shot at love, Mama! Just be on the look out for these red flags.

Mamas, take a cue from these smart ladies.

A habit of avoiding disappointment may result in idle adults.

What one mom learned about herself might just change your world

The 4 crucial conversations you need to have with your spouse before you make this decision.

You bring baby home and it seems like everyone has an opinion on which techniques you should use to get her to sleep, to feed her and to help her learn and develop. And they tell you which ones not to use too. So what's worth trying out and what's completely insane? Decide for yourself!

I'll say it: if your baby is melting down at Din Tai Fung, please pack your wipes and go

Pregnancy is just one long, unending stream of unsolicited advice—people love to tell you what to do, how to do it, and why you'd be crazy to do it any other way.

Maybe I was naïve, but I thought getting pregnant was as simple as having unprotected sex, and I'd be a mom in nine months flat. We spent years trying to prevent pregnancy, waiting until we were ready and having panic attacks if my period was late. So naturally, once we stopped preventing — boom! — it should've happened, right? Silly me.