'Snow plow' parenting: Helping kids?
Move over, Tiger Moms -- a new parenting trend prevents children from failing.
First there were Tiger Moms. You may recall the extreme style of parenting made (in)famous by Amy Chua's best-selling book,  Battle Hymn of the Tiger Mother.
Then hovering 'helicopter parents came on the scene -- the overly-involved, control freak style of child rearing.  
Now, an all-out mommy war is brewing as a brand new moniker of parenting style comes under attack, "snow plow" parenting.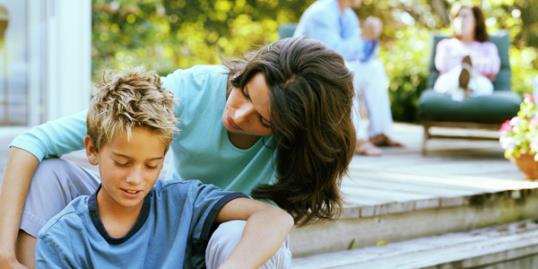 More from MSN Living: How dogs make our lives better
According to an article on ABC7 San Francisco's website, "the 'snow plow' parent pushes life's obstacles out of his or her children's way."
Instead of parenting from a place of healthy involvement, these parents try to eliminate potential roadblocks and pave a straight line to their kid's success.
More from MSN Living: 15 amazing, inspiring baby nurseries
In the ABC7 story, one mom talks about how she used her "snow plow" powers when her son was going out for a basketball team.
"I brought lemon cupcakes to a baseball practice once and realized the coach doesn't like lemon. So I went home and baked vanilla cupcakes and brought them to his house that evening for his family to share," she was quoted.
In San Mateo, Calif., Aragon High School athletic director Steve Sells tells ABC7 it's apparent in sports, "A lot more money is spent on club activity outside of school," he was quoted. "And a lot more in the way of private lessons."
Kids are pushed to succeed in one sport, and as a result, Sells sees over-use injuries at a young age.
"They're teaching their children a terrible lesson," Stanford psychologist Carol Dweck, Ph.D., told ABC7. "If you're not good at something immediately, get out. It's humiliating to be a novice."
In the grand scheme of growing up, what happens if your kid doesn't get to experience the thrill of winning and suffer a few hard knocks along the way?
Do you think "snow plow" parenting helps or hurts children?
Bing: Tips for raising children with tough love
More from Family Room:
Teen mom denied right to breast feed
Toddler death raises concern over car seat rules
Violent video games and child aggression
Love content like this? Friend us on Facebook, follow us on Twitter and find us on Pinterest.
Readers: Calling all mom bloggers – we're looking for fresh voices on MSN Living. Email us your samples and contact info!
Photo: Snow plow parenting / Digital Vision/Getty Images
News, stories, tips and laughs for moms & dads
As you trim your tree, hang the lights, bake cookies and prepare for guests, remember that there's a certain member of your family who also deserves something extra special this holiday season: your dog. Save a little space under the tree for these beds, toys, collars and outfits for your favorite canine. Plus, we've even included a couple of gifts for the dog lovers in your life!

Dr. Marty Becker shares questions you should ask yourself before making the commitment to foster a shelter pet.

What one mom learned about herself might just change your world

From Ryan Gosling earrings to portable speakers, there's something here for kids of all ages.

When it comes to holiday giving, it's the thought that counts, which is why homemade gifts from kids are so treasured by their mothers. Children might not have money to spend on an expensive piece of jewelry or designer handbag, but they do have the time to DIY something special for their number one fan. If you're in charge of helping the little ones think of presents, check out the above list of homemade gifts for mom. From a custom vase to Instagram coasters to Warhol-inspired wall art, we have something for every taste and skill level.

At our household, we have a large, diverse collection of toys. While I'm not as uptight as my husband on what enters our kids' toy chest, my husband must approve all toy acquisitions mostly because of aesthetics (appearance is important). In our search for functional and stylish toys, the sustainable ones often have the best design, and appeal to the visual and tactile senses or improve fine motor skills such as dexterity and hand coordination. Here are a few of our family favorites that intrigue and hold our little ones' attention—and look good, too.

Worried that a violent video game might sneak its way into your shopping cart during the holidays? Before you make it to the register, make sure you're armed with all the information you need regarding your child's games. Just because your well-meaning thirteen-year-old promises you that the game he's about to buy with the gift card from Uncle Mike is totally chill, doesn't mean it's good for kids. Do your research ahead of time to avoid any game store drama. And have a chat with your offspring before the big day; let them know that you're going to have to green light their choices before they get their hearts set on any particular item. At the end of the day, you're just being a good parent. Some of the games on the market now may look OK at first glance, but are actually quite objectionable. Trust us: We've done our homework and we're here to give you the ultimate low-down. Check out this slideshow for all the games to steer clear of this season. Don't say we didn't warn you.

Two sociologists have found that parents who have daughters are more inclined to support the GOP and turn a cold shoulder to Democrats.

The experts at Nameberry.com predict what will be big in baby-naming next year

Famed event-planner David Stark shared tips for making chic holiday decorations using items you already have around the house. Take a look!

Sociologist Karen Z. Kramer found that over the past decade more than 550,000 men were stay-at-home fathers, which is about 3.5 percent of the married with kids population.

Ben Miller celebrates his wife's birthday and the anniversary of the day their premature son Ward Miles came home for good with a video documenting his first year.