'Snow plow' parenting: Helping kids?
Move over, Tiger Moms -- a new parenting trend prevents children from failing.
First there were Tiger Moms. You may recall the extreme style of parenting made (in)famous by Amy Chua's best-selling book,  Battle Hymn of the Tiger Mother.
Then hovering 'helicopter parents came on the scene -- the overly-involved, control freak style of child rearing.  
Now, an all-out mommy war is brewing as a brand new moniker of parenting style comes under attack, "snow plow" parenting.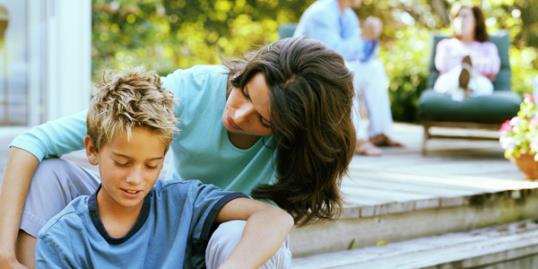 More from MSN Living: How dogs make our lives better
According to an article on ABC7 San Francisco's website, "the 'snow plow' parent pushes life's obstacles out of his or her children's way."
Instead of parenting from a place of healthy involvement, these parents try to eliminate potential roadblocks and pave a straight line to their kid's success.
More from MSN Living: 15 amazing, inspiring baby nurseries
In the ABC7 story, one mom talks about how she used her "snow plow" powers when her son was going out for a basketball team.
"I brought lemon cupcakes to a baseball practice once and realized the coach doesn't like lemon. So I went home and baked vanilla cupcakes and brought them to his house that evening for his family to share," she was quoted.
In San Mateo, Calif., Aragon High School athletic director Steve Sells tells ABC7 it's apparent in sports, "A lot more money is spent on club activity outside of school," he was quoted. "And a lot more in the way of private lessons."
Kids are pushed to succeed in one sport, and as a result, Sells sees over-use injuries at a young age.
"They're teaching their children a terrible lesson," Stanford psychologist Carol Dweck, Ph.D., told ABC7. "If you're not good at something immediately, get out. It's humiliating to be a novice."
In the grand scheme of growing up, what happens if your kid doesn't get to experience the thrill of winning and suffer a few hard knocks along the way?
Do you think "snow plow" parenting helps or hurts children?
Bing: Tips for raising children with tough love
More from Family Room:
Teen mom denied right to breast feed
Toddler death raises concern over car seat rules
Violent video games and child aggression
Love content like this? Friend us on Facebook, follow us on Twitter and find us on Pinterest.
Readers: Calling all mom bloggers – we're looking for fresh voices on MSN Living. Email us your samples and contact info!
Photo: Snow plow parenting / Digital Vision/Getty Images
News, stories, tips and laughs for moms & dads
Find out which classroom supplies and dorm-room buys you don't need to spend a fortune on

4 steps for raising a child who doesn't feel emotionally stranded.

Any of these sound familiar?

Fire challenge involves pouring alcohol on one's chest and lighting it

A coincidence after the furlough?

Helpful tips for easing first day jitters.

Getting ready for fall has never been more fun.

Great reads for the back-to-school mindset.

Remember the concept of weekends being a time for rest, relaxation, and togetherness? No? Us either. Between soccer games, playdates, dragging your kids to see the new exhibition at the local children's museum, and we need to pick up a gift for that birthday party that starts in . . . 20 minutes, juggling a busy family's weekend schedule can be more stressful than a weekday. While we know it's simply not realistic to cancel all your plans and obligations moving forward, clearing the calendar for just one weekend can be just the refresher that your family's craving. Here's why.

You just had a baby? You're a superstar! All those diapers, all that spit up, and you're makin' magic happen. But you're also likely tired - really tired - and busy (so, so busy). Taking time for yourself might seem like an indulgence but a happy mom makes for a happy baby. Here are 7 things you should definitely do to keep your sanity intact and your spirit high. <more, below>

Summertime is on, and the kids are out of school. Every mom knows that for these three months it's more important than ever to keep the kids busy. But you don't have to schedule your life away with camps, or drop a bundle on activities and games that come in a box. You can make your own fun, and even include the kids in the prep, with some simple, inexpensive DIY crafts that will keep them playing 'til the lightening bugs come out. Make your own fingerpaint, bubbles, and crayons. Create a fort-building kit and superhero capes that will kick their imaginations into overdrive. Here are 10 of our favorite kid-friendly DIY crafts to fuel your summertime fun.