Is homework really necessary?
Studies shown that too much homework isn't beneficial to students, but many researchers think some amount of take-home work is valuable.
Lynn Stoddard's years as a teacher and administrator in northern Utah schools produced a few opinions on the educational system. Among them, homework isn't needed, at least from a traditional standpoint, reports KSL.com.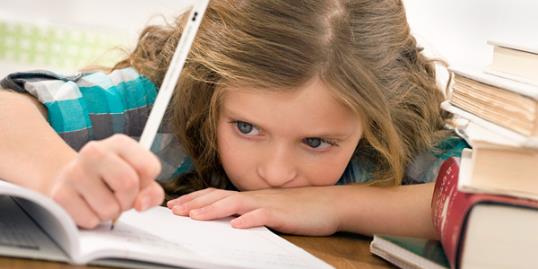 "It's such a strong myth in our society that teacher-assigned homework is good for kids," Stoddard was quoted. 
More from MSN Living: 51 perfect daytrips for families
He debates that take-home work is detrimental for a few reasons:
•         It is an excessive burden on parents.
•         It interferes with family activities.
•         It puts much stress on many students.
•         It makes less time for other beneficial interests.
•         It gives children an aversion to learning.
When it comes to homework, Stoddard says kids tend to learn what's necessary to pass a test and then ditch the information as soon as it's no longer needed.
Instead, Stoddard said children should have self-chosen home study.
"If you can get a child curious about something, you can't stop them from reading about it," he was quoted. "It's time to look at individual children, instead of a standardized public system we have now."
But a review by researchers at Duke University of more than 60 research studies on homework between 1987 and 2003 showed that, within limits, there is a positive interaction between the amount of homework which is done and student achievement. The research supports the '10-minute rule,' the widely accepted practice of assigning 10 minutes of homework per day per grade-level.
More from MSN Living: The most popular baby names of all time
Do you think homework improves academic achievement? Why or why not?
More from MSN Living:
Elvis song leaves Utah school district 'All Shook Up'
Is Wi-Fi on school buses a good idea?
Baby names for Kim and Kanye
Photo: Tooga/Getty Images
News, stories, tips and laughs for moms & dads
Transform the fall vegetable into cool decor pieces.

Put together these creative, but simple, Halloween looks for your youngsters.

We know you're documenting just about every move baby makes. (Do you even have any memory left on your phone? We didn't think so.) These tips from professional photographers can help you perfect your pics.

These six on-trend ideas will make baby's room your new favorite place to hang out.

Baby probably won't remember his first birthday party, but that doesn't mean you can't go all out (after all, parents need to celebrate making it through this first year, right?). These fun, colorful themes take planning to the next level.

See what celebrities who had problems conceiving have to say.

You'll be hearing a lot of advice and opinions. Some of it will be really helpful and some will be just plain wrong. Here are the most common things people say about babies that aren't true.

A new dad finds an Epcot Center's worth of innovation after expecting none at all.

The dog days of summer may be well behind us, but that doesn't mean it's time to pack in the outdoor adventures quite yet.

Protect yourself and your family with these ingenious gizmos and smartphone apps.

Make sure your go-to gadgets are as cute as your style, with these trendy tech finds!

Oh, how the times have changed...