Is homework really necessary?
Studies shown that too much homework isn't beneficial to students, but many researchers think some amount of take-home work is valuable.
Lynn Stoddard's years as a teacher and administrator in northern Utah schools produced a few opinions on the educational system. Among them, homework isn't needed, at least from a traditional standpoint, reports KSL.com.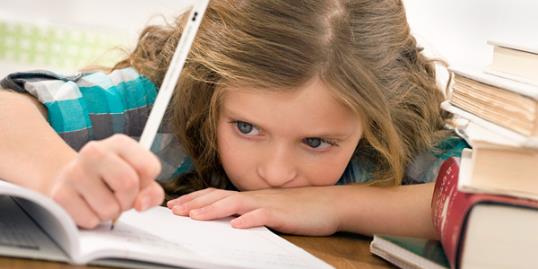 "It's such a strong myth in our society that teacher-assigned homework is good for kids," Stoddard was quoted. 
More from MSN Living: 51 perfect daytrips for families
He debates that take-home work is detrimental for a few reasons:
•         It is an excessive burden on parents.
•         It interferes with family activities.
•         It puts much stress on many students.
•         It makes less time for other beneficial interests.
•         It gives children an aversion to learning.
When it comes to homework, Stoddard says kids tend to learn what's necessary to pass a test and then ditch the information as soon as it's no longer needed.
Instead, Stoddard said children should have self-chosen home study.
"If you can get a child curious about something, you can't stop them from reading about it," he was quoted. "It's time to look at individual children, instead of a standardized public system we have now."
But a review by researchers at Duke University of more than 60 research studies on homework between 1987 and 2003 showed that, within limits, there is a positive interaction between the amount of homework which is done and student achievement. The research supports the '10-minute rule,' the widely accepted practice of assigning 10 minutes of homework per day per grade-level.
More from MSN Living: The most popular baby names of all time
Do you think homework improves academic achievement? Why or why not?
More from MSN Living:
Elvis song leaves Utah school district 'All Shook Up'
Is Wi-Fi on school buses a good idea?
Baby names for Kim and Kanye
Photo: Tooga/Getty Images

My child is in the 8th grade and has a ridiculous amount of homework.  She not only has to study for tests, but usually has several projects going on at once.  She has no time after school to enjoy herself, let alone get involved in any other activities besides going to church on Wednesday nights.  It is also hard on me.  I get home from a long day and I have to help her with homework.  She gets to the point of hating school!  I have a college degree from a good University and I never had as much homework as she has now.  They are not getting them ready for college, they are creating students who hate to learn and hate school.
I believe homework should be discontinued.  My youngest brings home his folders and I have to sign his behavior sheet, he has to read for 15 minutes and I have to sign this sheet, plus he has to read another sheet which is timed.  Then I get to my oldest who has learning disabilities and I have to help him with his homework.  Plus cook dinner, wrestling two nights a week, laundry, grocery shopping, and etc.  It doesnt leave time for family time or other activities. 

I feel that Homework causes unnecessary anxiety and that it should be left in its place. When you get a job, the saying is to leave your work , AT work! I feel that should be for school as well, unless a student needs help with something from their parent or  sibling. At home means you are "off the clock", isn't it good to get in that habit right away? Start off with good ethics right from the start?
Are you sure you want to delete this comment?
News, stories, tips and laughs for moms & dads
Remember the concept of weekends being a time for rest, relaxation, and togetherness? No? Us either. Between soccer games, playdates, dragging your kids to see the new exhibition at the local children's museum, and we need to pick up a gift for that birthday party that starts in . . . 20 minutes, juggling a busy family's weekend schedule can be more stressful than a weekday. While we know it's simply not realistic to cancel all your plans and obligations moving forward, clearing the calendar for just one weekend can be just the refresher that your family's craving. Here's why.

Any of these sound familiar?

4 steps for raising a child who doesn't feel emotionally stranded.

You just had a baby? You're a superstar! All those diapers, all that spit up, and you're makin' magic happen. But you're also likely tired - really tired - and busy (so, so busy). Taking time for yourself might seem like an indulgence but a happy mom makes for a happy baby. Here are 7 things you should definitely do to keep your sanity intact and your spirit high. <more, below>

Summertime is on, and the kids are out of school. Every mom knows that for these three months it's more important than ever to keep the kids busy. But you don't have to schedule your life away with camps, or drop a bundle on activities and games that come in a box. You can make your own fun, and even include the kids in the prep, with some simple, inexpensive DIY crafts that will keep them playing 'til the lightening bugs come out. Make your own fingerpaint, bubbles, and crayons. Create a fort-building kit and superhero capes that will kick their imaginations into overdrive. Here are 10 of our favorite kid-friendly DIY crafts to fuel your summertime fun.

Let these DIY dog bed projects be your inspiration and within a single weekend, you can construct something that really makes Rex feel like a king.

The task of finding an eco-friendly, safe-for-baby gift parents-to-be will actually use is kind of challenging. Add to that a price limit of $50, and the feat suddenly feels impossible! Fortunately, we combed the marketplace for some of the prettiest, most useful, sweetest gifts for baby and family. Many are fine on their own, while others would work well as part of a bigger basket — you know, if you wish to achieve that shower-goer hero status.

Jennifer Goodall gave birth Friday after much drama

My kids snapped a pic of me on my phone and it changed how I see myself

6-year-old has rare brain condition

He wanted to know if woman was pregnant

Did your state make the grade?