Is homework really necessary?
Studies shown that too much homework isn't beneficial to students, but many researchers think some amount of take-home work is valuable.
Lynn Stoddard's years as a teacher and administrator in northern Utah schools produced a few opinions on the educational system. Among them, homework isn't needed, at least from a traditional standpoint, reports KSL.com.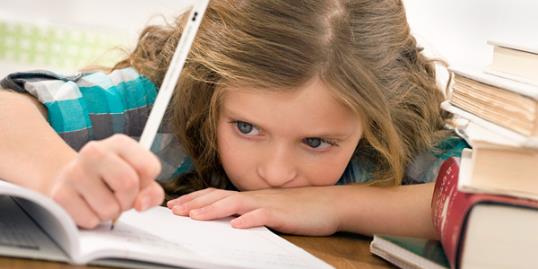 "It's such a strong myth in our society that teacher-assigned homework is good for kids," Stoddard was quoted. 
More from MSN Living: 51 perfect daytrips for families
He debates that take-home work is detrimental for a few reasons:
•         It is an excessive burden on parents.
•         It interferes with family activities.
•         It puts much stress on many students.
•         It makes less time for other beneficial interests.
•         It gives children an aversion to learning.
When it comes to homework, Stoddard says kids tend to learn what's necessary to pass a test and then ditch the information as soon as it's no longer needed.
Instead, Stoddard said children should have self-chosen home study.
"If you can get a child curious about something, you can't stop them from reading about it," he was quoted. "It's time to look at individual children, instead of a standardized public system we have now."
But a review by researchers at Duke University of more than 60 research studies on homework between 1987 and 2003 showed that, within limits, there is a positive interaction between the amount of homework which is done and student achievement. The research supports the '10-minute rule,' the widely accepted practice of assigning 10 minutes of homework per day per grade-level.
More from MSN Living: The most popular baby names of all time
Do you think homework improves academic achievement? Why or why not?
More from MSN Living:
Elvis song leaves Utah school district 'All Shook Up'
Is Wi-Fi on school buses a good idea?
Baby names for Kim and Kanye
Photo: Tooga/Getty Images

My child is in the 8th grade and has a ridiculous amount of homework.  She not only has to study for tests, but usually has several projects going on at once.  She has no time after school to enjoy herself, let alone get involved in any other activities besides going to church on Wednesday nights.  It is also hard on me.  I get home from a long day and I have to help her with homework.  She gets to the point of hating school!  I have a college degree from a good University and I never had as much homework as she has now.  They are not getting them ready for college, they are creating students who hate to learn and hate school.
I believe homework should be discontinued.  My youngest brings home his folders and I have to sign his behavior sheet, he has to read for 15 minutes and I have to sign this sheet, plus he has to read another sheet which is timed.  Then I get to my oldest who has learning disabilities and I have to help him with his homework.  Plus cook dinner, wrestling two nights a week, laundry, grocery shopping, and etc.  It doesnt leave time for family time or other activities. 

I feel that Homework causes unnecessary anxiety and that it should be left in its place. When you get a job, the saying is to leave your work , AT work! I feel that should be for school as well, unless a student needs help with something from their parent or  sibling. At home means you are "off the clock", isn't it good to get in that habit right away? Start off with good ethics right from the start?
Are you sure you want to delete this comment?
News, stories, tips and laughs for moms & dads
Stroll down any aisle of a Toys"R"Us these days and you'll be confronted with a billion options that are light-years beyond anything you had to entertain yourself with as a kid. Lego cruise ships (complete with flatscreen TVs in the lounge and sideboard jet-skis), battery-operated Mercedes-Benz sedans, and hi-tech tablets with Android operating systems abound. We wondered, as we let ourselves get nostalgic for a moment, if any of the beloved toys we played with as children were still even on the market. Thanks to a quick hunt on the Internet we were able to find that Fisher Price still makes their classic Two Tune TV, and you can still get your hands on a good ol' Slinky. Here's a roundup of the best old-school toys for kids-- we encourage you to click through the slideshow and consider wrapping up a well-loved classic for your little one this year.

Not great with a budget? Don't sweat it. Try these simple ways to save.

Watch the video of Kristen Bell going head to head with paparazzi - it will make you angry

Every year, toy makers from around the world gather to show their latest creations at the Toy Fair in New York City. The high-tech models, gadgets and trinkets on display put those basic Legos we played with at kids to shame. Here are 10 new toys that we'd happily buy or children. Or, really, ourselves.

Find yourself wandering the aisles, suddenly needing an owl-shaped candle while drinking a $5 latte? You're not alone, moms...

Here's some parenting advice for whatever stage of separation or divorce you're in.

Whether you pop it in the mail or post it on social media, a creative photo is a surefire way to grab everyone's attention and proudly say, "I'm pregnant!" Prepare for a lot of likes.

Remember the magical children's rooms in Peter Pan and The Little Prince? These timeless novels described spaces that were enchanting and made us wish that we could inhabit the rooms ourselves. The sumptuous interiors that were filled with never-ending toys and fort-like draping may seem like a fairytale, but thanks to four of our favorite kids' furniture websites, the dream could actually become a reality. Click through the slideshow to check out the best kids furniture websites that have everything necessary to create a fantasy room for your little one. And check out Sophia Demenge's super-fun space in the video below. By Barry Samaha

They lay, they play, and they take selfies with supermodels. Meet 5 of the most social media-savvy pets—animals taking control of their own fashionable online image.

We could try to offer you carefully researched and crafted words of Dad-centric inspiration, intended to show you the path to being a better man and, in turn, a better father. But Tom Limbert took up the task for us in his new book 'Dad's Playbook: Wisdom for Fathers from the Greatest Coaches of All Time,' so we left it to him. Limbert -- a parent coach and the founder of the Studio Grow children's play space in Berkeley, California -- has collected pearls of wisdom from an elite crew of coaches who have not only experienced greatness themselves, but also found ways to consistently instill it in their teams. "It's monkey-see, monkey-do," Limbert told us, after we asked him to gather the best quotes on achieving one's goals. "If you want your child to follow, you have to lead." Click on to read the often simple-seeming words that have inspired countless others to follow through on the field, but that can also easily be translated to the school, work, fitness, and, of course, parenting arenas.

What parents need to know

It's raining, it's pouring ... but that doesn't mean the day has to be a snore. Rather than let the kids grow restless and rambunctious, why not divert their energy toward some fun family bonding activities? Although the weather may have scotched your original plans for the day, seize the opportunity to reconnect and let loose with your loved ones. Click through this slideshow for ten refreshing rainy day activities that'll make you glad the clouds (almost) rained on your parade.