Is homework really necessary?
Studies shown that too much homework isn't beneficial to students, but many researchers think some amount of take-home work is valuable.
Lynn Stoddard's years as a teacher and administrator in northern Utah schools produced a few opinions on the educational system. Among them, homework isn't needed, at least from a traditional standpoint, reports KSL.com.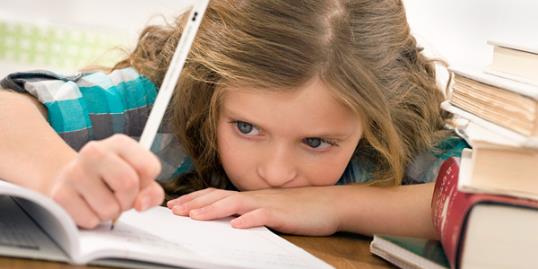 "It's such a strong myth in our society that teacher-assigned homework is good for kids," Stoddard was quoted. 
More from MSN Living: 51 perfect daytrips for families
He debates that take-home work is detrimental for a few reasons:
•         It is an excessive burden on parents.
•         It interferes with family activities.
•         It puts much stress on many students.
•         It makes less time for other beneficial interests.
•         It gives children an aversion to learning.
When it comes to homework, Stoddard says kids tend to learn what's necessary to pass a test and then ditch the information as soon as it's no longer needed.
Instead, Stoddard said children should have self-chosen home study.
"If you can get a child curious about something, you can't stop them from reading about it," he was quoted. "It's time to look at individual children, instead of a standardized public system we have now."
But a review by researchers at Duke University of more than 60 research studies on homework between 1987 and 2003 showed that, within limits, there is a positive interaction between the amount of homework which is done and student achievement. The research supports the '10-minute rule,' the widely accepted practice of assigning 10 minutes of homework per day per grade-level.
More from MSN Living: The most popular baby names of all time
Do you think homework improves academic achievement? Why or why not?
More from MSN Living:
Elvis song leaves Utah school district 'All Shook Up'
Is Wi-Fi on school buses a good idea?
Baby names for Kim and Kanye
Photo: Tooga/Getty Images

My child is in the 8th grade and has a ridiculous amount of homework.  She not only has to study for tests, but usually has several projects going on at once.  She has no time after school to enjoy herself, let alone get involved in any other activities besides going to church on Wednesday nights.  It is also hard on me.  I get home from a long day and I have to help her with homework.  She gets to the point of hating school!  I have a college degree from a good University and I never had as much homework as she has now.  They are not getting them ready for college, they are creating students who hate to learn and hate school.
I believe homework should be discontinued.  My youngest brings home his folders and I have to sign his behavior sheet, he has to read for 15 minutes and I have to sign this sheet, plus he has to read another sheet which is timed.  Then I get to my oldest who has learning disabilities and I have to help him with his homework.  Plus cook dinner, wrestling two nights a week, laundry, grocery shopping, and etc.  It doesnt leave time for family time or other activities. 

I feel that Homework causes unnecessary anxiety and that it should be left in its place. When you get a job, the saying is to leave your work , AT work! I feel that should be for school as well, unless a student needs help with something from their parent or  sibling. At home means you are "off the clock", isn't it good to get in that habit right away? Start off with good ethics right from the start?
Are you sure you want to delete this comment?
News, stories, tips and laughs for moms & dads
6-year-old has rare brain condition

He wanted to know if woman was pregnant

Did your state make the grade?

A new dad finds an Epcot Center's worth of innovation after expecting none at all.

Alcohol and tattoos are not meant for the pre-teen set

But Debra Harrell now has custody of daughter again

I am probably not the first to tell you this: Kids come with lots of stuff. Even if you try to be as minimal as possible, the little creatures require an awful lot to keep things running smoothly. Here's a master-plan slideshow of ways to cut corners on space in every room to accommodate all the things that come along with kids.

You never know for certain what type of parent you'll be until you've actually become one and your parenting style, as it becomes evident, may surprise you. Here are 4 parenting books to help you figure it all out.

Sunshine! Camping! Pool parties! BBQs! The sunny season is here and to help you make the most of it, we've hand-picked 7 great products to make this summer the best your family has ever had. Click through for our list to inspire your sunny day fun. From our sponsor: Walmart

We all love a picnic. But do one quick search for 'picnic ideas' on Pinterest and you're instantly teleported into a land of overachieving home chefs clearly looking for their big break on Food Network. Well, never mind that, we say. Scratch the 25-ingredient recipes and the incessant trips to the craft store for that perfect tablescape. Here are 5 truly simple picnic ideas that will look great, taste great, and make you feel like the winner you are! From our sponsor: Walmart

Admit it — you do these things, too! And that's OK. But maybe — just maybe — it's time to think about changing things up a little bit, for the sake of your sanity, your relationship with your kids, and because life's too short.

We asked veterinary experts and readers which breeds they think and if it is OK to shave longhaired pets in the summer.