Is homework really necessary?
Studies shown that too much homework isn't beneficial to students, but many researchers think some amount of take-home work is valuable.
Lynn Stoddard's years as a teacher and administrator in northern Utah schools produced a few opinions on the educational system. Among them, homework isn't needed, at least from a traditional standpoint, reports KSL.com.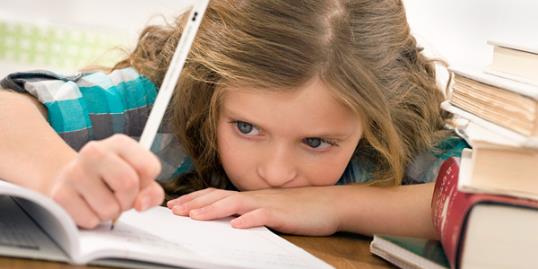 "It's such a strong myth in our society that teacher-assigned homework is good for kids," Stoddard was quoted. 
More from MSN Living: 51 perfect daytrips for families
He debates that take-home work is detrimental for a few reasons:
•         It is an excessive burden on parents.
•         It interferes with family activities.
•         It puts much stress on many students.
•         It makes less time for other beneficial interests.
•         It gives children an aversion to learning.
When it comes to homework, Stoddard says kids tend to learn what's necessary to pass a test and then ditch the information as soon as it's no longer needed.
Instead, Stoddard said children should have self-chosen home study.
"If you can get a child curious about something, you can't stop them from reading about it," he was quoted. "It's time to look at individual children, instead of a standardized public system we have now."
But a review by researchers at Duke University of more than 60 research studies on homework between 1987 and 2003 showed that, within limits, there is a positive interaction between the amount of homework which is done and student achievement. The research supports the '10-minute rule,' the widely accepted practice of assigning 10 minutes of homework per day per grade-level.
More from MSN Living: The most popular baby names of all time
Do you think homework improves academic achievement? Why or why not?
More from MSN Living:
Elvis song leaves Utah school district 'All Shook Up'
Is Wi-Fi on school buses a good idea?
Baby names for Kim and Kanye
Photo: Tooga/Getty Images

My child is in the 8th grade and has a ridiculous amount of homework.  She not only has to study for tests, but usually has several projects going on at once.  She has no time after school to enjoy herself, let alone get involved in any other activities besides going to church on Wednesday nights.  It is also hard on me.  I get home from a long day and I have to help her with homework.  She gets to the point of hating school!  I have a college degree from a good University and I never had as much homework as she has now.  They are not getting them ready for college, they are creating students who hate to learn and hate school.
I believe homework should be discontinued.  My youngest brings home his folders and I have to sign his behavior sheet, he has to read for 15 minutes and I have to sign this sheet, plus he has to read another sheet which is timed.  Then I get to my oldest who has learning disabilities and I have to help him with his homework.  Plus cook dinner, wrestling two nights a week, laundry, grocery shopping, and etc.  It doesnt leave time for family time or other activities. 

I feel that Homework causes unnecessary anxiety and that it should be left in its place. When you get a job, the saying is to leave your work , AT work! I feel that should be for school as well, unless a student needs help with something from their parent or  sibling. At home means you are "off the clock", isn't it good to get in that habit right away? Start off with good ethics right from the start?
Are you sure you want to delete this comment?
News, stories, tips and laughs for moms & dads
Get ready to hit the mall! Check out the hottest back-to-school trends—and get ready to make a major style statement this year.

Unique, or downright strange?

This is Kevin Droniak and his grandma. They're besties, they're awesome and they're YouTube stars.

It can be difficult to entice little ones to eat anything at all, let alone to devour a healthy plate. But feeding your kids nutritious snacks after school just got way easier, thanks to these adorably clever and cute snack ideas! For more smart and fun ways to get your kids to enjoy healthful and delicious foods, try one of these amazingly artsy lunch ideas.

Through a tonsillectomy all the way to brain surgery, my mother deserves some recognition. She's my spine, my birthday shadow, my BFF, my thunder buddy, so Mommy, thank you.

My son needs me, as much as yours needs you. Sadly, my son needs me more. He needs someone to have his back, when it seems that the police, the men he'd wave to with excitement as a little boy, see him as a being worthy only of prison or death.

If you know someone who has adopted and have made some of these comments, don't fret... now you know!

"Because you shine from within," I said, touching my finger to her heart. "Not everybody sees it, but I do. I see it. And my job is to protect that light. So when people say mean comments that squelch that light, I want you to tell me. I will protect your light by listening and loving you, my brave, courageous, and unique little firefly."

Studies have shown that it helps, top education officials have recommended it, and now doctors are officially saying the same.

I may have accidentally dropped you a few times, forgotten to document your first fart, let a little pee fly and dressed you like an idiot, but I have also loved you with every piece of me, and you will never hear an apology for that.

Back-to-school shopping is still in full swing, and your little gents probably need some new kicks to round out their fall wardrobes (you already picked up some bold shoes for the little ladies in your life, right?).

Not every kid is a fan of returning to the classroom, so parents try to ease the blow with a little back-to-school shopping.