Number of fat cats soars
Dogs aren't the only ones fighting obesity.
A new study finds the number of overweight cats is at an all-time high.
Conducted by the Association for Pet Obesity Prevention, the National Pet Obesity Awareness Day Survey found that 58 percent of cats were reported to be overweight or obese by their veterinarians. That's up 5 percent from the group's 2010 survey.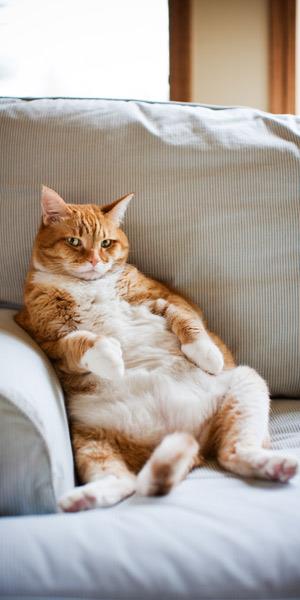 Bing: The world's fattest cats
The research also found that 53 percent of dogs are overweight or obese.
"Pet obesity remains the leading health threat to our nation's pets," said the association's founder, Dr. Ernie Ward. "We continue to see an escalation in the number of overweight cats and an explosion in the number of Type 2 diabetes cases."
More: Obese Dachshund drops 40 pounds
Now about 80 million cats and dogs in the United States are at increased risk for weight-related disorders such as diabetes and many cancers, according to the study.
Experts say that one of the biggest issues in fighting pet obesity is that many times owners do not recognize their dog or cat is overweight.
— Read it at DVM 360
More from Vetstreet:
Why does my cat… Knead me?
Why vets don't think fat cats are funny
26 household items that are poisonous to your cats & dogs
4 places to pet a cat, 1 to leave alone
Signs your cat is about to bite or scratch you
Photo: Fat cat / Lori Adamski Peek/Getty Images
News, stories, tips and laughs for moms & dads
The 4 crucial conversations you need to have with your spouse before you make this decision.

You bring baby home and it seems like everyone has an opinion on which techniques you should use to get her to sleep, to feed her and to help her learn and develop. And they tell you which ones not to use too. So what's worth trying out and what's completely insane? Decide for yourself!

I'll say it: if your baby is melting down at Din Tai Fung, please pack your wipes and go

Pregnancy is just one long, unending stream of unsolicited advice—people love to tell you what to do, how to do it, and why you'd be crazy to do it any other way.

Maybe I was naïve, but I thought getting pregnant was as simple as having unprotected sex, and I'd be a mom in nine months flat. We spent years trying to prevent pregnancy, waiting until we were ready and having panic attacks if my period was late. So naturally, once we stopped preventing — boom! — it should've happened, right? Silly me.