Number of fat cats soars
Dogs aren't the only ones fighting obesity.
A new study finds the number of overweight cats is at an all-time high.
Conducted by the Association for Pet Obesity Prevention, the National Pet Obesity Awareness Day Survey found that 58 percent of cats were reported to be overweight or obese by their veterinarians. That's up 5 percent from the group's 2010 survey.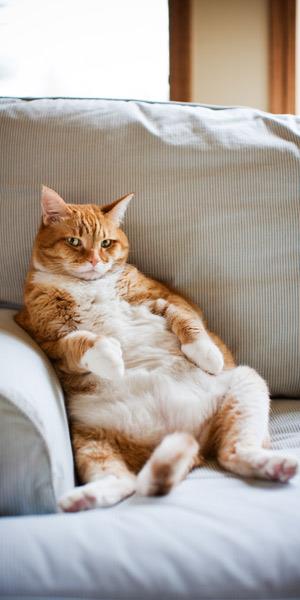 Bing: The world's fattest cats
The research also found that 53 percent of dogs are overweight or obese.
"Pet obesity remains the leading health threat to our nation's pets," said the association's founder, Dr. Ernie Ward. "We continue to see an escalation in the number of overweight cats and an explosion in the number of Type 2 diabetes cases."
More: Obese Dachshund drops 40 pounds
Now about 80 million cats and dogs in the United States are at increased risk for weight-related disorders such as diabetes and many cancers, according to the study.
Experts say that one of the biggest issues in fighting pet obesity is that many times owners do not recognize their dog or cat is overweight.
— Read it at DVM 360
More from Vetstreet:
Why does my cat… Knead me?
Why vets don't think fat cats are funny
26 household items that are poisonous to your cats & dogs
4 places to pet a cat, 1 to leave alone
Signs your cat is about to bite or scratch you
Photo: Fat cat / Lori Adamski Peek/Getty Images
News, stories, tips and laughs for moms & dads
Gone are the days of mystery meat and the crabby, hairnet-wearing lunch lady. Across the nation, school lunchrooms are getting a face-lift and a menu makeover. From picked-from-the-garden veggies to fresh-caught fish tacos, students are experiencing the gourmet treatment. Here's a sample of the most innovative (and delicious) lunch programs we uncovered — bet your school lunch never tasted this good!

In a few short weeks you'll be dropping your child off at college, where they'll spend the next four years learning, laughing, and probably partying. Of course, in true teen fashion, your child has already started shopping for their dorm room essentials. Don't panic just yet!

When tots burst through the door after a busy day at school, the first order of business is securing a snack.

The only thing more important than what you pack your child for lunch is what you pack it in.

Frustrated mom invents Ignore No More app

Do you have the right mix of moms surrounding you?