Number of fat cats soars
Dogs aren't the only ones fighting obesity.
A new study finds the number of overweight cats is at an all-time high.
Conducted by the Association for Pet Obesity Prevention, the National Pet Obesity Awareness Day Survey found that 58 percent of cats were reported to be overweight or obese by their veterinarians. That's up 5 percent from the group's 2010 survey.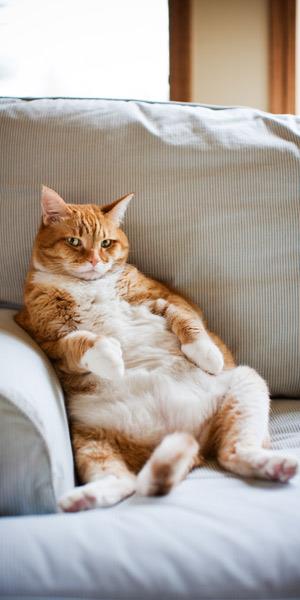 Bing: The world's fattest cats
The research also found that 53 percent of dogs are overweight or obese.
"Pet obesity remains the leading health threat to our nation's pets," said the association's founder, Dr. Ernie Ward. "We continue to see an escalation in the number of overweight cats and an explosion in the number of Type 2 diabetes cases."
More: Obese Dachshund drops 40 pounds
Now about 80 million cats and dogs in the United States are at increased risk for weight-related disorders such as diabetes and many cancers, according to the study.
Experts say that one of the biggest issues in fighting pet obesity is that many times owners do not recognize their dog or cat is overweight.
— Read it at DVM 360
More from Vetstreet:
Why does my cat… Knead me?
Why vets don't think fat cats are funny
26 household items that are poisonous to your cats & dogs
4 places to pet a cat, 1 to leave alone
Signs your cat is about to bite or scratch you
Photo: Fat cat / Lori Adamski Peek/Getty Images
News, stories, tips and laughs for moms & dads
From about first grade all the way through college, back-to-school shopping meant color-coded lists and endless trips to the local Target. There's nothing like the giddy feeling of writing in a brand new planner (with colored pens of course). Maybe it was just my OCD kicking in, but getting organized for the new school year felt therapeutic in a Martha Stewart sort of way.

Every year, my mother insisted on the classic first day of school photo—uniform on, hair bow in place, plus frilly socks and Mary Janes, of course. But no photo opp was complete without my Kipling backpack that was about as big as I was (at least until 2nd grade or so).

Some people make big resolutions right before New Year's Eve, others on their birthdays, but mine always happen while back-to-school shopping. Something about the pristine, blank pages of my untouched notebooks and crisp, un-sharpened pencils has always made me feel like anything's possible: This will be the year I actually write down my assignments. I'm going to hole-punch and and organize all my handouts. No more showing up to class unprepared!

A special relationship that's worth noting.

You might have more in common than you think.

Feeling outsmarted by your little? So is this mother.