Number of fat cats soars
Dogs aren't the only ones fighting obesity.
A new study finds the number of overweight cats is at an all-time high.
Conducted by the Association for Pet Obesity Prevention, the National Pet Obesity Awareness Day Survey found that 58 percent of cats were reported to be overweight or obese by their veterinarians. That's up 5 percent from the group's 2010 survey.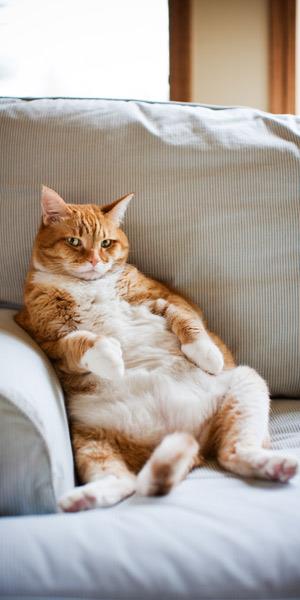 Bing: The world's fattest cats
The research also found that 53 percent of dogs are overweight or obese.
"Pet obesity remains the leading health threat to our nation's pets," said the association's founder, Dr. Ernie Ward. "We continue to see an escalation in the number of overweight cats and an explosion in the number of Type 2 diabetes cases."
More: Obese Dachshund drops 40 pounds
Now about 80 million cats and dogs in the United States are at increased risk for weight-related disorders such as diabetes and many cancers, according to the study.
Experts say that one of the biggest issues in fighting pet obesity is that many times owners do not recognize their dog or cat is overweight.
— Read it at DVM 360
More from Vetstreet:
Why does my cat… Knead me?
Why vets don't think fat cats are funny
26 household items that are poisonous to your cats & dogs
4 places to pet a cat, 1 to leave alone
Signs your cat is about to bite or scratch you
Photo: Fat cat / Lori Adamski Peek/Getty Images
News, stories, tips and laughs for moms & dads
Baby booms are certainly fun, but the pileup of shower invites can be rough on a bank account. The challenge: Find a great gift for cheap that's cute, useful, "big" enough to count as a whole gift...and doesn't seem like you skimped. Here are eight fun, functional options I love that definitely fit the bill. And they're all under $30! By The Bump Editors

You'd be shocked at how much a choice selection of apps can change your life for the better. From a honing device for kid-friendly locations to a virtual accountant, these eleven apps belong on every parent's home screen. It may seem counterintuitive, but amping up your smartphone with these handy features will actually make unplugging that much easier, since you know you've got your bases covered. Check them out in the slideshow above, download what you will, and we bet you won't be able to remember what life was like without them.

12 playful and engaging gift ideas for babies and toddlers this season.

When it comes to being single and pregnant, it feels like everybody has their own opinion -- or way-too-nosy questions. Whether they're trying to get the "dirt" on baby's father, or asking about your quest for child support (so not their business!), people really say ridiculous things to single moms-to-be.

Thanksgivukkah, a mash-up super-holiday that magically occurs this year as Hanukkah and Thanksgiving fall on the same day, is quickly becoming every foodie's dream. It's literally a once-in-a-lifetime chance (the next one doesn't occur for another 77,798 years!) to make insanely delicious foods combining both traditions, like sweet potato latkes and pumpkin challah. Below is a round-up of some must follow Thanksgivukkah Pinterest boards!

From unsolicited advice that comes from someone without kids to real-life momzillas who always one-up baby's accomplishments, read on for the 12 worst comments new mamas have ever heard (and prepare for some serious LOLs).