Number of fat cats soars
Dogs aren't the only ones fighting obesity.
A new study finds the number of overweight cats is at an all-time high.
Conducted by the Association for Pet Obesity Prevention, the National Pet Obesity Awareness Day Survey found that 58 percent of cats were reported to be overweight or obese by their veterinarians. That's up 5 percent from the group's 2010 survey.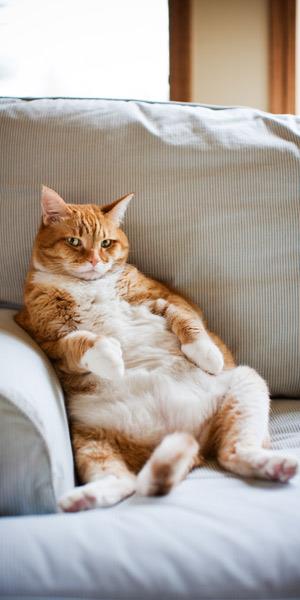 Bing: The world's fattest cats
The research also found that 53 percent of dogs are overweight or obese.
"Pet obesity remains the leading health threat to our nation's pets," said the association's founder, Dr. Ernie Ward. "We continue to see an escalation in the number of overweight cats and an explosion in the number of Type 2 diabetes cases."
More: Obese Dachshund drops 40 pounds
Now about 80 million cats and dogs in the United States are at increased risk for weight-related disorders such as diabetes and many cancers, according to the study.
Experts say that one of the biggest issues in fighting pet obesity is that many times owners do not recognize their dog or cat is overweight.
— Read it at DVM 360
More from Vetstreet:
Why does my cat… Knead me?
Why vets don't think fat cats are funny
26 household items that are poisonous to your cats & dogs
4 places to pet a cat, 1 to leave alone
Signs your cat is about to bite or scratch you
Photo: Fat cat / Lori Adamski Peek/Getty Images
News, stories, tips and laughs for moms & dads
Take a look at your house for these telltale signs that a cat is running the show.

Check out this list of requirements you should meet before getting a new puppy or adult dog.

Virtually everything you need to know about relationships, you learned in nursery school: Treat people as you want to be treated, clean up after yourself, and don't be a know-it-all.

Much like their famous owners, these pooches live a fabulous life. Some are rescues, others purebred, but one thing is certain – these dogs play an important part in their famous parents' lives. Can you guess who owns each of these dogs?

Make the most of the summer with these family-oriented activities!