Number of fat cats soars
Dogs aren't the only ones fighting obesity.
A new study finds the number of overweight cats is at an all-time high.
Conducted by the Association for Pet Obesity Prevention, the National Pet Obesity Awareness Day Survey found that 58 percent of cats were reported to be overweight or obese by their veterinarians. That's up 5 percent from the group's 2010 survey.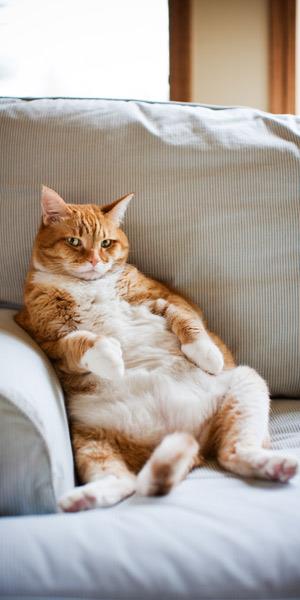 Bing: The world's fattest cats
The research also found that 53 percent of dogs are overweight or obese.
"Pet obesity remains the leading health threat to our nation's pets," said the association's founder, Dr. Ernie Ward. "We continue to see an escalation in the number of overweight cats and an explosion in the number of Type 2 diabetes cases."
More: Obese Dachshund drops 40 pounds
Now about 80 million cats and dogs in the United States are at increased risk for weight-related disorders such as diabetes and many cancers, according to the study.
Experts say that one of the biggest issues in fighting pet obesity is that many times owners do not recognize their dog or cat is overweight.
— Read it at DVM 360
More from Vetstreet:
Why does my cat… Knead me?
Why vets don't think fat cats are funny
26 household items that are poisonous to your cats & dogs
4 places to pet a cat, 1 to leave alone
Signs your cat is about to bite or scratch you
Photo: Fat cat / Lori Adamski Peek/Getty Images
News, stories, tips and laughs for moms & dads
Who knew parenting would make you feel so dumb?

Bob King, 68, found himself stuck

Witnesses now say they were helping mom, who was on the scene

Screaming won't make things better.

Adventures, friends, and boys—all the makings of a great movie. We may be a bit too old for summer camp, but these 10 movies bring us back to those times when all that mattered was winning Capture the Flag. We can practically taste the s'mores.

With summer comes vacations, trips, and relaxed time in the backyard, all of which I'd like to capture on film - hopefully with my kids' eyes open. Here are 10 pro tips to help capture your favorite moments.

Panic gives way to calmness and all ends well

We've all been there - here's how to deal...

It's not nice to make an expectant mom cry

If you're searching for a breed that may enjoy the company of a kid, we have some great suggestions for you.

It's all fun and games...unless you're a hyper-observant parent

Battle-hardened warrior? She also goes by Mom.