Number of fat cats soars
Dogs aren't the only ones fighting obesity.
A new study finds the number of overweight cats is at an all-time high.
Conducted by the Association for Pet Obesity Prevention, the National Pet Obesity Awareness Day Survey found that 58 percent of cats were reported to be overweight or obese by their veterinarians. That's up 5 percent from the group's 2010 survey.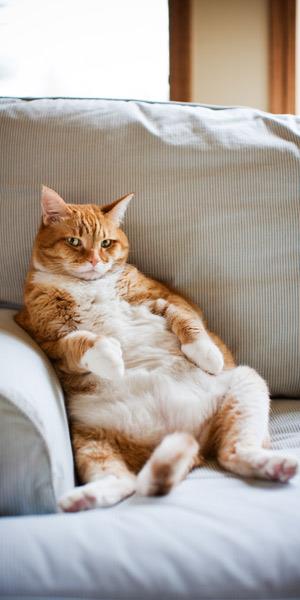 Bing: The world's fattest cats
The research also found that 53 percent of dogs are overweight or obese.
"Pet obesity remains the leading health threat to our nation's pets," said the association's founder, Dr. Ernie Ward. "We continue to see an escalation in the number of overweight cats and an explosion in the number of Type 2 diabetes cases."
More: Obese Dachshund drops 40 pounds
Now about 80 million cats and dogs in the United States are at increased risk for weight-related disorders such as diabetes and many cancers, according to the study.
Experts say that one of the biggest issues in fighting pet obesity is that many times owners do not recognize their dog or cat is overweight.
— Read it at DVM 360
More from Vetstreet:
Why does my cat… Knead me?
Why vets don't think fat cats are funny
26 household items that are poisonous to your cats & dogs
4 places to pet a cat, 1 to leave alone
Signs your cat is about to bite or scratch you
Photo: Fat cat / Lori Adamski Peek/Getty Images
News, stories, tips and laughs for moms & dads
Sometimes, love isn't enough to save us.

Joe, Kevin, and Nick aren't the only hot bros in Hollywood. Seventeen has uncovered the cutest celebrity siblings!

Happify shares their results of a recent study on the importance of being nurturing

If you live with a feline companion, you know that cats can be quirky and totally entertaining. (Even if they'd never admit it in a million, trillion years.) Here are just a few of our favorite cat-isms, some with sandpaper tongue firmly in cheek. Did we miss any of yours?

What do eggs, rabbit breeding schedules, and a fertility goddess named Eostre have in common? They're all tied to popular Easter traditions! Learn the surprising past behind your favorite ways to celebrate.

Sure, beaches and amusement parks promise all kinds of family fun during spring or summer breaks. But there are plenty of ways to live it up without hitting the road.

No scared, crying kids sitting on the Easter bunny's lap here! We scoured Pinterest for some of the most adorable Easter-ready babies ever pinned, and these little cuties definitely did not disappoint...

Oh, Pinterest. We love you, we hate you. You inspire us, and you make us feel terribly lame at the same time. But what we always love, without a fault, is finding examples of people who have tried, and failed, to create a Pinterest-inspired work of art. With that, our fave 'fails.' Original Pinterest inspirations on the left, crafting fails on the right - away we go… By Gina Cohen and Charyn Pfeuffer, MSN Living

The company reportedly considered her act "destruction of property."

Why it's time to retire the trend already

It's not nice to make an expectant mom cry

Tummy troubles in your four-legged friends? Carrageenan in their pet food may be to blame.