Two parents may not be better than one
World Family Map study examines the family unit and its changing shape across cultures.
A 2013 study, World Family Map, found that poorer children with one parent were just as successful academically as wealthier children with two parents.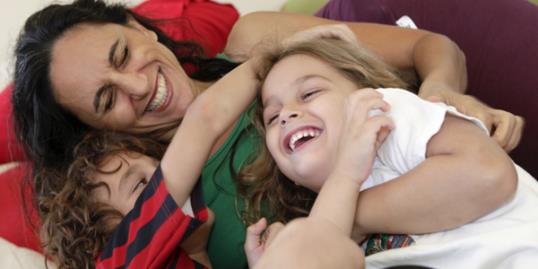 The study, sponsored by the international research organization Child Trends, analyzed family socioeconomics, processes, structures and cultures across all continents. Findings suggest that in the West, primarily in North America and Europe, individuals are increasingly choosing not to marry and not to have children—a phenomenon to which many publications have already attested. There is also a growing acceptance across cultures for single-mother households.

"Since there are huge shifts in families all over the world, we wondered about the implications of those shifts  for children," said Child Trends program director, Laura Lippman. "Do patterns we see in the U.S. and other higher countries hold true for lower income countries as well?"

More from MSN Living: 11 mom sayings it's ok to ditch
"Nontraditional families made up of people linked neither by blood nor by marriage have often existed, are now found in growing numbers in many regions around the world," according to the study.
Bing: Most common lies parents tell their kids
The study's authors say that extended family involvement in these higher poverty regions may contribute to children who are more resilient educationally. Governmental aid may also counterbalance the loss of a parental income.
But the authors remind us that in many lower-income bracket countries educational opportunity is a challenge for all children, regardless of family structure.
More from MSN Living: The top 10 worst moments in mom judgment
World Family Map will continue to investigate these findings. According to the authors, countries can learn much from the successes of each other during this period of social change and familial instability.

"We are developing a network of researchers and practitioners around the world who focus on family and child well-being, and research partnerships are developing to address important questions that will further our understanding of how families can be strengthened by learning lessons from around the globe," said Lippman.
Read the study here (.pdf).
More from Family Room:
Moms admit to texting, driving with kids
Most parents lie to their kids to get them to behave
Little girls' book of rules goes viral
Love content like this? Friend us on Facebook, follow us on Twitter and find us on Pinterest.
Photo: Lihee Avidan/Getty Images
News, stories, tips and laughs for moms & dads
Do you have the right mix of moms surrounding you?

It's hard to keep young kids entertained while being confined indoors, but fear not, for we have some fun ideas to keep the entire family from climbing the walls during rainy days.

Back in our day, ending up with the same exact backpack as your BFF was a legitimate back-to-school concern. Nowadays? There are so many options, it's dizzying!

It is a parent's eternal dilemma: What do I make the kids for lunch today? And tomorrow? And next week? We fall into ruts, succumb to the tried-and-true, give in to our children's demands for junk food. No more! These school lunch ideas—for everything from sandwiches to snacks to hot meals—will freshen up your daily routine, so much so you may be tempted to make them for yourself.

Whether your kids have recently gone back to school or are preparing to go shortly, it's never too late to start thinking about how we can make this year successful and low-stress, both for our kids and ourselves. With that, here are 6 things parents might want to stop doing this year in order to make it the best one yet...for all of you!

Some families spend their after-dinner time playing card games, watching television, or prepping for the next day. And that is fine and dandy, but be sure to incorporate some new, fun games and activities into your evenings to keep it fresh and exciting during the school year.

Head back to school in style with these fashionable, affordable picks

Helpful tips for easing first day jitters.

Get savvy tips for saving cash on your children's school supplies

There's the list of supplies the school sends you; then there's what your kid really needs. Here's how to get off to a smart start and keep things organized all year.

After a long, fun, and relaxing summer, the thought of going back to school is a harsh one. It's only been three months since you walked the halls of your school, but it might as well have been an eternity because your brain pretty much remembers nothing. From getting lost trying to find your class in Hallway C to trying to figure out which table to eat at for lunch, here are just some of the many first day struggles we've all been through.

It's time to start rifling through bins of composition notebooks, glue sticks and highlighter pens. Your kids are heading back to school! We've rounded up 10 relatively easy DIY ideas from Pinterest to satisfy any crafty (or wannabe) parent. Send your kids off with one of these cute concepts that are sure to deliver lots of 'likes' on your Facebook page.