Two parents may not be better than one
World Family Map study examines the family unit and its changing shape across cultures.
A 2013 study, World Family Map, found that poorer children with one parent were just as successful academically as wealthier children with two parents.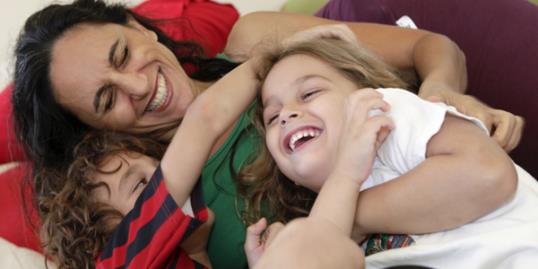 The study, sponsored by the international research organization Child Trends, analyzed family socioeconomics, processes, structures and cultures across all continents. Findings suggest that in the West, primarily in North America and Europe, individuals are increasingly choosing not to marry and not to have children—a phenomenon to which many publications have already attested. There is also a growing acceptance across cultures for single-mother households.

"Since there are huge shifts in families all over the world, we wondered about the implications of those shifts  for children," said Child Trends program director, Laura Lippman. "Do patterns we see in the U.S. and other higher countries hold true for lower income countries as well?"

More from MSN Living: 11 mom sayings it's ok to ditch
"Nontraditional families made up of people linked neither by blood nor by marriage have often existed, are now found in growing numbers in many regions around the world," according to the study.
Bing: Most common lies parents tell their kids
The study's authors say that extended family involvement in these higher poverty regions may contribute to children who are more resilient educationally. Governmental aid may also counterbalance the loss of a parental income.
But the authors remind us that in many lower-income bracket countries educational opportunity is a challenge for all children, regardless of family structure.
More from MSN Living: The top 10 worst moments in mom judgment
World Family Map will continue to investigate these findings. According to the authors, countries can learn much from the successes of each other during this period of social change and familial instability.

"We are developing a network of researchers and practitioners around the world who focus on family and child well-being, and research partnerships are developing to address important questions that will further our understanding of how families can be strengthened by learning lessons from around the globe," said Lippman.
Read the study here (.pdf).
More from Family Room:
Moms admit to texting, driving with kids
Most parents lie to their kids to get them to behave
Little girls' book of rules goes viral
Love content like this? Friend us on Facebook, follow us on Twitter and find us on Pinterest.
Photo: Lihee Avidan/Getty Images
News, stories, tips and laughs for moms & dads
Two sociologists have found that parents who have daughters are more inclined to support the GOP and turn a cold shoulder to Democrats.

The experts at Nameberry.com predict what will be big in baby-naming next year

Famed event-planner David Stark shared tips for making chic holiday decorations using items you already have around the house. Take a look!

Sociologist Karen Z. Kramer found that over the past decade more than 550,000 men were stay-at-home fathers, which is about 3.5 percent of the married with kids population.

Ben Miller celebrates his wife's birthday and the anniversary of the day their premature son Ward Miles came home for good with a video documenting his first year.

Adopting an animal is a major commitment. Yet all too often people put more effort into researching what kind of car to get than the type of pet that would best fit their lifestyle.

'Tis the season to send out holiday greeting cards to all your friends and family. But, as our friends at Awkward Family Pet Photos know, not all holiday snapshots are the same. Some are just plain kooky — especially when pets are included. So with good tidings and great cheer, here are 10 wacky holiday animal portraits that are sure to make you laugh out loud and get you in the holiday spirit. And possibly make you think twice about dressing up the family cat this year.

King of the jungle? Nah, it's just a labradoodle!

Side-by-side images of adorable babies and their celebrity doppelgängers

Do you have a finicky furry friend on your holiday gift list this year? You're in luck! We've rounded up the coolest cat-approved products to bring you purrfect gift ideas for every kind of cat -- from the curious kitten to the most refined feline. Any one of these special gifts could make your resident kitty purr with pleasure and maybe, just maybe, like the present this year even more than the box and wrapping paper it came in!

Plus, puppy names to watch

This holiday season's hottest toy has yet to be revealed, but more often than not, the best gifts are the ones kids don't even know to ask for. So this year, surprise your kids with unique presents under the tree, and watch as their eyes light up when they unwrap them. From space-age sand to a DIY race track, these out-of-the-box gift ideas will provide some serious shopping inspiration. Click through the slideshow above for all our favorite picks.