Two parents may not be better than one
World Family Map study examines the family unit and its changing shape across cultures.
A 2013 study, World Family Map, found that poorer children with one parent were just as successful academically as wealthier children with two parents.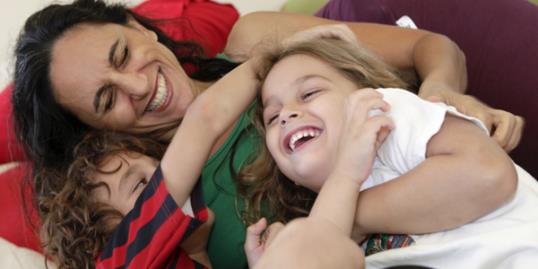 The study, sponsored by the international research organization Child Trends, analyzed family socioeconomics, processes, structures and cultures across all continents. Findings suggest that in the West, primarily in North America and Europe, individuals are increasingly choosing not to marry and not to have children—a phenomenon to which many publications have already attested. There is also a growing acceptance across cultures for single-mother households.

"Since there are huge shifts in families all over the world, we wondered about the implications of those shifts  for children," said Child Trends program director, Laura Lippman. "Do patterns we see in the U.S. and other higher countries hold true for lower income countries as well?"

More from MSN Living: 11 mom sayings it's ok to ditch
"Nontraditional families made up of people linked neither by blood nor by marriage have often existed, are now found in growing numbers in many regions around the world," according to the study.
Bing: Most common lies parents tell their kids
The study's authors say that extended family involvement in these higher poverty regions may contribute to children who are more resilient educationally. Governmental aid may also counterbalance the loss of a parental income.
But the authors remind us that in many lower-income bracket countries educational opportunity is a challenge for all children, regardless of family structure.
More from MSN Living: The top 10 worst moments in mom judgment
World Family Map will continue to investigate these findings. According to the authors, countries can learn much from the successes of each other during this period of social change and familial instability.

"We are developing a network of researchers and practitioners around the world who focus on family and child well-being, and research partnerships are developing to address important questions that will further our understanding of how families can be strengthened by learning lessons from around the globe," said Lippman.
Read the study here (.pdf).
More from Family Room:
Moms admit to texting, driving with kids
Most parents lie to their kids to get them to behave
Little girls' book of rules goes viral
Love content like this? Friend us on Facebook, follow us on Twitter and find us on Pinterest.
Photo: Lihee Avidan/Getty Images
News, stories, tips and laughs for moms & dads
Make the most of the summer with these family-oriented activities!

Here our experts' best tips for how to be a positive role model for your kids so that they grow up healthy, strong and confident about the way they look.

Pets are part of many children's lives. Learn how to help them foster strong, healthy relationships.

It's that time again, parents...

One of our favorite ways to start the day is with a piping hot cup of coffee and a thought-provoking TED talk. In case you'€™re not familiar with the group, TED (which stands for Technology, Entertainment and Design) is a nonprofit organization dedicated to spreading ideas through projects and talks by a diverse group of inspired thinkers - people of all cultures, ages and disciplines. As you can probably guess, listening to these innovators share their ideas is a surefire way to jumpstart your day and get your creative juices flowing. Click through the slideshow above for the eight TED talks every parent needs to see. By Cordelia Tai

Much like their famous owners, these pooches live a fabulous life. Some are rescues, others purebred, but one thing is certain – these dogs play an important part in their famous parents' lives. Can you guess who owns each of these dogs?

If you value the backside of your theater seat and making it to your next paycheck, you may want to stay home

Two controversial science projects resembled weapons, school officials said.

One mom shares how she and her family make the Sedar fun and memorable for all

The threats were in public view on the boy's social media wall.

Sometimes, love isn't enough to save us.

Joe, Kevin, and Nick aren't the only hot bros in Hollywood. Seventeen has uncovered the cutest celebrity siblings!