Two parents may not be better than one
World Family Map study examines the family unit and its changing shape across cultures.
A 2013 study, World Family Map, found that poorer children with one parent were just as successful academically as wealthier children with two parents.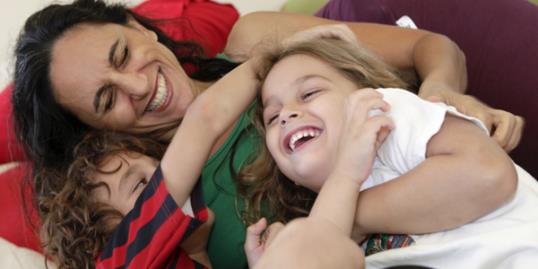 The study, sponsored by the international research organization Child Trends, analyzed family socioeconomics, processes, structures and cultures across all continents. Findings suggest that in the West, primarily in North America and Europe, individuals are increasingly choosing not to marry and not to have children—a phenomenon to which many publications have already attested. There is also a growing acceptance across cultures for single-mother households.

"Since there are huge shifts in families all over the world, we wondered about the implications of those shifts  for children," said Child Trends program director, Laura Lippman. "Do patterns we see in the U.S. and other higher countries hold true for lower income countries as well?"

More from MSN Living: 11 mom sayings it's ok to ditch
"Nontraditional families made up of people linked neither by blood nor by marriage have often existed, are now found in growing numbers in many regions around the world," according to the study.
Bing: Most common lies parents tell their kids
The study's authors say that extended family involvement in these higher poverty regions may contribute to children who are more resilient educationally. Governmental aid may also counterbalance the loss of a parental income.
But the authors remind us that in many lower-income bracket countries educational opportunity is a challenge for all children, regardless of family structure.
More from MSN Living: The top 10 worst moments in mom judgment
World Family Map will continue to investigate these findings. According to the authors, countries can learn much from the successes of each other during this period of social change and familial instability.

"We are developing a network of researchers and practitioners around the world who focus on family and child well-being, and research partnerships are developing to address important questions that will further our understanding of how families can be strengthened by learning lessons from around the globe," said Lippman.
Read the study here (.pdf).
More from Family Room:
Moms admit to texting, driving with kids
Most parents lie to their kids to get them to behave
Little girls' book of rules goes viral
Love content like this? Friend us on Facebook, follow us on Twitter and find us on Pinterest.
Photo: Lihee Avidan/Getty Images
family: tips, trends & advice for all things family
With all the glitz and glamour that comes out of Tinseltown (not to mention the endless tabloid fodder), it's not always obvious that many celebrities are animal lovers, too.

From designer crosses to giant breeds, we scoured Vetstreet's data of millions of dog breeds to determine the trendiest breeds of the past decade.

One of the most unsettling consequences of bringing a child into your previously simple, happily oblivious manly life is that you're now unquestionably, inescapably…The Man.

Whether it was baby's first kick or the first time your boobs leaked in public, there's a point in every mom's life when the world as you know it ends and you realize -- Whoa, I'm someone's mom now. Some of our favorite mommy bloggers revealed what their aha moments were. They range from heartwarming to completely hilarious.

From DIY jewelry to homemade "flowers" to sweet vases, you can help your kid make mom's day with these crafty gifts.

The first parenting shock: They let you take the baby home. Like, without supervision. Only then do the real surprises unfold. Here's what readers told us was most unexpected for them as they embraced this whole mama thing.

Be prepared to say, 'awww,' multiple times while flipping through this collection super-sweet stuff for babies and kids on Etsy.com. Take a peek at some of our favorite finds for moms (and click 'More' to find out how to get this amazing gnome hat!)...By MSN Living editors

Your Mother's Day plans are all set, right? Brunch is booked and a fabulous gift is wrapped and ready to go. So take a breather and celebrate these stylish celebrity moms who work hard, care for their kids, and manage to look amazing in the process.

Find out this year's top baby names on Parenting.com, and see what we predict will be big in 2013

Sophia and Jacob reign supreme.

In an online contest, Parenting.com asked readers to tell us what it means to "have it all." Read the winner's moving essay on how that phrase has defined her motherhood, plus essays from the three runners up.

Tow lot employee finds abandoned pup.