Study: Same-sex parents raise well-adjusted kids
After more than 25 years of research, the American Academy of Pediatrics has found no link between parents' sexual orientation and their children's emotional well-being.
The hot topic of same-sex marriage headed to the Supreme Court today for arguments on its constitutionality.
Support for the legalization of same-sex marriage sits at 53 percent and a recent USA Today/Gallup poll shows that a majority of Americans say gays and lesbians should be able to legally adopt children.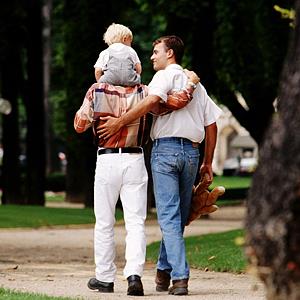 On Thursday, the American Academy of Pediatrics, or AAP, issued a powerful statement supporting marriage equality for all consenting couples, as well as full adoption and foster-care rights for parents regardless of sexual orientation, reports The Huffington Post.
More: Wedding industry benefits
"There is a lot of research to back up this policy," Dr. Ellen C. Perrin, a professor of pediatrics at the Floating Hospital for Children at Tufts Medical Center in Boston told The Huffington Post. "If a child has two parents that are dedicated and willing to provide a permanent, secure family, why would we not support that family? It's clearly in the best interest of children."
In 2006, after 25 years of research the AAP concluded it had found no link between parents' sexual orientation and their children's emotional well-being.
More: Cohabiting same-sex couples report more health issues
"The statement by the AAP also reaffirms more than 30 years of social science research that concludes that children grow up with the same positive developmental outcomes whether their parents are of the same gender or different genders," wrote a Family Equality Council spokesperson on its website. "More importantly, it matches the lived experiences of many of our parents who have raised a generation of children into young adulthood who are successful by every measure."
In the United States, between 1 million and 6 million children are being reared by committed lesbian or gay couples.
Read the rest of the article here.
Tell us: What do you think about this policy?
More: Big business joins debate
More from Family Room:
Five low-tech suggestions for managing a road trip with kids
5 things parents need to know about spring break
Bing: Plan a gay wedding
Love content like this? Friend us on Facebook, follow us on Twitter and find us on Pinterest.
Readers: Calling all mom bloggers – we're looking for fresh voices on MSN Living. Email us your samples and contact info!
Photo:Bart Geerligs/Getty Images
News, stories, tips and laughs for moms & dads
Make sure your go-to gadgets are as cute as your style, with these trendy tech finds!

Oh, how the times have changed...

Get ready to hit the mall! Check out the hottest back-to-school trends—and get ready to make a major style statement this year.

Unique, or downright strange?

This is Kevin Droniak and his grandma. They're besties, they're awesome and they're YouTube stars.

It can be difficult to entice little ones to eat anything at all, let alone to devour a healthy plate. But feeding your kids nutritious snacks after school just got way easier, thanks to these adorably clever and cute snack ideas! For more smart and fun ways to get your kids to enjoy healthful and delicious foods, try one of these amazingly artsy lunch ideas.

Through a tonsillectomy all the way to brain surgery, my mother deserves some recognition. She's my spine, my birthday shadow, my BFF, my thunder buddy, so Mommy, thank you.

My son needs me, as much as yours needs you. Sadly, my son needs me more. He needs someone to have his back, when it seems that the police, the men he'd wave to with excitement as a little boy, see him as a being worthy only of prison or death.

If you know someone who has adopted and have made some of these comments, don't fret... now you know!

"Because you shine from within," I said, touching my finger to her heart. "Not everybody sees it, but I do. I see it. And my job is to protect that light. So when people say mean comments that squelch that light, I want you to tell me. I will protect your light by listening and loving you, my brave, courageous, and unique little firefly."

Studies have shown that it helps, top education officials have recommended it, and now doctors are officially saying the same.

I may have accidentally dropped you a few times, forgotten to document your first fart, let a little pee fly and dressed you like an idiot, but I have also loved you with every piece of me, and you will never hear an apology for that.