Study: Same-sex parents raise well-adjusted kids
After more than 25 years of research, the American Academy of Pediatrics has found no link between parents' sexual orientation and their children's emotional well-being.
The hot topic of same-sex marriage headed to the Supreme Court today for arguments on its constitutionality.
Support for the legalization of same-sex marriage sits at 53 percent and a recent USA Today/Gallup poll shows that a majority of Americans say gays and lesbians should be able to legally adopt children.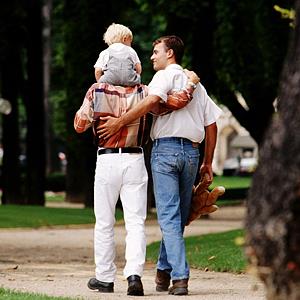 On Thursday, the American Academy of Pediatrics, or AAP, issued a powerful statement supporting marriage equality for all consenting couples, as well as full adoption and foster-care rights for parents regardless of sexual orientation, reports The Huffington Post.
More: Wedding industry benefits
"There is a lot of research to back up this policy," Dr. Ellen C. Perrin, a professor of pediatrics at the Floating Hospital for Children at Tufts Medical Center in Boston told The Huffington Post. "If a child has two parents that are dedicated and willing to provide a permanent, secure family, why would we not support that family? It's clearly in the best interest of children."
In 2006, after 25 years of research the AAP concluded it had found no link between parents' sexual orientation and their children's emotional well-being.
More: Cohabiting same-sex couples report more health issues
"The statement by the AAP also reaffirms more than 30 years of social science research that concludes that children grow up with the same positive developmental outcomes whether their parents are of the same gender or different genders," wrote a Family Equality Council spokesperson on its website. "More importantly, it matches the lived experiences of many of our parents who have raised a generation of children into young adulthood who are successful by every measure."
In the United States, between 1 million and 6 million children are being reared by committed lesbian or gay couples.
Read the rest of the article here.
Tell us: What do you think about this policy?
More: Big business joins debate
More from Family Room:
Five low-tech suggestions for managing a road trip with kids
5 things parents need to know about spring break
Bing: Plan a gay wedding
Love content like this? Friend us on Facebook, follow us on Twitter and find us on Pinterest.
Readers: Calling all mom bloggers – we're looking for fresh voices on MSN Living. Email us your samples and contact info!
Photo:Bart Geerligs/Getty Images
News, stories, tips and laughs for moms & dads
This kid despises poetry and he's not afraid to let you know.

I used to be one of those moms who thought, 'who on earth would bring their child to an event like that?' and then I had a son. Here's why you might become a convert, too.

Take a look at your house for these telltale signs that a cat is running the show.

Check out this list of requirements you should meet before getting a new puppy or adult dog.

Virtually everything you need to know about relationships, you learned in nursery school: Treat people as you want to be treated, clean up after yourself, and don't be a know-it-all.

Here are our experts' best tips for how to be a positive role model for your kids so that they grow up healthy, strong and confident about the way they look.

Much like their famous owners, these pooches live a fabulous life. Some are rescues, others purebred, but one thing is certain – these dogs play an important part in their famous parents' lives. Can you guess who owns each of these dogs?

We captured a frame-by-frame look just for you.

Two controversial science projects resembled weapons, school officials said.

Make the most of the summer with these family-oriented activities!

Pets are part of many children's lives. Learn how to help them foster strong, healthy relationships.