Is Wi-Fi on school buses a good idea?
Some school districts are adding digital capabilities to kids' daily commute.
As school districts strive to embrace the ever-changing world of technology, some schools are wiring buses with Wi-Fi to enable on-the-road productivity.
This month, the North Kansas City School District will begin wiring four school buses that are used for longer trips with Wi-Fi access, reports The Kansas City Star.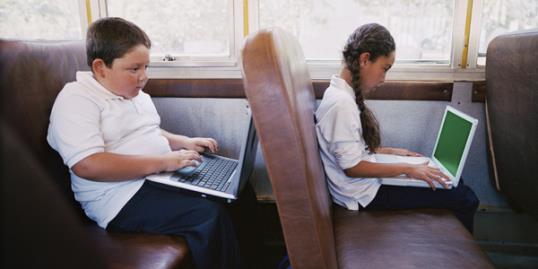 "We are living in a digital age," Eric Sipes, information technology executive director for the school district was quoted. "We are at that point where we have to embrace it."
More from MSN Living: 51 perfect daytrips for families
The idea is to wire buses with industrial grade wireless 3-G Internet systems to create a moving Wi-Fi hotspot for longer highway trips. The idea initially proposed several years ago by Lon Waterman, assistant director of transportation for North Kansas City School District, was in response to how students learn in a digital age.
Eventually, every student, kindergarten to senior year, will be linked with a laptop, an iPad, some sort of personal technology device at the district's expense.
When students first began bringing their cellphones and laptops into classrooms, the approach most school districts took was to tell them to turn off the devices and pay attention in class, Ray Daniels, co-chairman of the Mayors' Bistate Innovation Team and a former superintendent of the Kansas City, Kan., Public Schools. "You have to think that using devices, it's the students' language now," Daniels was quoted.
More from MSN Living: The most popular baby names of all time
The district will decide what students can work on as they travel, whether it's researching for assignments or preparing for ACT, SAT or Advanced Placement tests.
Not everyone is a fan of putting Wi-Fi on school buses. On The Stir, Jeanne Sager writes that giving a teenager unrestricted access to the Internet sounds like a brilliant idea, but is potentially a bad idea, likening school busses to "the wild west."
Bing: Sandy Hook students head back to school.
"Have you met a teenager? Knowing kids, it's almost a guarantee that they'll go off script," writes Sager.
Sure, some parents will have the forethought to load their kid's digital devices with safety precautions. And some teens may actually use the time to their educational advantage. But Sager fears that the freedom to surf increases the possibility of sharing something disturbing with a seatmate.
Do you think Wi-Fi on buses is a step in keeping up with the digital needs of students or the recipe for disaster?
Photo: Dave Nagel/Getty Images
More from MSN Living:
Top baby name predictions for 2013
News, stories, tips and laughs for moms & dads
I am probably not the first to tell you this: Kids come with lots of stuff. Even if you try to be as minimal as possible, the little creatures require an awful lot to keep things running smoothly. Here's a master-plan slideshow of ways to cut corners on space in every room to accommodate all the things that come along with kids.

You never know for certain what type of parent you'll be until you've actually become one and your parenting style, as it becomes evident, may surprise you. Here are 4 parenting books to help you figure it all out.

Sunshine! Camping! Pool parties! BBQs! The sunny season is here and to help you make the most of it, we've hand-picked 7 great products to make this summer the best your family has ever had. Click through for our list to inspire your sunny day fun. From our sponsor: Walmart

We all love a picnic. But do one quick search for 'picnic ideas' on Pinterest and you're instantly teleported into a land of overachieving home chefs clearly looking for their big break on Food Network. Well, never mind that, we say. Scratch the 25-ingredient recipes and the incessant trips to the craft store for that perfect tablescape. Here are 5 truly simple picnic ideas that will look great, taste great, and make you feel like the winner you are! From our sponsor: Walmart

Admit it — you do these things, too! And that's OK. But maybe — just maybe — it's time to think about changing things up a little bit, for the sake of your sanity, your relationship with your kids, and because life's too short.

We asked veterinary experts and readers which breeds they think and if it is OK to shave longhaired pets in the summer.

Celeb moms post photos to show off their weight loss, but then they undermine their progress in the captions.

Kriste Lewis was inspired by her kidney disease to try out

Hittin' the road, moms and dads? Plan for these five things to happen...

Who knew parenting would make you feel so dumb?

Bob King, 68, found himself stuck

Witnesses now say they were helping mom, who was on the scene