Is Wi-Fi on school buses a good idea?
Some school districts are adding digital capabilities to kids' daily commute.
As school districts strive to embrace the ever-changing world of technology, some schools are wiring buses with Wi-Fi to enable on-the-road productivity.
This month, the North Kansas City School District will begin wiring four school buses that are used for longer trips with Wi-Fi access, reports The Kansas City Star.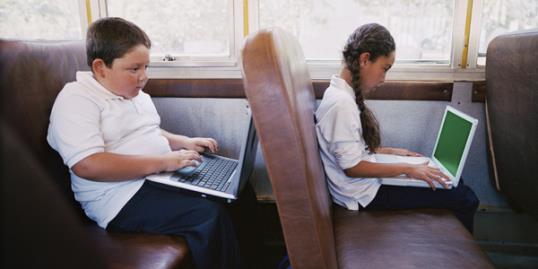 "We are living in a digital age," Eric Sipes, information technology executive director for the school district was quoted. "We are at that point where we have to embrace it."
More from MSN Living: 51 perfect daytrips for families
The idea is to wire buses with industrial grade wireless 3-G Internet systems to create a moving Wi-Fi hotspot for longer highway trips. The idea initially proposed several years ago by Lon Waterman, assistant director of transportation for North Kansas City School District, was in response to how students learn in a digital age.
Eventually, every student, kindergarten to senior year, will be linked with a laptop, an iPad, some sort of personal technology device at the district's expense.
When students first began bringing their cellphones and laptops into classrooms, the approach most school districts took was to tell them to turn off the devices and pay attention in class, Ray Daniels, co-chairman of the Mayors' Bistate Innovation Team and a former superintendent of the Kansas City, Kan., Public Schools. "You have to think that using devices, it's the students' language now," Daniels was quoted.
More from MSN Living: The most popular baby names of all time
The district will decide what students can work on as they travel, whether it's researching for assignments or preparing for ACT, SAT or Advanced Placement tests.
Not everyone is a fan of putting Wi-Fi on school buses. On The Stir, Jeanne Sager writes that giving a teenager unrestricted access to the Internet sounds like a brilliant idea, but is potentially a bad idea, likening school busses to "the wild west."
Bing: Sandy Hook students head back to school.
"Have you met a teenager? Knowing kids, it's almost a guarantee that they'll go off script," writes Sager.
Sure, some parents will have the forethought to load their kid's digital devices with safety precautions. And some teens may actually use the time to their educational advantage. But Sager fears that the freedom to surf increases the possibility of sharing something disturbing with a seatmate.
Do you think Wi-Fi on buses is a step in keeping up with the digital needs of students or the recipe for disaster?
Photo: Dave Nagel/Getty Images
More from MSN Living:
Top baby name predictions for 2013
News, stories, tips and laughs for moms & dads
Watch the video of Kristen Bell going head to head with paparazzi - it will make you angry

Every year, toy makers from around the world gather to show their latest creations at the Toy Fair in New York City. The high-tech models, gadgets and trinkets on display put those basic Legos we played with at kids to shame. Here are 10 new toys that we'd happily buy or children. Or, really, ourselves.

Find yourself wandering the aisles, suddenly needing an owl-shaped candle while drinking a $5 latte? You're not alone, moms...

Here's some parenting advice for whatever stage of separation or divorce you're in.

Whether you pop it in the mail or post it on social media, a creative photo is a surefire way to grab everyone's attention and proudly say, "I'm pregnant!" Prepare for a lot of likes.

Remember the magical children's rooms in Peter Pan and The Little Prince? These timeless novels described spaces that were enchanting and made us wish that we could inhabit the rooms ourselves. The sumptuous interiors that were filled with never-ending toys and fort-like draping may seem like a fairytale, but thanks to four of our favorite kids' furniture websites, the dream could actually become a reality. Click through the slideshow to check out the best kids furniture websites that have everything necessary to create a fantasy room for your little one. And check out Sophia Demenge's super-fun space in the video below. By Barry Samaha

They lay, they play, and they take selfies with supermodels. Meet 5 of the most social media-savvy pets—animals taking control of their own fashionable online image.

We could try to offer you carefully researched and crafted words of Dad-centric inspiration, intended to show you the path to being a better man and, in turn, a better father. But Tom Limbert took up the task for us in his new book 'Dad's Playbook: Wisdom for Fathers from the Greatest Coaches of All Time,' so we left it to him. Limbert -- a parent coach and the founder of the Studio Grow children's play space in Berkeley, California -- has collected pearls of wisdom from an elite crew of coaches who have not only experienced greatness themselves, but also found ways to consistently instill it in their teams. "It's monkey-see, monkey-do," Limbert told us, after we asked him to gather the best quotes on achieving one's goals. "If you want your child to follow, you have to lead." Click on to read the often simple-seeming words that have inspired countless others to follow through on the field, but that can also easily be translated to the school, work, fitness, and, of course, parenting arenas.

What parents need to know

It's raining, it's pouring ... but that doesn't mean the day has to be a snore. Rather than let the kids grow restless and rambunctious, why not divert their energy toward some fun family bonding activities? Although the weather may have scotched your original plans for the day, seize the opportunity to reconnect and let loose with your loved ones. Click through this slideshow for ten refreshing rainy day activities that'll make you glad the clouds (almost) rained on your parade.

Every family has its oddballs. And the holiday season is the one time of year when you're pretty much forced to interact and play nice with the grand majority of them. Click through the slideshow above for our guide to dealing with the five worst kinds of kin. *Disclaimer: All characters appearing in this work are fictitious. Any resemblance to real persons, living or dead, is purely coincidental.

Not great with a budget? Don't sweat it. Try these simple ways to save.