Is Wi-Fi on school buses a good idea?
Some school districts are adding digital capabilities to kids' daily commute.
As school districts strive to embrace the ever-changing world of technology, some schools are wiring buses with Wi-Fi to enable on-the-road productivity.
This month, the North Kansas City School District will begin wiring four school buses that are used for longer trips with Wi-Fi access, reports The Kansas City Star.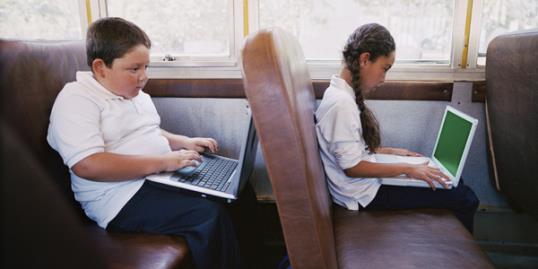 "We are living in a digital age," Eric Sipes, information technology executive director for the school district was quoted. "We are at that point where we have to embrace it."
More from MSN Living: 51 perfect daytrips for families
The idea is to wire buses with industrial grade wireless 3-G Internet systems to create a moving Wi-Fi hotspot for longer highway trips. The idea initially proposed several years ago by Lon Waterman, assistant director of transportation for North Kansas City School District, was in response to how students learn in a digital age.
Eventually, every student, kindergarten to senior year, will be linked with a laptop, an iPad, some sort of personal technology device at the district's expense.
When students first began bringing their cellphones and laptops into classrooms, the approach most school districts took was to tell them to turn off the devices and pay attention in class, Ray Daniels, co-chairman of the Mayors' Bistate Innovation Team and a former superintendent of the Kansas City, Kan., Public Schools. "You have to think that using devices, it's the students' language now," Daniels was quoted.
More from MSN Living: The most popular baby names of all time
The district will decide what students can work on as they travel, whether it's researching for assignments or preparing for ACT, SAT or Advanced Placement tests.
Not everyone is a fan of putting Wi-Fi on school buses. On The Stir, Jeanne Sager writes that giving a teenager unrestricted access to the Internet sounds like a brilliant idea, but is potentially a bad idea, likening school busses to "the wild west."
Bing: Sandy Hook students head back to school.
"Have you met a teenager? Knowing kids, it's almost a guarantee that they'll go off script," writes Sager.
Sure, some parents will have the forethought to load their kid's digital devices with safety precautions. And some teens may actually use the time to their educational advantage. But Sager fears that the freedom to surf increases the possibility of sharing something disturbing with a seatmate.
Do you think Wi-Fi on buses is a step in keeping up with the digital needs of students or the recipe for disaster?
Photo: Dave Nagel/Getty Images
More from MSN Living:
Top baby name predictions for 2013
News, stories, tips and laughs for moms & dads
4 steps for raising a child who doesn't feel emotionally stranded.

Any of these sound familiar?

Fire challenge involves pouring alcohol on one's chest and lighting it

A coincidence after the furlough?

Helpful tips for easing first day jitters.

Getting ready for fall has never been more fun.

Great reads for the back-to-school mindset.

Remember the concept of weekends being a time for rest, relaxation, and togetherness? No? Us either. Between soccer games, playdates, dragging your kids to see the new exhibition at the local children's museum, and we need to pick up a gift for that birthday party that starts in . . . 20 minutes, juggling a busy family's weekend schedule can be more stressful than a weekday. While we know it's simply not realistic to cancel all your plans and obligations moving forward, clearing the calendar for just one weekend can be just the refresher that your family's craving. Here's why.

You just had a baby? You're a superstar! All those diapers, all that spit up, and you're makin' magic happen. But you're also likely tired - really tired - and busy (so, so busy). Taking time for yourself might seem like an indulgence but a happy mom makes for a happy baby. Here are 7 things you should definitely do to keep your sanity intact and your spirit high. <more, below>

Summertime is on, and the kids are out of school. Every mom knows that for these three months it's more important than ever to keep the kids busy. But you don't have to schedule your life away with camps, or drop a bundle on activities and games that come in a box. You can make your own fun, and even include the kids in the prep, with some simple, inexpensive DIY crafts that will keep them playing 'til the lightening bugs come out. Make your own fingerpaint, bubbles, and crayons. Create a fort-building kit and superhero capes that will kick their imaginations into overdrive. Here are 10 of our favorite kid-friendly DIY crafts to fuel your summertime fun.

Let these DIY dog bed projects be your inspiration and within a single weekend, you can construct something that really makes Rex feel like a king.