Is Wi-Fi on school buses a good idea?
Some school districts are adding digital capabilities to kids' daily commute.
As school districts strive to embrace the ever-changing world of technology, some schools are wiring buses with Wi-Fi to enable on-the-road productivity.
This month, the North Kansas City School District will begin wiring four school buses that are used for longer trips with Wi-Fi access, reports The Kansas City Star.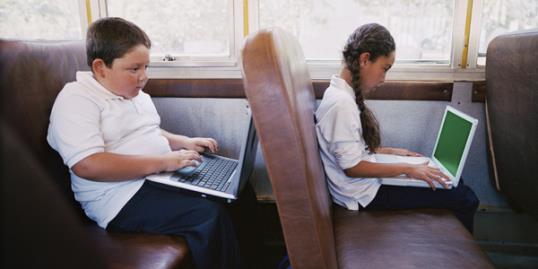 "We are living in a digital age," Eric Sipes, information technology executive director for the school district was quoted. "We are at that point where we have to embrace it."
More from MSN Living: 51 perfect daytrips for families
The idea is to wire buses with industrial grade wireless 3-G Internet systems to create a moving Wi-Fi hotspot for longer highway trips. The idea initially proposed several years ago by Lon Waterman, assistant director of transportation for North Kansas City School District, was in response to how students learn in a digital age.
Eventually, every student, kindergarten to senior year, will be linked with a laptop, an iPad, some sort of personal technology device at the district's expense.
When students first began bringing their cellphones and laptops into classrooms, the approach most school districts took was to tell them to turn off the devices and pay attention in class, Ray Daniels, co-chairman of the Mayors' Bistate Innovation Team and a former superintendent of the Kansas City, Kan., Public Schools. "You have to think that using devices, it's the students' language now," Daniels was quoted.
More from MSN Living: The most popular baby names of all time
The district will decide what students can work on as they travel, whether it's researching for assignments or preparing for ACT, SAT or Advanced Placement tests.
Not everyone is a fan of putting Wi-Fi on school buses. On The Stir, Jeanne Sager writes that giving a teenager unrestricted access to the Internet sounds like a brilliant idea, but is potentially a bad idea, likening school busses to "the wild west."
Bing: Sandy Hook students head back to school.
"Have you met a teenager? Knowing kids, it's almost a guarantee that they'll go off script," writes Sager.
Sure, some parents will have the forethought to load their kid's digital devices with safety precautions. And some teens may actually use the time to their educational advantage. But Sager fears that the freedom to surf increases the possibility of sharing something disturbing with a seatmate.
Do you think Wi-Fi on buses is a step in keeping up with the digital needs of students or the recipe for disaster?
Photo: Dave Nagel/Getty Images
More from MSN Living:
Top baby name predictions for 2013

As I am out and about, I've noticed entire families having dinner and everybody is looking at their phones or if they're shopping, they are always checking those phones.  When do they talk with each other?  Let the children riding the school bus have some social time with one another, conversations and some time to look at their surroundings.  Wi-Fi on school buses is a poor idea. 

I think  its not a wise idea.  No kid is going to do homework on a bus.  Besides that think of safety issues too.  If the bus suddenly has to be stopped quickly the students could get hurt on certain devices.  And students are not going ot use the devices for that they are meant for.  A friend's daughter had a computer provided by the school she went to for two years.  It was supposed to be loaded with the books so they could use the PC instead of having a load of books to worry about.  Not one of the laptops or other devices the school handed out had that on there.  My friend's daughter used the laptop for some work but spent whatever time she could get away with online playing around, downloading games or music, or using facebook.  And they think this is a good idea?

This would be a good idea, only if the laptops could be locked down so heavily that only 'study' programs, like the SAT Review could be opened.  Someone needs to invent a system that would only allow a handful of chosen programs to open at all.  Obviuously, kids are not going to be seen studying on their laptops only. Kids nowadays have too much peer pressure to 'fit in' and be cool and they are all concerned about their 'image', which includes being 'smart' without having to study excessively, especially on the bus full of noisy teenagers.
Kids already know how to defeat most 'parental blocking' software. In fact, that's the first thing they try to do is find someone to 'hack' their machine to open up its full capabilities again. I'm a computer engineer, and I could think of a way to really lock down a machine at the boot level, where an alternate operating system would boot up with the appropriate restrictions. Also, many kids now have smart phones and they have plenty of apps already for those which they can use to 'study', if they are determined enough to do so.
Are you sure you want to delete this comment?
family: tips, trends & advice for all things family
One of the most unsettling consequences of bringing a child into your previously simple, happily oblivious manly life is that you're now unquestionably, inescapably…The Man.

Whether it was baby's first kick or the first time your boobs leaked in public, there's a point in every mom's life when the world as you know it ends and you realize -- Whoa, I'm someone's mom now. Some of our favorite mommy bloggers revealed what their aha moments were. They range from heartwarming to completely hilarious.

From DIY jewelry to homemade "flowers" to sweet vases, you can help your kid make mom's day with these crafty gifts.

The first parenting shock: They let you take the baby home. Like, without supervision. Only then do the real surprises unfold. Here's what readers told us was most unexpected for them as they embraced this whole mama thing.

Be prepared to say, 'awww,' multiple times while flipping through this collection super-sweet stuff for babies and kids on Etsy.com. Take a peek at some of our favorite finds for moms (and click 'More' to find out how to get this amazing gnome hat!)...By MSN Living editors

Your Mother's Day plans are all set, right? Brunch is booked and a fabulous gift is wrapped and ready to go. So take a breather and celebrate these stylish celebrity moms who work hard, care for their kids, and manage to look amazing in the process.

Find out this year's top baby names on Parenting.com, and see what we predict will be big in 2013

Sophia and Jacob reign supreme.

In an online contest, Parenting.com asked readers to tell us what it means to "have it all." Read the winner's moving essay on how that phrase has defined her motherhood, plus essays from the three runners up.

Tow lot employee finds abandoned pup.

Animals, says Dr. Patty Khuly, are the best listeners in the world and don't care that you've just been dumped or laid off.

Ask a mom if she's happier now that she has a child and she'll usually say yes.