Dentist brings dog to work to calm kids' nerves
Adorable photo of a dentist and his Golden Retriever goes viral.
"This dentist brings his dog in as a way to calm the nerves of children who may be nervous. So great," wrote Redditor "Jmb012345" on the social news site, Reddit. The photo then flew into a viral, internet frenzy, reports The Huffington Post.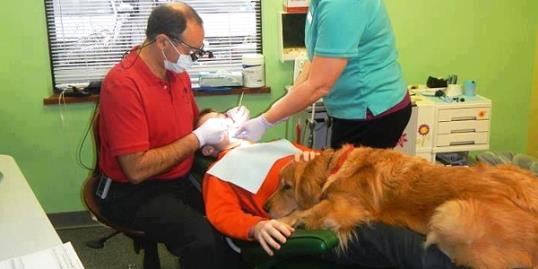 More on MSN Living: 51 perfect family day trips
According to MSN, the dentist in the photograph is Dr. Paul Weiss, a pediatric dentist from Williamsville, N.Y. Weiss has reportedly trained his 4-year-old Golden Retriever, Brooke, to act as a "therapy dog to calm his young patients."
According to Weiss' website, Brooke reportedly passed a half-day certification test from Therapy Dogs International.
More on MSN Living: Top names for the top 10 dog breeds
"The gratification of taking a nervous child and turning them into someone who's comfortable at a dentist's office is really something great," Weiss was quoted in Buffalo Business First earlier this year.
As far as Brooke's doggie demands go, she has a pretty easy work schedule, only coming into the office on Thursdays and providing services on an as-needed basis. Now, that's a dog's life!
What do you think about Dr. Weiss' sidekick?
Bing: Cutest dog videos
More on MSN Living: 
Funny sleeping baby photos
Best baby gear for every mom and dad
7 silly signs you are ready for a baby
Are you sure you want to delete this comment?
News, stories, tips and laughs for moms & dads
12 playful and engaging gift ideas for babies and toddlers this season.

When it comes to being single and pregnant, it feels like everybody has their own opinion -- or way-too-nosy questions. Whether they're trying to get the "dirt" on baby's father, or asking about your quest for child support (so not their business!), people really say ridiculous things to single moms-to-be.

Thanksgivukkah, a mash-up super-holiday that magically occurs this year as Hanukkah and Thanksgiving fall on the same day, is quickly becoming every foodie's dream. It's literally a once-in-a-lifetime chance (the next one doesn't occur for another 77,798 years!) to make insanely delicious foods combining both traditions, like sweet potato latkes and pumpkin challah. Below is a round-up of some must follow Thanksgivukkah Pinterest boards!

From unsolicited advice that comes from someone without kids to real-life momzillas who always one-up baby's accomplishments, read on for the 12 worst comments new mamas have ever heard (and prepare for some serious LOLs).

It's not just a walk in the park. Get the real deal. By Bonnie Vengrow

Even the most organized person has mornings when something goes wrong. Here are a few remedies to help you survive, or avoid, those pesky morning annoyances.