Dentist brings dog to work to calm kids' nerves
Adorable photo of a dentist and his Golden Retriever goes viral.
"This dentist brings his dog in as a way to calm the nerves of children who may be nervous. So great," wrote Redditor "Jmb012345" on the social news site, Reddit. The photo then flew into a viral, internet frenzy, reports The Huffington Post.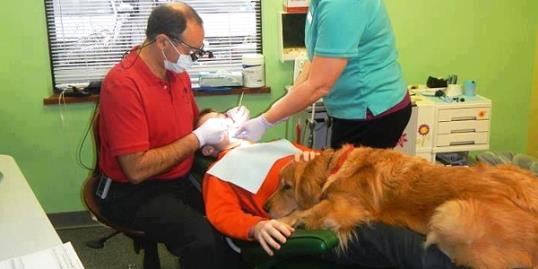 More on MSN Living: 51 perfect family day trips
According to MSN, the dentist in the photograph is Dr. Paul Weiss, a pediatric dentist from Williamsville, N.Y. Weiss has reportedly trained his 4-year-old Golden Retriever, Brooke, to act as a "therapy dog to calm his young patients."
According to Weiss' website, Brooke reportedly passed a half-day certification test from Therapy Dogs International.
More on MSN Living: Top names for the top 10 dog breeds
"The gratification of taking a nervous child and turning them into someone who's comfortable at a dentist's office is really something great," Weiss was quoted in Buffalo Business First earlier this year.
As far as Brooke's doggie demands go, she has a pretty easy work schedule, only coming into the office on Thursdays and providing services on an as-needed basis. Now, that's a dog's life!
What do you think about Dr. Weiss' sidekick?
Bing: Cutest dog videos
More on MSN Living: 
Funny sleeping baby photos
Best baby gear for every mom and dad
7 silly signs you are ready for a baby
Are you sure you want to delete this comment?
News, stories, tips and laughs for moms & dads
Whether your kids have recently gone back to school or are preparing to go shortly, it's never too late to start thinking about how we can make this year successful and low-stress, both for our kids and ourselves. With that, here are 6 things parents might want to stop doing this year in order to make it the best one yet...for all of you!

Some families spend their after-dinner time playing card games, watching television, or prepping for the next day. And that is fine and dandy, but be sure to incorporate some new, fun games and activities into your evenings to keep it fresh and exciting during the school year.

Head back to school in style with these fashionable, affordable picks

Helpful tips for easing first day jitters.

Get savvy tips for saving cash on your children's school supplies

There's the list of supplies the school sends you; then there's what your kid really needs. Here's how to get off to a smart start and keep things organized all year.

After a long, fun, and relaxing summer, the thought of going back to school is a harsh one. It's only been three months since you walked the halls of your school, but it might as well have been an eternity because your brain pretty much remembers nothing. From getting lost trying to find your class in Hallway C to trying to figure out which table to eat at for lunch, here are just some of the many first day struggles we've all been through.

It's time to start rifling through bins of composition notebooks, glue sticks and highlighter pens. Your kids are heading back to school! We've rounded up 10 relatively easy DIY ideas from Pinterest to satisfy any crafty (or wannabe) parent. Send your kids off with one of these cute concepts that are sure to deliver lots of 'likes' on your Facebook page.

Family had lived in Portugal for several years

Dining hall food, delish? Yes! With a little know-how and maybe a few minutes waiting to use the communal microwave, you can DIY concoctions that are healthy, yummy, and will definitely keep you from snoozing through your afternoon classes.

The dog days of summer may be well behind us, but that doesn't mean it's time to pack in the outdoor adventures quite yet.

Between the Halloween costume sewing and pumpkin patch outings, you probably don't have time to give your little one's nursery a full-blown Fall makeover. But luckily there are plenty of simple, sweet ways to incorporate the season.