Dentist brings dog to work to calm kids' nerves
Adorable photo of a dentist and his Golden Retriever goes viral.
"This dentist brings his dog in as a way to calm the nerves of children who may be nervous. So great," wrote Redditor "Jmb012345" on the social news site, Reddit. The photo then flew into a viral, internet frenzy, reports The Huffington Post.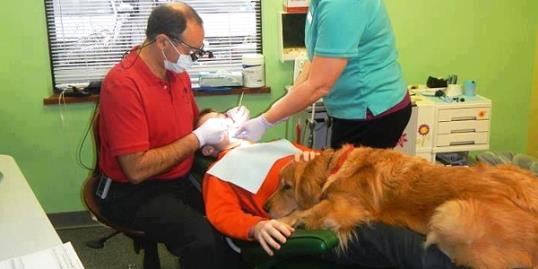 More on MSN Living: 51 perfect family day trips
According to MSN, the dentist in the photograph is Dr. Paul Weiss, a pediatric dentist from Williamsville, N.Y. Weiss has reportedly trained his 4-year-old Golden Retriever, Brooke, to act as a "therapy dog to calm his young patients."
According to Weiss' website, Brooke reportedly passed a half-day certification test from Therapy Dogs International.
More on MSN Living: Top names for the top 10 dog breeds
"The gratification of taking a nervous child and turning them into someone who's comfortable at a dentist's office is really something great," Weiss was quoted in Buffalo Business First earlier this year.
As far as Brooke's doggie demands go, she has a pretty easy work schedule, only coming into the office on Thursdays and providing services on an as-needed basis. Now, that's a dog's life!
What do you think about Dr. Weiss' sidekick?
Bing: Cutest dog videos
More on MSN Living: 
Funny sleeping baby photos
Best baby gear for every mom and dad
7 silly signs you are ready for a baby
Are you sure you want to delete this comment?
News, stories, tips and laughs for moms & dads
4 steps for raising a child who doesn't feel emotionally stranded.

Any of these sound familiar?

Fire challenge involves pouring alcohol on one's chest and lighting it

A coincidence after the furlough?

Helpful tips for easing first day jitters.

Getting ready for fall has never been more fun.

Great reads for the back-to-school mindset.

Remember the concept of weekends being a time for rest, relaxation, and togetherness? No? Us either. Between soccer games, playdates, dragging your kids to see the new exhibition at the local children's museum, and we need to pick up a gift for that birthday party that starts in . . . 20 minutes, juggling a busy family's weekend schedule can be more stressful than a weekday. While we know it's simply not realistic to cancel all your plans and obligations moving forward, clearing the calendar for just one weekend can be just the refresher that your family's craving. Here's why.

You just had a baby? You're a superstar! All those diapers, all that spit up, and you're makin' magic happen. But you're also likely tired - really tired - and busy (so, so busy). Taking time for yourself might seem like an indulgence but a happy mom makes for a happy baby. Here are 7 things you should definitely do to keep your sanity intact and your spirit high. <more, below>

Summertime is on, and the kids are out of school. Every mom knows that for these three months it's more important than ever to keep the kids busy. But you don't have to schedule your life away with camps, or drop a bundle on activities and games that come in a box. You can make your own fun, and even include the kids in the prep, with some simple, inexpensive DIY crafts that will keep them playing 'til the lightening bugs come out. Make your own fingerpaint, bubbles, and crayons. Create a fort-building kit and superhero capes that will kick their imaginations into overdrive. Here are 10 of our favorite kid-friendly DIY crafts to fuel your summertime fun.

Let these DIY dog bed projects be your inspiration and within a single weekend, you can construct something that really makes Rex feel like a king.