School rethinks its ban on dreadlocks
Oklahoma school came under fire for appearance guidelines that critics called discriminatory.
Recently, 7-year-old Tiana Parker was sent home from Deborah Brown Community School, a charter school in Tulsa, Okla., for wearing dreadlocks, reports Jezebel.com. Apparently, the girl's appearance violated the school's appearance guidelines, which state: "Hairstyles such as dreadlocks, afros, mohawks and other faddish styles are unacceptable."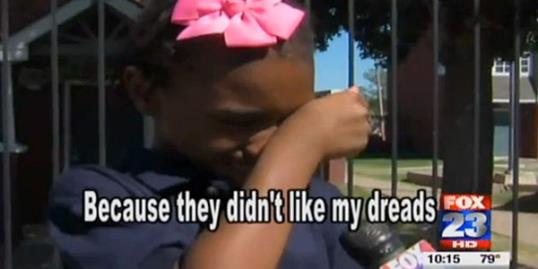 More on MSN Living: Sheryl Underwood apologizes for natural hair comment
Well, the school came under national fire after this incident, with many critics saying that there's nothing "faddish" about dreadlocks and that the policy discriminates against natural black hairstyles.
Bing: Famous people with awesome dreads
Pressure from the public and the American Civil Liberties Union was met with a two-hour school-board meeting. The verdict? The school's appearance guidelines were revised, but the damage was already done. Tiana's parents decided to send their daughter to a different school.
Tell us: What do you think of the school board's decision?
More from Family Room:
Couple regrets conceiving twins
Some parents trade adopted kids online
Best and worst careers for working moms
Subscribe to The Family Room | Friend us on Facebook, follow us on Twitter and find us on Pinterest.
Photo: Still of 7-year old Tiana Parker, who was told her dreadlocks violated her school's dress code (Fox 23, http://aka.ms/Tiana-​Parker)
News, stories, tips and laughs for moms & dads
From the confusing to just plain cringe-worthy, check out the worst celebrity baby names this year.

This year, we saw a ton of celeb moms and dads choose unique, glamorous and totally timeless names for their baby boys and girls. From traditional to trendy, here are our picks for the best celebrity baby names.

The top 25 best holiday movies for kids and their families, from old school classics like Miracle on 34th Street and It's a Wonderful Life, to newer classics like Elf and The Nightmare Before Christmas.

Parenting has its up and downs, like any aspect of life. The people who really excel as parents are the ones who keep things interesting, at least in our book. Check out these Imgur posts from parents who really raised the bar.

Maybe you used to greet your partner at the door with a smile and a kiss (and sometimes even more than that!) but now, when he arrives, you launch into a fight because he's two minutes late and you need to take a shower or cook dinner or have a moment of baby-free sanity. That's pretty typical for new parents.

Watch them on a live stream!

We talked to 122 veterinary professionals and got their take on which canines are the smartest of them all.

Find out which names topped the lists

But will they get to stay together?

Readers share their favorite holiday family traditions that really make it the most wonderful time of the year. By Lauren Passell

Brand new Babycenter.com baby-naming reports reveal a few naming trends that may surprise you (or not).

Every family has its oddballs. And the holiday season is the one time of year when you're pretty much forced to interact and play nice with the grand majority of them. Click through the slideshow above for our guide to dealing with the five worst kinds of kin. *Disclaimer: All characters appearing in this work are fictitious. Any resemblance to real persons, living or dead, is purely coincidental.