Heat wave: 10 ways to keep kids cool and safe
It's hot outside. Don't lose your cool.
As the recent heat wave intensifies, it's important to remember that rising temperatures can be more than just uncomfortable. This record-breaking weather can be dangerous – even deadly. Staying cool is a priority, so here are 10 ways to combat the sizzling heat.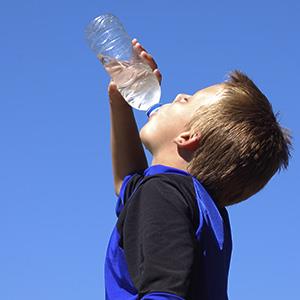 More from MSN Living: Surviving summer with kids
1. Chill your wrists: Chris Baskind of the Mother Nature Network suggests running cold water over your wrists for a minute every hour:
"When you were sick as a child, your mom may have brought you a cold facecloth. This idea works the same way."
2. Stay hydrated: Kids may not feel thirsty, but it's essential to stay hydrated, so make sure young ones are getting lots of water. If you're planning to leave the house, freeze some water bottles and take them with you.
3. A little help from some fans: They may be little, but those battery-operated personal fans can make a big difference.
4. Frozen washcloth: Freeze a washcloth and then plop it on the back of their necks – instant refresher.
5. Turn off electronics: If they're not being used, unplug electronic devices to keep them from generating unnecessary heat.
More from MSN Living: 5 tips on talking to kids about scary news
6. Stay downstairs: Downstairs areas tend to be cooler. Herd kids into an air-conditioned basement, if available. If not, stay on the first floor.
7. Don't cook: Feed kids fresh foods such as salads and fruit. Not only will this cool the body's core, it'll also keep cooking-related heat from filling up the house.
8. Plan for the weather: If you're leaving the house, make sure you won't be spending too much time in areas without shade. Bring plenty of water and dress in lightweight, light-colored clothing.
9. Pre-cool: Lifehacker recommends "pre-cooling" to counter overheating:
"Before you start exercising, you can use a couple pre-cooling techniques to keep your temperature down. This includes drinking a slushie or even just draping a cold rag around your neck. These pre-cooling techniques can improve endurance in hot-weather exercise by nearly 4 percent."
10. Postpone laundry: Plan to do heat-generating activities after the sun goes down. Do laundry at night, for example. 
More on The Family Room:
Teen faces prison time after Facebook comment
Baby's name chosen by coffee drinkers
Is Kate Middleton having a boy or a girl?
Subscribe to The Family Room | Friend us on Facebook, follow us on Twitter and find us on Pinterest.
Photo: Little boy drinking water in a heat wave / Peter Miller/Getty Images
Are you sure you want to delete this comment?
News, stories, tips and laughs for moms & dads
6-year-old has rare brain condition

He wanted to know if woman was pregnant

Did your state make the grade?

A new dad finds an Epcot Center's worth of innovation after expecting none at all.

Alcohol and tattoos are not meant for the pre-teen set

But Debra Harrell now has custody of daughter again

I am probably not the first to tell you this: Kids come with lots of stuff. Even if you try to be as minimal as possible, the little creatures require an awful lot to keep things running smoothly. Here's a master-plan slideshow of ways to cut corners on space in every room to accommodate all the things that come along with kids.

You never know for certain what type of parent you'll be until you've actually become one and your parenting style, as it becomes evident, may surprise you. Here are 4 parenting books to help you figure it all out.

Sunshine! Camping! Pool parties! BBQs! The sunny season is here and to help you make the most of it, we've hand-picked 7 great products to make this summer the best your family has ever had. Click through for our list to inspire your sunny day fun. From our sponsor: Walmart

We all love a picnic. But do one quick search for 'picnic ideas' on Pinterest and you're instantly teleported into a land of overachieving home chefs clearly looking for their big break on Food Network. Well, never mind that, we say. Scratch the 25-ingredient recipes and the incessant trips to the craft store for that perfect tablescape. Here are 5 truly simple picnic ideas that will look great, taste great, and make you feel like the winner you are! From our sponsor: Walmart

Admit it — you do these things, too! And that's OK. But maybe — just maybe — it's time to think about changing things up a little bit, for the sake of your sanity, your relationship with your kids, and because life's too short.

We asked veterinary experts and readers which breeds they think and if it is OK to shave longhaired pets in the summer.