Heat wave: 10 ways to keep kids cool and safe
It's hot outside. Don't lose your cool.
As the recent heat wave intensifies, it's important to remember that rising temperatures can be more than just uncomfortable. This record-breaking weather can be dangerous – even deadly. Staying cool is a priority, so here are 10 ways to combat the sizzling heat.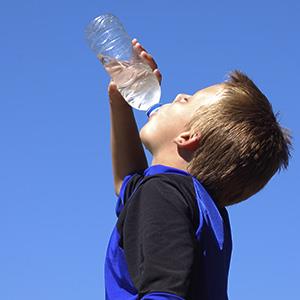 More from MSN Living: Surviving summer with kids
1. Chill your wrists: Chris Baskind of the Mother Nature Network suggests running cold water over your wrists for a minute every hour:
"When you were sick as a child, your mom may have brought you a cold facecloth. This idea works the same way."
2. Stay hydrated: Kids may not feel thirsty, but it's essential to stay hydrated, so make sure young ones are getting lots of water. If you're planning to leave the house, freeze some water bottles and take them with you.
3. A little help from some fans: They may be little, but those battery-operated personal fans can make a big difference.
4. Frozen washcloth: Freeze a washcloth and then plop it on the back of their necks – instant refresher.
5. Turn off electronics: If they're not being used, unplug electronic devices to keep them from generating unnecessary heat.
More from MSN Living: 5 tips on talking to kids about scary news
6. Stay downstairs: Downstairs areas tend to be cooler. Herd kids into an air-conditioned basement, if available. If not, stay on the first floor.
7. Don't cook: Feed kids fresh foods such as salads and fruit. Not only will this cool the body's core, it'll also keep cooking-related heat from filling up the house.
8. Plan for the weather: If you're leaving the house, make sure you won't be spending too much time in areas without shade. Bring plenty of water and dress in lightweight, light-colored clothing.
9. Pre-cool: Lifehacker recommends "pre-cooling" to counter overheating:
"Before you start exercising, you can use a couple pre-cooling techniques to keep your temperature down. This includes drinking a slushie or even just draping a cold rag around your neck. These pre-cooling techniques can improve endurance in hot-weather exercise by nearly 4 percent."
10. Postpone laundry: Plan to do heat-generating activities after the sun goes down. Do laundry at night, for example. 
More on The Family Room:
Teen faces prison time after Facebook comment
Baby's name chosen by coffee drinkers
Is Kate Middleton having a boy or a girl?
Subscribe to The Family Room | Friend us on Facebook, follow us on Twitter and find us on Pinterest.
Photo: Little boy drinking water in a heat wave / Peter Miller/Getty Images
Are you sure you want to delete this comment?
News, stories, tips and laughs for moms & dads
As all the kids line up to go to school, your son, Timmy, turns to you and says, "I don't want to take the bus. My stomach hurts. Please don't make me go." You cringe and think, Here we go again. What should be a simple morning routine explodes into a daunting challenge.

Learning these 10 things is a good base with which to begin the tough preteen and teen years. Helping our children maneuver life is our jobs as parents, even if we haven't quite figured it all out ourselves yet.

We've all seen her... But should we judge her?

Unique, or downright strange?

In a few short weeks you'll be dropping your child off at college, where they'll spend the next four years learning, laughing, and probably partying. Of course, in true teen fashion, your child has already started shopping for their dorm room essentials. Don't panic just yet!

When tots burst through the door after a busy day at school, the first order of business is securing a snack.

The only thing more important than what you pack your child for lunch is what you pack it in.

Frustrated mom invents Ignore No More app

Do you have the right mix of moms surrounding you?

It's hard to keep young kids entertained while being confined indoors, but fear not, for we have some fun ideas to keep the entire family from climbing the walls during rainy days.

Back in our day, ending up with the same exact backpack as your BFF was a legitimate back-to-school concern. Nowadays? There are so many options, it's dizzying!

It is a parent's eternal dilemma: What do I make the kids for lunch today? And tomorrow? And next week? We fall into ruts, succumb to the tried-and-true, give in to our children's demands for junk food. No more! These school lunch ideas—for everything from sandwiches to snacks to hot meals—will freshen up your daily routine, so much so you may be tempted to make them for yourself.