Heat wave: 10 ways to keep kids cool and safe
It's hot outside. Don't lose your cool.
As the recent heat wave intensifies, it's important to remember that rising temperatures can be more than just uncomfortable. This record-breaking weather can be dangerous – even deadly. Staying cool is a priority, so here are 10 ways to combat the sizzling heat.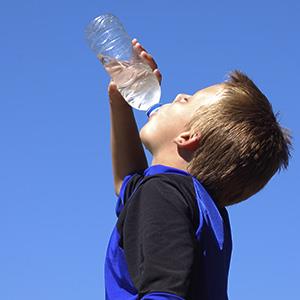 More from MSN Living: Surviving summer with kids
1. Chill your wrists: Chris Baskind of the Mother Nature Network suggests running cold water over your wrists for a minute every hour:
"When you were sick as a child, your mom may have brought you a cold facecloth. This idea works the same way."
2. Stay hydrated: Kids may not feel thirsty, but it's essential to stay hydrated, so make sure young ones are getting lots of water. If you're planning to leave the house, freeze some water bottles and take them with you.
3. A little help from some fans: They may be little, but those battery-operated personal fans can make a big difference.
4. Frozen washcloth: Freeze a washcloth and then plop it on the back of their necks – instant refresher.
5. Turn off electronics: If they're not being used, unplug electronic devices to keep them from generating unnecessary heat.
More from MSN Living: 5 tips on talking to kids about scary news
6. Stay downstairs: Downstairs areas tend to be cooler. Herd kids into an air-conditioned basement, if available. If not, stay on the first floor.
7. Don't cook: Feed kids fresh foods such as salads and fruit. Not only will this cool the body's core, it'll also keep cooking-related heat from filling up the house.
8. Plan for the weather: If you're leaving the house, make sure you won't be spending too much time in areas without shade. Bring plenty of water and dress in lightweight, light-colored clothing.
9. Pre-cool: Lifehacker recommends "pre-cooling" to counter overheating:
"Before you start exercising, you can use a couple pre-cooling techniques to keep your temperature down. This includes drinking a slushie or even just draping a cold rag around your neck. These pre-cooling techniques can improve endurance in hot-weather exercise by nearly 4 percent."
10. Postpone laundry: Plan to do heat-generating activities after the sun goes down. Do laundry at night, for example. 
More on The Family Room:
Teen faces prison time after Facebook comment
Baby's name chosen by coffee drinkers
Is Kate Middleton having a boy or a girl?
Subscribe to The Family Room | Friend us on Facebook, follow us on Twitter and find us on Pinterest.
Photo: Little boy drinking water in a heat wave / Peter Miller/Getty Images
Are you sure you want to delete this comment?
News, stories, tips and laughs for moms & dads
Megan Davies Mennes has been blogging and posting photos of her son Quinn online for some time now. Quinn has Down syndrome, and Mennes has dealt with a few nasty comments here and there, the type of stuff you'd expect to encounter on the Internet.

From a cozy-chic hotel by the seashore in Los Angeles that doubles as a home away from home to a nature-lover's tropical paradise in Costa Rica, each of these properties is a family-friendly in its own special way.

Two controversial science projects resembled weapons, school officials said.

Must-haves for every mommy on the road

What are we teaching our children when we focus on their achievements rather than their kindness?

Discover the seemingly insignificant things that can affect your chances of getting pregnant.

A thrill-obsessed subculture claimed another life this week.

A few suggested answers for the diciest questions

Here's our list of fifteen moms in the food industry that deserve some recognition.

The site gets high marks for its user-friendly interface and excellent and responsive customer service. And the reviews are also pretty accurate. Compare amenities and prices next to a hotel's in the same area, and you're likely to see Airbnb come out on top.

We captured a frame-by-frame look just for you.

Other moms can be ruthless when it comes to picking apart your parenting choices. From dissing your decision to go back to work to criticizing when you started baby on solids, here are the most ridiculous comments moms have heard. Bonus, we've got just the right way to respond to the haters! You're welcome.