Heat wave: 10 ways to keep kids cool and safe
It's hot outside. Don't lose your cool.
As the recent heat wave intensifies, it's important to remember that rising temperatures can be more than just uncomfortable. This record-breaking weather can be dangerous – even deadly. Staying cool is a priority, so here are 10 ways to combat the sizzling heat.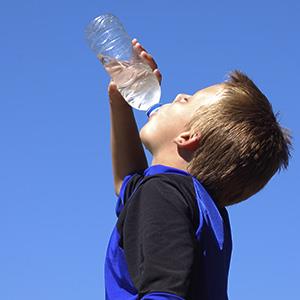 More from MSN Living: Surviving summer with kids
1. Chill your wrists: Chris Baskind of the Mother Nature Network suggests running cold water over your wrists for a minute every hour:
"When you were sick as a child, your mom may have brought you a cold facecloth. This idea works the same way."
2. Stay hydrated: Kids may not feel thirsty, but it's essential to stay hydrated, so make sure young ones are getting lots of water. If you're planning to leave the house, freeze some water bottles and take them with you.
3. A little help from some fans: They may be little, but those battery-operated personal fans can make a big difference.
4. Frozen washcloth: Freeze a washcloth and then plop it on the back of their necks – instant refresher.
5. Turn off electronics: If they're not being used, unplug electronic devices to keep them from generating unnecessary heat.
More from MSN Living: 5 tips on talking to kids about scary news
6. Stay downstairs: Downstairs areas tend to be cooler. Herd kids into an air-conditioned basement, if available. If not, stay on the first floor.
7. Don't cook: Feed kids fresh foods such as salads and fruit. Not only will this cool the body's core, it'll also keep cooking-related heat from filling up the house.
8. Plan for the weather: If you're leaving the house, make sure you won't be spending too much time in areas without shade. Bring plenty of water and dress in lightweight, light-colored clothing.
9. Pre-cool: Lifehacker recommends "pre-cooling" to counter overheating:
"Before you start exercising, you can use a couple pre-cooling techniques to keep your temperature down. This includes drinking a slushie or even just draping a cold rag around your neck. These pre-cooling techniques can improve endurance in hot-weather exercise by nearly 4 percent."
10. Postpone laundry: Plan to do heat-generating activities after the sun goes down. Do laundry at night, for example. 
More on The Family Room:
Teen faces prison time after Facebook comment
Baby's name chosen by coffee drinkers
Is Kate Middleton having a boy or a girl?
Subscribe to The Family Room | Friend us on Facebook, follow us on Twitter and find us on Pinterest.
Photo: Little boy drinking water in a heat wave / Peter Miller/Getty Images
Are you sure you want to delete this comment?
News, stories, tips and laughs for moms & dads
Famed event-planner David Stark shared tips for making chic holiday decorations using items you already have around the house. Take a look!

Sociologist Karen Z. Kramer found that over the past decade more than 550,000 men were stay-at-home fathers, which is about 3.5 percent of the married with kids population.

Ben Miller celebrates his wife's birthday and the anniversary of the day their premature son Ward Miles came home for good with a video documenting his first year.

Adopting an animal is a major commitment. Yet all too often people put more effort into researching what kind of car to get than the type of pet that would best fit their lifestyle.

'Tis the season to send out holiday greeting cards to all your friends and family. But, as our friends at Awkward Family Pet Photos know, not all holiday snapshots are the same. Some are just plain kooky — especially when pets are included. So with good tidings and great cheer, here are 10 wacky holiday animal portraits that are sure to make you laugh out loud and get you in the holiday spirit. And possibly make you think twice about dressing up the family cat this year.

King of the jungle? Nah, it's just a labradoodle!

Side-by-side images of adorable babies and their celebrity doppelgängers

Do you have a finicky furry friend on your holiday gift list this year? You're in luck! We've rounded up the coolest cat-approved products to bring you purrfect gift ideas for every kind of cat -- from the curious kitten to the most refined feline. Any one of these special gifts could make your resident kitty purr with pleasure and maybe, just maybe, like the present this year even more than the box and wrapping paper it came in!

Plus, puppy names to watch

This holiday season's hottest toy has yet to be revealed, but more often than not, the best gifts are the ones kids don't even know to ask for. So this year, surprise your kids with unique presents under the tree, and watch as their eyes light up when they unwrap them. From space-age sand to a DIY race track, these out-of-the-box gift ideas will provide some serious shopping inspiration. Click through the slideshow above for all our favorite picks.

Yep, you're older than you think

Avoid these gaffes for a better relationship with your stepchildren—and your spouse.