Dad uses public humiliation as punishment for daughter
Raising a teen in today's hectic world can be tricky, but is humiliation the path to parenting success?
What did one dad do when his daughter broke curfew? He humiliated her by making her wear a T-shirt with his scowl and the words "Try me!!" emblazoned on it. The photo, which went viral via Reddit, showed one unhappy-looking girl.
Humiliation punishment isn't anything new. I recall as a small child stealing a Hello Kitty pencil set from our local department store. When my mother discovered the pencils, she ushered me into the family station wagon and back to the mall for a rather humiliating (and humbling) apology to the saleswoman. Beet red and embarrassed, I learned my lesson.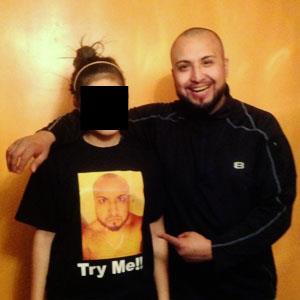 More from MSN Living: The truth behind Seen on TV products
Lately, there have been a rash of high-profile cases of parents using public humiliation as a form of parental discipline, reports Huffington Post.
In March, a 13-year-old girl caught shoplifting was forced to wear a neon-green shirt that read, "Hide your money. Hide your clothes. Hide everything. Cuz I'm A Thief," according to WDSU.
The child's mother, Danaka Walker, told WDSU that her children knew better than to steal.
More from MSN Living: Crazy dating trends we hope go away
"I feel like if you're going to embarrass me by stealing, I'm gonna show you what it's like to be embarrassed," Walker was quoted.
Last spring, Tarvon Young, a fifth grade student at the Richard Allen Leadership Academy in Miami, Fla. had to stand outside the school for 90 minutes every day holding a sign that said "I was sent to school to get an education. Not to be a bully... I was not raised this way!"
Readers: Calling all mom bloggers – we're looking for fresh voices on MSN Living. Email us your samples and contact info!
Around the same time, 13-year-old Natia Wade from Memphis was forced to hold a sign saying, "I steal from my family", after she swiped her mother's debit card to reactivate the cell phone that her mother had taken away.
Many people debate whether public humiliation is plain wrong or just creative parenting with a sense of humor.
Tell us what you think: Is this kind of punishment a parenting fail or win?
Bing: Should parents be able to humiliate kids in public?
More from Family Room:
Most addictive video games for kids
Toddler death raises concern over car seat rules
Violent video games and child aggression
Love content like this? Friend us on Facebook, follow us on Twitter and find us on Pinterest.
Photo: LetzBall via Imgur
News, stories, tips and laughs for moms & dads
A thrill-obsessed subculture claimed another life this week.

A few suggested answers for the diciest questions

Must-haves for every mommy on the road

Here's our list of fifteen moms in the food industry that deserve some recognition.

The site gets high marks for its user-friendly interface and excellent and responsive customer service. And the reviews are also pretty accurate. Compare amenities and prices next to a hotel's in the same area, and you're likely to see Airbnb come out on top.

We captured a frame-by-frame look just for you.

Other moms can be ruthless when it comes to picking apart your parenting choices. From dissing your decision to go back to work to criticizing when you started baby on solids, here are the most ridiculous comments moms have heard. Bonus, we've got just the right way to respond to the haters! You're welcome.

Nope, you don't have to spend the next nine months in black elastic-waist pants and oversize sweaters. And you don't have to shell out a fortune on your "temporary" wardrobe either. Check out these stylish and affordable maternity clothes.

Because society crumbles without us

Another kid figured out how to get into a claw machine.

As a new mom, you've recently discovered there are many things you can live without—sleep and modesty being chief among them. But what can't you live without? Seasoned moms share their Top 10 list for how to survive the early months of motherhood.

Here are our experts' best tips for how to be a positive role model for your kids so that they grow up healthy, strong and confident about the way they look.