Dad uses public humiliation as punishment for daughter
Raising a teen in today's hectic world can be tricky, but is humiliation the path to parenting success?
What did one dad do when his daughter broke curfew? He humiliated her by making her wear a T-shirt with his scowl and the words "Try me!!" emblazoned on it. The photo, which went viral via Reddit, showed one unhappy-looking girl.
Humiliation punishment isn't anything new. I recall as a small child stealing a Hello Kitty pencil set from our local department store. When my mother discovered the pencils, she ushered me into the family station wagon and back to the mall for a rather humiliating (and humbling) apology to the saleswoman. Beet red and embarrassed, I learned my lesson.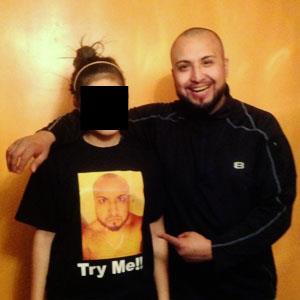 More from MSN Living: The truth behind Seen on TV products
Lately, there have been a rash of high-profile cases of parents using public humiliation as a form of parental discipline, reports Huffington Post.
In March, a 13-year-old girl caught shoplifting was forced to wear a neon-green shirt that read, "Hide your money. Hide your clothes. Hide everything. Cuz I'm A Thief," according to WDSU.
The child's mother, Danaka Walker, told WDSU that her children knew better than to steal.
More from MSN Living: Crazy dating trends we hope go away
"I feel like if you're going to embarrass me by stealing, I'm gonna show you what it's like to be embarrassed," Walker was quoted.
Last spring, Tarvon Young, a fifth grade student at the Richard Allen Leadership Academy in Miami, Fla. had to stand outside the school for 90 minutes every day holding a sign that said "I was sent to school to get an education. Not to be a bully... I was not raised this way!"
Readers: Calling all mom bloggers – we're looking for fresh voices on MSN Living. Email us your samples and contact info!
Around the same time, 13-year-old Natia Wade from Memphis was forced to hold a sign saying, "I steal from my family", after she swiped her mother's debit card to reactivate the cell phone that her mother had taken away.
Many people debate whether public humiliation is plain wrong or just creative parenting with a sense of humor.
Tell us what you think: Is this kind of punishment a parenting fail or win?
Bing: Should parents be able to humiliate kids in public?
More from Family Room:
Most addictive video games for kids
Toddler death raises concern over car seat rules
Violent video games and child aggression
Love content like this? Friend us on Facebook, follow us on Twitter and find us on Pinterest.
Photo: LetzBall via Imgur
News, stories, tips and laughs for moms & dads
Famed event-planner David Stark shared tips for making chic holiday decorations using items you already have around the house. Take a look!

Sociologist Karen Z. Kramer found that over the past decade more than 550,000 men were stay-at-home fathers, which is about 3.5 percent of the married with kids population.

Ben Miller celebrates his wife's birthday and the anniversary of the day their premature son Ward Miles came home for good with a video documenting his first year.

Adopting an animal is a major commitment. Yet all too often people put more effort into researching what kind of car to get than the type of pet that would best fit their lifestyle.

'Tis the season to send out holiday greeting cards to all your friends and family. But, as our friends at Awkward Family Pet Photos know, not all holiday snapshots are the same. Some are just plain kooky — especially when pets are included. So with good tidings and great cheer, here are 10 wacky holiday animal portraits that are sure to make you laugh out loud and get you in the holiday spirit. And possibly make you think twice about dressing up the family cat this year.

King of the jungle? Nah, it's just a labradoodle!

Side-by-side images of adorable babies and their celebrity doppelgängers

Do you have a finicky furry friend on your holiday gift list this year? You're in luck! We've rounded up the coolest cat-approved products to bring you purrfect gift ideas for every kind of cat -- from the curious kitten to the most refined feline. Any one of these special gifts could make your resident kitty purr with pleasure and maybe, just maybe, like the present this year even more than the box and wrapping paper it came in!

Plus, puppy names to watch

This holiday season's hottest toy has yet to be revealed, but more often than not, the best gifts are the ones kids don't even know to ask for. So this year, surprise your kids with unique presents under the tree, and watch as their eyes light up when they unwrap them. From space-age sand to a DIY race track, these out-of-the-box gift ideas will provide some serious shopping inspiration. Click through the slideshow above for all our favorite picks.

Yep, you're older than you think

Avoid these gaffes for a better relationship with your stepchildren—and your spouse.