Dad uses public humiliation as punishment for daughter
Raising a teen in today's hectic world can be tricky, but is humiliation the path to parenting success?
What did one dad do when his daughter broke curfew? He humiliated her by making her wear a T-shirt with his scowl and the words "Try me!!" emblazoned on it. The photo, which went viral via Reddit, showed one unhappy-looking girl.
Humiliation punishment isn't anything new. I recall as a small child stealing a Hello Kitty pencil set from our local department store. When my mother discovered the pencils, she ushered me into the family station wagon and back to the mall for a rather humiliating (and humbling) apology to the saleswoman. Beet red and embarrassed, I learned my lesson.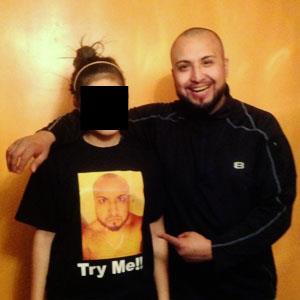 More from MSN Living: The truth behind Seen on TV products
Lately, there have been a rash of high-profile cases of parents using public humiliation as a form of parental discipline, reports Huffington Post.
In March, a 13-year-old girl caught shoplifting was forced to wear a neon-green shirt that read, "Hide your money. Hide your clothes. Hide everything. Cuz I'm A Thief," according to WDSU.
The child's mother, Danaka Walker, told WDSU that her children knew better than to steal.
More from MSN Living: Crazy dating trends we hope go away
"I feel like if you're going to embarrass me by stealing, I'm gonna show you what it's like to be embarrassed," Walker was quoted.
Last spring, Tarvon Young, a fifth grade student at the Richard Allen Leadership Academy in Miami, Fla. had to stand outside the school for 90 minutes every day holding a sign that said "I was sent to school to get an education. Not to be a bully... I was not raised this way!"
Readers: Calling all mom bloggers – we're looking for fresh voices on MSN Living. Email us your samples and contact info!
Around the same time, 13-year-old Natia Wade from Memphis was forced to hold a sign saying, "I steal from my family", after she swiped her mother's debit card to reactivate the cell phone that her mother had taken away.
Many people debate whether public humiliation is plain wrong or just creative parenting with a sense of humor.
Tell us what you think: Is this kind of punishment a parenting fail or win?
Bing: Should parents be able to humiliate kids in public?
More from Family Room:
Most addictive video games for kids
Toddler death raises concern over car seat rules
Violent video games and child aggression
Love content like this? Friend us on Facebook, follow us on Twitter and find us on Pinterest.
Photo: LetzBall via Imgur
News, stories, tips and laughs for moms & dads
6-year-old has rare brain condition

He wanted to know if woman was pregnant

Did your state make the grade?

A new dad finds an Epcot Center's worth of innovation after expecting none at all.

Alcohol and tattoos are not meant for the pre-teen set

But Debra Harrell now has custody of daughter again

I am probably not the first to tell you this: Kids come with lots of stuff. Even if you try to be as minimal as possible, the little creatures require an awful lot to keep things running smoothly. Here's a master-plan slideshow of ways to cut corners on space in every room to accommodate all the things that come along with kids.

You never know for certain what type of parent you'll be until you've actually become one and your parenting style, as it becomes evident, may surprise you. Here are 4 parenting books to help you figure it all out.

Sunshine! Camping! Pool parties! BBQs! The sunny season is here and to help you make the most of it, we've hand-picked 7 great products to make this summer the best your family has ever had. Click through for our list to inspire your sunny day fun. From our sponsor: Walmart

We all love a picnic. But do one quick search for 'picnic ideas' on Pinterest and you're instantly teleported into a land of overachieving home chefs clearly looking for their big break on Food Network. Well, never mind that, we say. Scratch the 25-ingredient recipes and the incessant trips to the craft store for that perfect tablescape. Here are 5 truly simple picnic ideas that will look great, taste great, and make you feel like the winner you are! From our sponsor: Walmart

Admit it — you do these things, too! And that's OK. But maybe — just maybe — it's time to think about changing things up a little bit, for the sake of your sanity, your relationship with your kids, and because life's too short.

We asked veterinary experts and readers which breeds they think and if it is OK to shave longhaired pets in the summer.