Dad uses public humiliation as punishment for daughter
Raising a teen in today's hectic world can be tricky, but is humiliation the path to parenting success?
What did one dad do when his daughter broke curfew? He humiliated her by making her wear a T-shirt with his scowl and the words "Try me!!" emblazoned on it. The photo, which went viral via Reddit, showed one unhappy-looking girl.
Humiliation punishment isn't anything new. I recall as a small child stealing a Hello Kitty pencil set from our local department store. When my mother discovered the pencils, she ushered me into the family station wagon and back to the mall for a rather humiliating (and humbling) apology to the saleswoman. Beet red and embarrassed, I learned my lesson.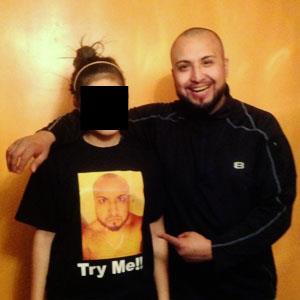 More from MSN Living: The truth behind Seen on TV products
Lately, there have been a rash of high-profile cases of parents using public humiliation as a form of parental discipline, reports Huffington Post.
In March, a 13-year-old girl caught shoplifting was forced to wear a neon-green shirt that read, "Hide your money. Hide your clothes. Hide everything. Cuz I'm A Thief," according to WDSU.
The child's mother, Danaka Walker, told WDSU that her children knew better than to steal.
More from MSN Living: Crazy dating trends we hope go away
"I feel like if you're going to embarrass me by stealing, I'm gonna show you what it's like to be embarrassed," Walker was quoted.
Last spring, Tarvon Young, a fifth grade student at the Richard Allen Leadership Academy in Miami, Fla. had to stand outside the school for 90 minutes every day holding a sign that said "I was sent to school to get an education. Not to be a bully... I was not raised this way!"
Readers: Calling all mom bloggers – we're looking for fresh voices on MSN Living. Email us your samples and contact info!
Around the same time, 13-year-old Natia Wade from Memphis was forced to hold a sign saying, "I steal from my family", after she swiped her mother's debit card to reactivate the cell phone that her mother had taken away.
Many people debate whether public humiliation is plain wrong or just creative parenting with a sense of humor.
Tell us what you think: Is this kind of punishment a parenting fail or win?
Bing: Should parents be able to humiliate kids in public?
More from Family Room:
Most addictive video games for kids
Toddler death raises concern over car seat rules
Violent video games and child aggression
Love content like this? Friend us on Facebook, follow us on Twitter and find us on Pinterest.
Photo: LetzBall via Imgur
News, stories, tips and laughs for moms & dads
Make sure your go-to gadgets are as cute as your style, with these trendy tech finds!

Oh, how the times have changed...

Get ready to hit the mall! Check out the hottest back-to-school trends—and get ready to make a major style statement this year.

Unique, or downright strange?

This is Kevin Droniak and his grandma. They're besties, they're awesome and they're YouTube stars.

It can be difficult to entice little ones to eat anything at all, let alone to devour a healthy plate. But feeding your kids nutritious snacks after school just got way easier, thanks to these adorably clever and cute snack ideas! For more smart and fun ways to get your kids to enjoy healthful and delicious foods, try one of these amazingly artsy lunch ideas.

Through a tonsillectomy all the way to brain surgery, my mother deserves some recognition. She's my spine, my birthday shadow, my BFF, my thunder buddy, so Mommy, thank you.

My son needs me, as much as yours needs you. Sadly, my son needs me more. He needs someone to have his back, when it seems that the police, the men he'd wave to with excitement as a little boy, see him as a being worthy only of prison or death.

If you know someone who has adopted and have made some of these comments, don't fret... now you know!

"Because you shine from within," I said, touching my finger to her heart. "Not everybody sees it, but I do. I see it. And my job is to protect that light. So when people say mean comments that squelch that light, I want you to tell me. I will protect your light by listening and loving you, my brave, courageous, and unique little firefly."

Studies have shown that it helps, top education officials have recommended it, and now doctors are officially saying the same.

I may have accidentally dropped you a few times, forgotten to document your first fart, let a little pee fly and dressed you like an idiot, but I have also loved you with every piece of me, and you will never hear an apology for that.