Couple brings baby and crib to hip brunch spot
We all love brunch, but did these parents go too far?
Check out this photo of a bold couple who pushed their baby's crib to a Brooklyn brunch spot.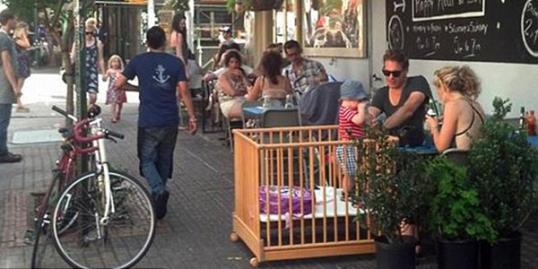 Workers at Williamsburg's Rosarito Fish Shack reportedly were stunned when the couple asked if they could set up the crib at one of the sidewalk café tables.
Gallery: 20 reasons we appreciate single parents
The restaurant's daytime manager, Susie Kenny, told DNAinfo: "That certainly was a first. We were laughing all day. It was a highlight."
Gallery:  Funny tweets from parents
The crib took up a large portion of the sidewalk, and Kenny added that she wasn't sure if this "passed fire code," but after watching the parents push the crib down the street, she didn't want to turn them away.
Bing: Restaurant do's and don'ts
More from The Family Room:
High school student says selfies are degrading to teen girls
The royal baby name front-runner
Officials: N.M. mom struck by lightning, gives birth
Subscribe to The Family Room | Friend us on Facebook, follow us on Twitter and find us on Pinterest.
Photo: Courtesy of Ben Fractenberg/dnainfo.com
News, stories, tips and laughs for moms & dads
Make sure your go-to gadgets are as cute as your style, with these trendy tech finds!

Oh, how the times have changed...

Get ready to hit the mall! Check out the hottest back-to-school trends—and get ready to make a major style statement this year.

Unique, or downright strange?

This is Kevin Droniak and his grandma. They're besties, they're awesome and they're YouTube stars.

It can be difficult to entice little ones to eat anything at all, let alone to devour a healthy plate. But feeding your kids nutritious snacks after school just got way easier, thanks to these adorably clever and cute snack ideas! For more smart and fun ways to get your kids to enjoy healthful and delicious foods, try one of these amazingly artsy lunch ideas.

Through a tonsillectomy all the way to brain surgery, my mother deserves some recognition. She's my spine, my birthday shadow, my BFF, my thunder buddy, so Mommy, thank you.

My son needs me, as much as yours needs you. Sadly, my son needs me more. He needs someone to have his back, when it seems that the police, the men he'd wave to with excitement as a little boy, see him as a being worthy only of prison or death.

If you know someone who has adopted and have made some of these comments, don't fret... now you know!

"Because you shine from within," I said, touching my finger to her heart. "Not everybody sees it, but I do. I see it. And my job is to protect that light. So when people say mean comments that squelch that light, I want you to tell me. I will protect your light by listening and loving you, my brave, courageous, and unique little firefly."

Studies have shown that it helps, top education officials have recommended it, and now doctors are officially saying the same.

I may have accidentally dropped you a few times, forgotten to document your first fart, let a little pee fly and dressed you like an idiot, but I have also loved you with every piece of me, and you will never hear an apology for that.