Couple brings baby and crib to hip brunch spot
We all love brunch, but did these parents go too far?
Check out this photo of a bold couple who pushed their baby's crib to a Brooklyn brunch spot.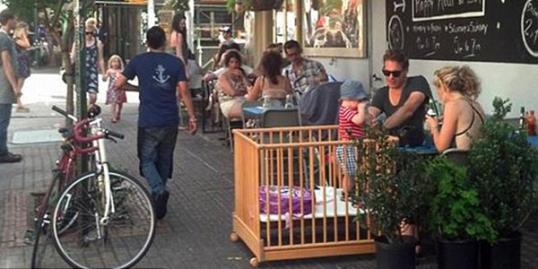 Workers at Williamsburg's Rosarito Fish Shack reportedly were stunned when the couple asked if they could set up the crib at one of the sidewalk café tables.
Gallery: 20 reasons we appreciate single parents
The restaurant's daytime manager, Susie Kenny, told DNAinfo: "That certainly was a first. We were laughing all day. It was a highlight."
Gallery:  Funny tweets from parents
The crib took up a large portion of the sidewalk, and Kenny added that she wasn't sure if this "passed fire code," but after watching the parents push the crib down the street, she didn't want to turn them away.
Bing: Restaurant do's and don'ts
More from The Family Room:
High school student says selfies are degrading to teen girls
The royal baby name front-runner
Officials: N.M. mom struck by lightning, gives birth
Subscribe to The Family Room | Friend us on Facebook, follow us on Twitter and find us on Pinterest.
Photo: Courtesy of Ben Fractenberg/dnainfo.com
News, stories, tips and laughs for moms & dads
Transform the fall vegetable into cool decor pieces.

Put together these creative, but simple, Halloween looks for your youngsters.

We know you're documenting just about every move baby makes. (Do you even have any memory left on your phone? We didn't think so.) These tips from professional photographers can help you perfect your pics.

These six on-trend ideas will make baby's room your new favorite place to hang out.

Baby probably won't remember his first birthday party, but that doesn't mean you can't go all out (after all, parents need to celebrate making it through this first year, right?). These fun, colorful themes take planning to the next level.

See what celebrities who had problems conceiving have to say.

You'll be hearing a lot of advice and opinions. Some of it will be really helpful and some will be just plain wrong. Here are the most common things people say about babies that aren't true.

A new dad finds an Epcot Center's worth of innovation after expecting none at all.

The dog days of summer may be well behind us, but that doesn't mean it's time to pack in the outdoor adventures quite yet.

Protect yourself and your family with these ingenious gizmos and smartphone apps.

Make sure your go-to gadgets are as cute as your style, with these trendy tech finds!

Oh, how the times have changed...