When Aidan met Sophia
BabyCenter announces the 100 most popular baby names in 2012.
Way to go, Aidan. You've held on to the No. 1 spot for eight straight years. Sophia, you're doing all right, too, with three years of bragging rights in the top position. We welcome Jack and Mia, new to the top 10 this year.
Today, BabyCenter released its annual list of top 100 baby names for 2012. The list is based on nearly half a million babies born this year to mothers registered with the BabyCenter website.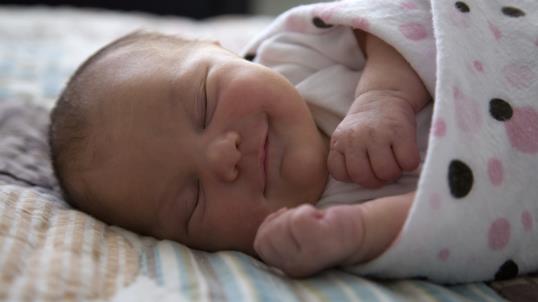 More on MSN Living: 50 ways to stay bonded with your kids
So, why do these names have staying power?
"Part of the reason it stays No. 1 is you can spell it in 45 different ways," BabyCenter's Global Editor-in-Chief Linda Murray commented on the name Aidan today on the Today show. "Moms love it." Just last year, rocker Rod Stewart and his wife, Penny Lancaster Stewart welcomed their own little Aidan into the world.
After Aidan (or Aiden or Aden), the most chosen names on the boys list are Jackson, Ethan, Liam, Mason, Noah, Lucas, Jacob, Jayden and Jack. As for the girls list, top picks include Emma, Olivia, Isabella, Ava, Lily, Zoe, Chloe and Madison.
Beyond the top 10, BabyCenter discovered name trends influenced by the Fifty Shades of Grey trilogy (Ana, Grey and Anastasia are up, while Christian is down), members of the English-Irish boy band, One Direction, and popular sitcom actress, Betty White.
Carrie Mazur of Gaithersburg, Md., chose the name Aidan for her son because she and her husband loved how it sounds.
"It also means 'little fire,' which sums up his in utero antics and life since birth," quipped the mother of two. "What's becoming more important to new parents is finding a name with meaning," Murray said, noting that Sophia means "wisdom."
Tell us on Facebook – what names do you like best? 
Bing: Unique baby names 2012
Read the full story at Today Moms. 
Photo: Kristin Duvall/Getty Images
More on MSN Living: 
The reality of being a work at home mom
The secret life of a stay-at-home mom
10 hot trends in baby products
News, stories, tips and laughs for moms & dads
We scoured Pinterest for 30 way-too-cute Elf on the Shelf poses we'd never seen before...let these inspire you during your family's funniest tradition.

Stroll down any aisle of a Toys"R"Us these days and you'll be confronted with a billion options that are light-years beyond anything you had to entertain yourself with as a kid. Lego cruise ships (complete with flatscreen TVs in the lounge and sideboard jet-skis), battery-operated Mercedes-Benz sedans, and hi-tech tablets with Android operating systems abound. We wondered, as we let ourselves get nostalgic for a moment, if any of the beloved toys we played with as children were still even on the market. Thanks to a quick hunt on the Internet we were able to find that Fisher Price still makes their classic Two Tune TV, and you can still get your hands on a good ol' Slinky. Here's a roundup of the best old-school toys for kids-- we encourage you to click through the slideshow and consider wrapping up a well-loved classic for your little one this year.

Cabbage Path Kids turn 30 this year.

Baby booms are certainly fun, but the pileup of shower invites can be rough on a bank account. The challenge: Find a great gift for cheap that's cute, useful, "big" enough to count as a whole gift...and doesn't seem like you skimped. Here are eight fun, functional options I love that definitely fit the bill. And they're all under $30! By The Bump Editors

You'd be shocked at how much a choice selection of apps can change your life for the better. From a honing device for kid-friendly locations to a virtual accountant, these eleven apps belong on every parent's home screen. It may seem counterintuitive, but amping up your smartphone with these handy features will actually make unplugging that much easier, since you know you've got your bases covered. Check them out in the slideshow above, download what you will, and we bet you won't be able to remember what life was like without them.