When Aidan met Sophia
BabyCenter announces the 100 most popular baby names in 2012.
Way to go, Aidan. You've held on to the No. 1 spot for eight straight years. Sophia, you're doing all right, too, with three years of bragging rights in the top position. We welcome Jack and Mia, new to the top 10 this year.
Today, BabyCenter released its annual list of top 100 baby names for 2012. The list is based on nearly half a million babies born this year to mothers registered with the BabyCenter website.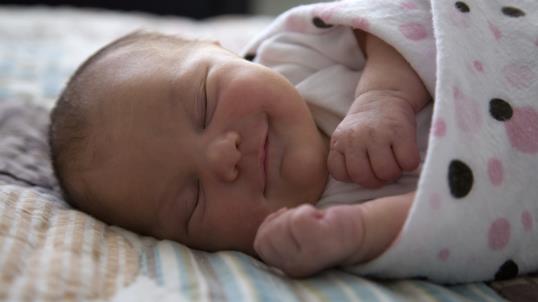 More on MSN Living: 50 ways to stay bonded with your kids
So, why do these names have staying power?
"Part of the reason it stays No. 1 is you can spell it in 45 different ways," BabyCenter's Global Editor-in-Chief Linda Murray commented on the name Aidan today on the Today show. "Moms love it." Just last year, rocker Rod Stewart and his wife, Penny Lancaster Stewart welcomed their own little Aidan into the world.
After Aidan (or Aiden or Aden), the most chosen names on the boys list are Jackson, Ethan, Liam, Mason, Noah, Lucas, Jacob, Jayden and Jack. As for the girls list, top picks include Emma, Olivia, Isabella, Ava, Lily, Zoe, Chloe and Madison.
Beyond the top 10, BabyCenter discovered name trends influenced by the Fifty Shades of Grey trilogy (Ana, Grey and Anastasia are up, while Christian is down), members of the English-Irish boy band, One Direction, and popular sitcom actress, Betty White.
Carrie Mazur of Gaithersburg, Md., chose the name Aidan for her son because she and her husband loved how it sounds.
"It also means 'little fire,' which sums up his in utero antics and life since birth," quipped the mother of two. "What's becoming more important to new parents is finding a name with meaning," Murray said, noting that Sophia means "wisdom."
Tell us on Facebook – what names do you like best? 
Bing: Unique baby names 2012
Read the full story at Today Moms. 
Photo: Kristin Duvall/Getty Images
More on MSN Living: 
The reality of being a work at home mom
The secret life of a stay-at-home mom
10 hot trends in baby products
News, stories, tips and laughs for moms & dads
During the prekids phase of marriage, the focus of your relationship is on a party of two, and if you're lucky, it's pretty blissful.

From about first grade all the way through college, back-to-school shopping meant color-coded lists and endless trips to the local Target. There's nothing like the giddy feeling of writing in a brand new planner (with colored pens of course). Maybe it was just my OCD kicking in, but getting organized for the new school year felt therapeutic in a Martha Stewart sort of way.

Every year, my mother insisted on the classic first day of school photo—uniform on, hair bow in place, plus frilly socks and Mary Janes, of course. But no photo opp was complete without my Kipling backpack that was about as big as I was (at least until 2nd grade or so).

Some people make big resolutions right before New Year's Eve, others on their birthdays, but mine always happen while back-to-school shopping. Something about the pristine, blank pages of my untouched notebooks and crisp, un-sharpened pencils has always made me feel like anything's possible: This will be the year I actually write down my assignments. I'm going to hole-punch and and organize all my handouts. No more showing up to class unprepared!

A special relationship that's worth noting.

You might have more in common than you think.