When Aidan met Sophia
BabyCenter announces the 100 most popular baby names in 2012.
Way to go, Aidan. You've held on to the No. 1 spot for eight straight years. Sophia, you're doing all right, too, with three years of bragging rights in the top position. We welcome Jack and Mia, new to the top 10 this year.
Today, BabyCenter released its annual list of top 100 baby names for 2012. The list is based on nearly half a million babies born this year to mothers registered with the BabyCenter website.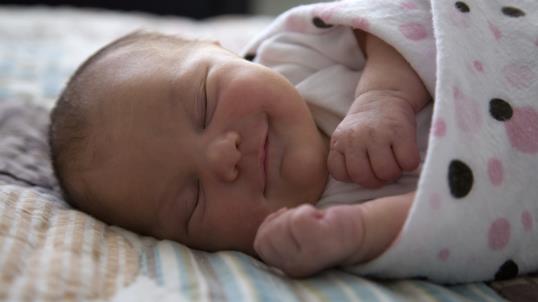 More on MSN Living: 50 ways to stay bonded with your kids
So, why do these names have staying power?
"Part of the reason it stays No. 1 is you can spell it in 45 different ways," BabyCenter's Global Editor-in-Chief Linda Murray commented on the name Aidan today on the Today show. "Moms love it." Just last year, rocker Rod Stewart and his wife, Penny Lancaster Stewart welcomed their own little Aidan into the world.
After Aidan (or Aiden or Aden), the most chosen names on the boys list are Jackson, Ethan, Liam, Mason, Noah, Lucas, Jacob, Jayden and Jack. As for the girls list, top picks include Emma, Olivia, Isabella, Ava, Lily, Zoe, Chloe and Madison.
Beyond the top 10, BabyCenter discovered name trends influenced by the Fifty Shades of Grey trilogy (Ana, Grey and Anastasia are up, while Christian is down), members of the English-Irish boy band, One Direction, and popular sitcom actress, Betty White.
Carrie Mazur of Gaithersburg, Md., chose the name Aidan for her son because she and her husband loved how it sounds.
"It also means 'little fire,' which sums up his in utero antics and life since birth," quipped the mother of two. "What's becoming more important to new parents is finding a name with meaning," Murray said, noting that Sophia means "wisdom."
Tell us on Facebook – what names do you like best? 
Bing: Unique baby names 2012
Read the full story at Today Moms. 
Photo: Kristin Duvall/Getty Images
More on MSN Living: 
The reality of being a work at home mom
The secret life of a stay-at-home mom
10 hot trends in baby products
family: tips, trends & advice for all things family
In the past, Mother's Day was all about brunch, macaroni necklaces and lots of family time; but times are a-changin'!

Whether she's into board games or tea, books or bangles, it's time to spoil Mom -- without breaking the bank.

With all the glitz and glamour that comes out of Tinseltown (not to mention the endless tabloid fodder), it's not always obvious that many celebrities are animal lovers, too.

I love being spoiled by my kids, but something's missing: a chance to hug my own mother

We've seen some pretty crazy things announced though tweets and status updates, including these 10 conception sharing no-no's.

When Julia Ward Howe wrote her Mother's Day Proclamation in 1870, she encouraged women of all nationalities to band together to support peace and end the carnage of war.

The average length of maternity is actually lower.

"No! Bad dog!" How many times have you scolded your misbehaving canine with those words? Probably too many. But before you fly off the handle, one of the most important things to understand about correcting bad behavior is that punishment doesn't work.

A divorcing couple keeps tradition intact for their child.

Your dog loves sticking his head out the window, but imagine the tragic results of disregarding his (or your) safety.

5 ways to totally ruin the mood while trying to conceive

Down-to-earth and funny tips that help moms enjoy every minute of parenting, from The Happiest Mom.