When Aidan met Sophia
BabyCenter announces the 100 most popular baby names in 2012.
Way to go, Aidan. You've held on to the No. 1 spot for eight straight years. Sophia, you're doing all right, too, with three years of bragging rights in the top position. We welcome Jack and Mia, new to the top 10 this year.
Today, BabyCenter released its annual list of top 100 baby names for 2012. The list is based on nearly half a million babies born this year to mothers registered with the BabyCenter website.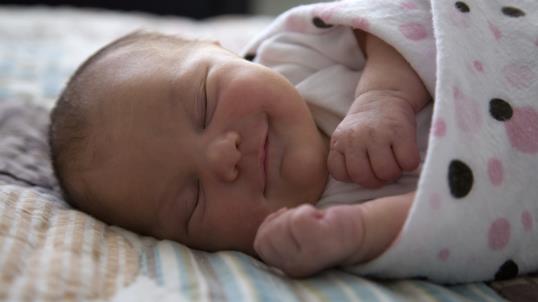 More on MSN Living: 50 ways to stay bonded with your kids
So, why do these names have staying power?
"Part of the reason it stays No. 1 is you can spell it in 45 different ways," BabyCenter's Global Editor-in-Chief Linda Murray commented on the name Aidan today on the Today show. "Moms love it." Just last year, rocker Rod Stewart and his wife, Penny Lancaster Stewart welcomed their own little Aidan into the world.
After Aidan (or Aiden or Aden), the most chosen names on the boys list are Jackson, Ethan, Liam, Mason, Noah, Lucas, Jacob, Jayden and Jack. As for the girls list, top picks include Emma, Olivia, Isabella, Ava, Lily, Zoe, Chloe and Madison.
Beyond the top 10, BabyCenter discovered name trends influenced by the Fifty Shades of Grey trilogy (Ana, Grey and Anastasia are up, while Christian is down), members of the English-Irish boy band, One Direction, and popular sitcom actress, Betty White.
Carrie Mazur of Gaithersburg, Md., chose the name Aidan for her son because she and her husband loved how it sounds.
"It also means 'little fire,' which sums up his in utero antics and life since birth," quipped the mother of two. "What's becoming more important to new parents is finding a name with meaning," Murray said, noting that Sophia means "wisdom."
Tell us on Facebook – what names do you like best? 
Bing: Unique baby names 2012
Read the full story at Today Moms. 
Photo: Kristin Duvall/Getty Images
More on MSN Living: 
The reality of being a work at home mom
The secret life of a stay-at-home mom
10 hot trends in baby products
News, stories, tips and laughs for moms & dads
Back-to-school shopping is still in full swing, and your little gents probably need some new kicks to round out their fall wardrobes (you already picked up some bold shoes for the little ladies in your life, right?).

Not every kid is a fan of returning to the classroom, so parents try to ease the blow with a little back-to-school shopping.

Would you rather be a parent now or then?

As all the kids line up to go to school, your son, Timmy, turns to you and says, "I don't want to take the bus. My stomach hurts. Please don't make me go." You cringe and think, Here we go again. What should be a simple morning routine explodes into a daunting challenge.

The strong bonds that dogs can form are undeniable.

Think you know your pet's every unspoken wish? Think again. Your pet is unlikely to be capable of communicating her wants and needs in ways you might assume she would. Even those of you most in touch with your pets' feelings are likely missing a few cues here and there.

The Chesapeake Bay Retriever made both our readers' and veterinary professionals' lists of breeds that love the water.

You might proudly call yourself a dog owner, pet parent or canine guardian, but let's be real: Your dog owns you. You might be laughing now, but think about it — you've surrendered the best seat on the sofa to him, you plan your entire weekend around his trips to the dog park, and you take him to the groomer more often than you get your own hair cut. And let's not forget who's in every photo on your Facebook and Instagram feeds. Sound familiar? We thought so. But in case you still think you're in charge, here are seven classic signs that your dog is the one calling the shots.

One of the best things about being a veterinarian is all the different dogs I get to meet. Of course, I love the Labs and Beagles and Boxers and Poodles, not to mention those crazy Canine Cocktails, or what my parents used to call Heinz 57s. They are among the more popular dogs out there, and I see a lot of them. In fact, it used to be that it was rare to see anything else. Here are nine dog breeds I sometimes see now that I didn't see in the past.

Learning these 10 things is a good base with which to begin the tough preteen and teen years. Helping our children maneuver life is our jobs as parents, even if we haven't quite figured it all out ourselves yet.

Is your teen about to attend one of these top-ranking schools?

We've all seen her... But should we judge her?