When Aidan met Sophia
BabyCenter announces the 100 most popular baby names in 2012.
Way to go, Aidan. You've held on to the No. 1 spot for eight straight years. Sophia, you're doing all right, too, with three years of bragging rights in the top position. We welcome Jack and Mia, new to the top 10 this year.
Today, BabyCenter released its annual list of top 100 baby names for 2012. The list is based on nearly half a million babies born this year to mothers registered with the BabyCenter website.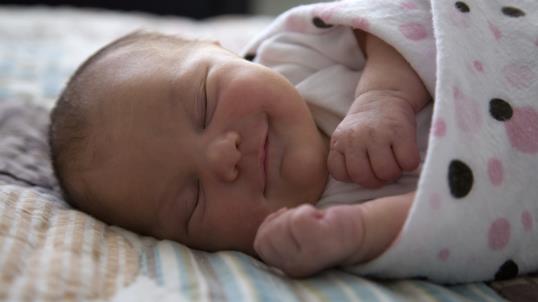 More on MSN Living: 50 ways to stay bonded with your kids
So, why do these names have staying power?
"Part of the reason it stays No. 1 is you can spell it in 45 different ways," BabyCenter's Global Editor-in-Chief Linda Murray commented on the name Aidan today on the Today show. "Moms love it." Just last year, rocker Rod Stewart and his wife, Penny Lancaster Stewart welcomed their own little Aidan into the world.
After Aidan (or Aiden or Aden), the most chosen names on the boys list are Jackson, Ethan, Liam, Mason, Noah, Lucas, Jacob, Jayden and Jack. As for the girls list, top picks include Emma, Olivia, Isabella, Ava, Lily, Zoe, Chloe and Madison.
Beyond the top 10, BabyCenter discovered name trends influenced by the Fifty Shades of Grey trilogy (Ana, Grey and Anastasia are up, while Christian is down), members of the English-Irish boy band, One Direction, and popular sitcom actress, Betty White.
Carrie Mazur of Gaithersburg, Md., chose the name Aidan for her son because she and her husband loved how it sounds.
"It also means 'little fire,' which sums up his in utero antics and life since birth," quipped the mother of two. "What's becoming more important to new parents is finding a name with meaning," Murray said, noting that Sophia means "wisdom."
Tell us on Facebook – what names do you like best? 
Bing: Unique baby names 2012
Read the full story at Today Moms. 
Photo: Kristin Duvall/Getty Images
More on MSN Living: 
The reality of being a work at home mom
The secret life of a stay-at-home mom
10 hot trends in baby products
News, stories, tips and laughs for moms & dads
Learning these 10 things is a good base with which to begin the tough preteen and teen years. Helping our children maneuver life is our jobs as parents, even if we haven't quite figured it all out ourselves yet.

In a few short weeks you'll be dropping your child off at college, where they'll spend the next four years learning, laughing, and probably partying. Of course, in true teen fashion, your child has already started shopping for their dorm room essentials. Don't panic just yet!

When tots burst through the door after a busy day at school, the first order of business is securing a snack.

The only thing more important than what you pack your child for lunch is what you pack it in.

Frustrated mom invents Ignore No More app

Do you have the right mix of moms surrounding you?

It's hard to keep young kids entertained while being confined indoors, but fear not, for we have some fun ideas to keep the entire family from climbing the walls during rainy days.

Back in our day, ending up with the same exact backpack as your BFF was a legitimate back-to-school concern. Nowadays? There are so many options, it's dizzying!

It is a parent's eternal dilemma: What do I make the kids for lunch today? And tomorrow? And next week? We fall into ruts, succumb to the tried-and-true, give in to our children's demands for junk food. No more! These school lunch ideas—for everything from sandwiches to snacks to hot meals—will freshen up your daily routine, so much so you may be tempted to make them for yourself.

Whether your kids have recently gone back to school or are preparing to go shortly, it's never too late to start thinking about how we can make this year successful and low-stress, both for our kids and ourselves. With that, here are 6 things parents might want to stop doing this year in order to make it the best one yet...for all of you!

Some families spend their after-dinner time playing card games, watching television, or prepping for the next day. And that is fine and dandy, but be sure to incorporate some new, fun games and activities into your evenings to keep it fresh and exciting during the school year.

Head back to school in style with these fashionable, affordable picks