Toddler death raises concern over car seat rules
Motor vehicle injuries are the leading cause of death among children in the U.S., many can be prevented.
A Las Vegas family is devastated after their 3-year-old was killed in a crash on Monday, reports KTNV.com.
Emily Kay was killed when the car her father was driving was struck by an SUV.  Las Vegas police say Emily was riding in a booster seat rather than a car seat with a built-in harness, reports KTNV.com. Her father, Casey Barringer is in critical condition.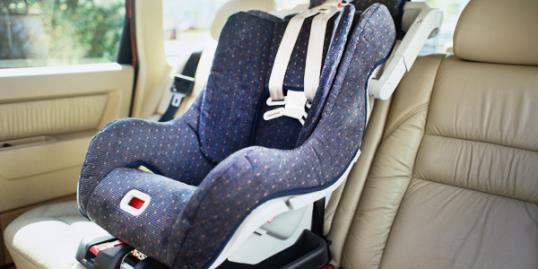 "You should never put a child under 40 pounds in a backless booster seat that only uses the adult-sized safety belt as a restraint," Jeanne Cosgrove Marsala, the director of Safe Kids at Sunrise Children's Hospital was quoted. "You should keep a child in a car seat with an over-the-head harness for as long as possible."
More from MSN Living: 11 mom sayings it's okay to ditch
How can injuries to children in motor vehicles be prevented? Take a look at these child passenger safety facts:
In the U.S. during 2009, 1,314 children ages 14 years and younger died as occupants in motor vehicle crashes, and approximately 179,000 were injured.
Placing children in age- and size-appropriate car seats and booster seats reduces serious and fatal injuries by more than half.
Child safety seats reduce the risk of death in passenger cars by 71 percent for infants, and by 54 percent for toddlers ages 1 to 4 years.
According to researchers at the Children's Hospital of Philadelphia, for children 4 to 7 years, booster seats reduce injury risk by 59 percent compared to seat belts alone.
Child restraint systems are often used incorrectly. One study found that 72 percent of nearly 3,500 observed car and booster seats were misused in a way that could be expected to increase a child's risk of injury during a crash.
More from MSN Living: The top 10 worst moments in mom judgment
"No one really realizes how quickly it can happen," Ashley Orr, Casey's fiancé was quoted. "It happens in an instant, but the damage is permanent. Our little girl didn't make it. People need to realize that even one tiny mistake, can make all the difference."
Parents and caregivers, do you set a good example for your children and buckle up every time?
Bing: Alarming statistics on children and car accidents
More from the Family Room:
Library reconsiders ban on children
Districts look to beef up school safety with panic buttons
Love content like this? Friend us on Facebook, follow us on Twitter and find us on Pinterest
Photo: Ryan McVay/Getty Images
family: tips, trends & advice for all things family
One of the most unsettling consequences of bringing a child into your previously simple, happily oblivious manly life is that you're now unquestionably, inescapably…The Man.

Whether it was baby's first kick or the first time your boobs leaked in public, there's a point in every mom's life when the world as you know it ends and you realize -- Whoa, I'm someone's mom now. Some of our favorite mommy bloggers revealed what their aha moments were. They range from heartwarming to completely hilarious.

From DIY jewelry to homemade "flowers" to sweet vases, you can help your kid make mom's day with these crafty gifts.

The first parenting shock: They let you take the baby home. Like, without supervision. Only then do the real surprises unfold. Here's what readers told us was most unexpected for them as they embraced this whole mama thing.

Be prepared to say, 'awww,' multiple times while flipping through this collection super-sweet stuff for babies and kids on Etsy.com. Take a peek at some of our favorite finds for moms (and click 'More' to find out how to get this amazing gnome hat!)...By MSN Living editors

Your Mother's Day plans are all set, right? Brunch is booked and a fabulous gift is wrapped and ready to go. So take a breather and celebrate these stylish celebrity moms who work hard, care for their kids, and manage to look amazing in the process.

Find out this year's top baby names on Parenting.com, and see what we predict will be big in 2013

Sophia and Jacob reign supreme.

In an online contest, Parenting.com asked readers to tell us what it means to "have it all." Read the winner's moving essay on how that phrase has defined her motherhood, plus essays from the three runners up.

Tow lot employee finds abandoned pup.

Animals, says Dr. Patty Khuly, are the best listeners in the world and don't care that you've just been dumped or laid off.

Ask a mom if she's happier now that she has a child and she'll usually say yes.