Toddler death raises concern over car seat rules
Motor vehicle injuries are the leading cause of death among children in the U.S., many can be prevented.
A Las Vegas family is devastated after their 3-year-old was killed in a crash on Monday, reports KTNV.com.
Emily Kay was killed when the car her father was driving was struck by an SUV.  Las Vegas police say Emily was riding in a booster seat rather than a car seat with a built-in harness, reports KTNV.com. Her father, Casey Barringer is in critical condition.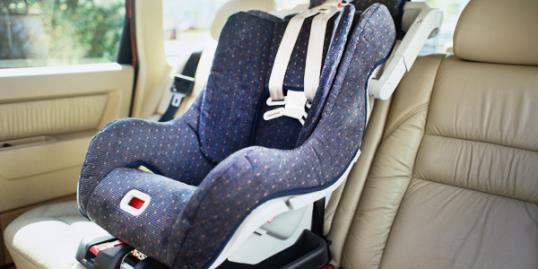 "You should never put a child under 40 pounds in a backless booster seat that only uses the adult-sized safety belt as a restraint," Jeanne Cosgrove Marsala, the director of Safe Kids at Sunrise Children's Hospital was quoted. "You should keep a child in a car seat with an over-the-head harness for as long as possible."
More from MSN Living: 11 mom sayings it's okay to ditch
How can injuries to children in motor vehicles be prevented? Take a look at these child passenger safety facts:
In the U.S. during 2009, 1,314 children ages 14 years and younger died as occupants in motor vehicle crashes, and approximately 179,000 were injured.
Placing children in age- and size-appropriate car seats and booster seats reduces serious and fatal injuries by more than half.
Child safety seats reduce the risk of death in passenger cars by 71 percent for infants, and by 54 percent for toddlers ages 1 to 4 years.
According to researchers at the Children's Hospital of Philadelphia, for children 4 to 7 years, booster seats reduce injury risk by 59 percent compared to seat belts alone.
Child restraint systems are often used incorrectly. One study found that 72 percent of nearly 3,500 observed car and booster seats were misused in a way that could be expected to increase a child's risk of injury during a crash.
More from MSN Living: The top 10 worst moments in mom judgment
"No one really realizes how quickly it can happen," Ashley Orr, Casey's fiancé was quoted. "It happens in an instant, but the damage is permanent. Our little girl didn't make it. People need to realize that even one tiny mistake, can make all the difference."
Parents and caregivers, do you set a good example for your children and buckle up every time?
Bing: Alarming statistics on children and car accidents
More from the Family Room:
Library reconsiders ban on children
Districts look to beef up school safety with panic buttons
Love content like this? Friend us on Facebook, follow us on Twitter and find us on Pinterest
Photo: Ryan McVay/Getty Images
News, stories, tips and laughs for moms & dads
Baby booms are certainly fun, but the pileup of shower invites can be rough on a bank account. The challenge: Find a great gift for cheap that's cute, useful, "big" enough to count as a whole gift...and doesn't seem like you skimped. Here are eight fun, functional options I love that definitely fit the bill. And they're all under $30! By The Bump Editors

You'd be shocked at how much a choice selection of apps can change your life for the better. From a honing device for kid-friendly locations to a virtual accountant, these eleven apps belong on every parent's home screen. It may seem counterintuitive, but amping up your smartphone with these handy features will actually make unplugging that much easier, since you know you've got your bases covered. Check them out in the slideshow above, download what you will, and we bet you won't be able to remember what life was like without them.

12 playful and engaging gift ideas for babies and toddlers this season.

When it comes to being single and pregnant, it feels like everybody has their own opinion -- or way-too-nosy questions. Whether they're trying to get the "dirt" on baby's father, or asking about your quest for child support (so not their business!), people really say ridiculous things to single moms-to-be.

Thanksgivukkah, a mash-up super-holiday that magically occurs this year as Hanukkah and Thanksgiving fall on the same day, is quickly becoming every foodie's dream. It's literally a once-in-a-lifetime chance (the next one doesn't occur for another 77,798 years!) to make insanely delicious foods combining both traditions, like sweet potato latkes and pumpkin challah. Below is a round-up of some must follow Thanksgivukkah Pinterest boards!

From unsolicited advice that comes from someone without kids to real-life momzillas who always one-up baby's accomplishments, read on for the 12 worst comments new mamas have ever heard (and prepare for some serious LOLs).