Toddler death raises concern over car seat rules
Motor vehicle injuries are the leading cause of death among children in the U.S., many can be prevented.
A Las Vegas family is devastated after their 3-year-old was killed in a crash on Monday, reports KTNV.com.
Emily Kay was killed when the car her father was driving was struck by an SUV.  Las Vegas police say Emily was riding in a booster seat rather than a car seat with a built-in harness, reports KTNV.com. Her father, Casey Barringer is in critical condition.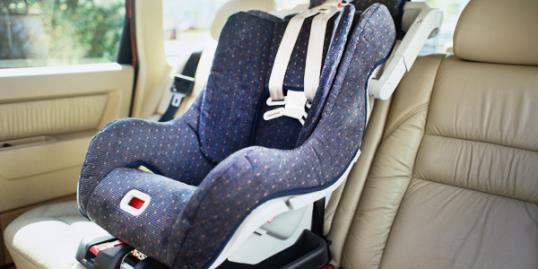 "You should never put a child under 40 pounds in a backless booster seat that only uses the adult-sized safety belt as a restraint," Jeanne Cosgrove Marsala, the director of Safe Kids at Sunrise Children's Hospital was quoted. "You should keep a child in a car seat with an over-the-head harness for as long as possible."
More from MSN Living: 11 mom sayings it's okay to ditch
How can injuries to children in motor vehicles be prevented? Take a look at these child passenger safety facts:
In the U.S. during 2009, 1,314 children ages 14 years and younger died as occupants in motor vehicle crashes, and approximately 179,000 were injured.
Placing children in age- and size-appropriate car seats and booster seats reduces serious and fatal injuries by more than half.
Child safety seats reduce the risk of death in passenger cars by 71 percent for infants, and by 54 percent for toddlers ages 1 to 4 years.
According to researchers at the Children's Hospital of Philadelphia, for children 4 to 7 years, booster seats reduce injury risk by 59 percent compared to seat belts alone.
Child restraint systems are often used incorrectly. One study found that 72 percent of nearly 3,500 observed car and booster seats were misused in a way that could be expected to increase a child's risk of injury during a crash.
More from MSN Living: The top 10 worst moments in mom judgment
"No one really realizes how quickly it can happen," Ashley Orr, Casey's fiancé was quoted. "It happens in an instant, but the damage is permanent. Our little girl didn't make it. People need to realize that even one tiny mistake, can make all the difference."
Parents and caregivers, do you set a good example for your children and buckle up every time?
Bing: Alarming statistics on children and car accidents
More from the Family Room:
Library reconsiders ban on children
Districts look to beef up school safety with panic buttons
Love content like this? Friend us on Facebook, follow us on Twitter and find us on Pinterest
Photo: Ryan McVay/Getty Images
News, stories, tips and laughs for moms & dads
Would you rather be a parent now or then?

As all the kids line up to go to school, your son, Timmy, turns to you and says, "I don't want to take the bus. My stomach hurts. Please don't make me go." You cringe and think, Here we go again. What should be a simple morning routine explodes into a daunting challenge.

The strong bonds that dogs can form are undeniable.

Think you know your pet's every unspoken wish? Think again. Your pet is unlikely to be capable of communicating her wants and needs in ways you might assume she would. Even those of you most in touch with your pets' feelings are likely missing a few cues here and there.

The Chesapeake Bay Retriever made both our readers' and veterinary professionals' lists of breeds that love the water.

You might proudly call yourself a dog owner, pet parent or canine guardian, but let's be real: Your dog owns you. You might be laughing now, but think about it — you've surrendered the best seat on the sofa to him, you plan your entire weekend around his trips to the dog park, and you take him to the groomer more often than you get your own hair cut. And let's not forget who's in every photo on your Facebook and Instagram feeds. Sound familiar? We thought so. But in case you still think you're in charge, here are seven classic signs that your dog is the one calling the shots.