Toddler death raises concern over car seat rules
Motor vehicle injuries are the leading cause of death among children in the U.S., many can be prevented.
A Las Vegas family is devastated after their 3-year-old was killed in a crash on Monday, reports KTNV.com.
Emily Kay was killed when the car her father was driving was struck by an SUV.  Las Vegas police say Emily was riding in a booster seat rather than a car seat with a built-in harness, reports KTNV.com. Her father, Casey Barringer is in critical condition.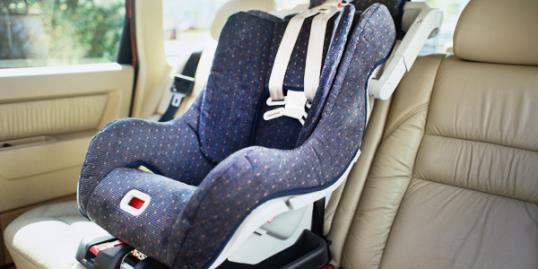 "You should never put a child under 40 pounds in a backless booster seat that only uses the adult-sized safety belt as a restraint," Jeanne Cosgrove Marsala, the director of Safe Kids at Sunrise Children's Hospital was quoted. "You should keep a child in a car seat with an over-the-head harness for as long as possible."
More from MSN Living: 11 mom sayings it's okay to ditch
How can injuries to children in motor vehicles be prevented? Take a look at these child passenger safety facts:
In the U.S. during 2009, 1,314 children ages 14 years and younger died as occupants in motor vehicle crashes, and approximately 179,000 were injured.
Placing children in age- and size-appropriate car seats and booster seats reduces serious and fatal injuries by more than half.
Child safety seats reduce the risk of death in passenger cars by 71 percent for infants, and by 54 percent for toddlers ages 1 to 4 years.
According to researchers at the Children's Hospital of Philadelphia, for children 4 to 7 years, booster seats reduce injury risk by 59 percent compared to seat belts alone.
Child restraint systems are often used incorrectly. One study found that 72 percent of nearly 3,500 observed car and booster seats were misused in a way that could be expected to increase a child's risk of injury during a crash.
More from MSN Living: The top 10 worst moments in mom judgment
"No one really realizes how quickly it can happen," Ashley Orr, Casey's fiancé was quoted. "It happens in an instant, but the damage is permanent. Our little girl didn't make it. People need to realize that even one tiny mistake, can make all the difference."
Parents and caregivers, do you set a good example for your children and buckle up every time?
Bing: Alarming statistics on children and car accidents
More from the Family Room:
Library reconsiders ban on children
Districts look to beef up school safety with panic buttons
Love content like this? Friend us on Facebook, follow us on Twitter and find us on Pinterest
Photo: Ryan McVay/Getty Images
News, stories, tips and laughs for moms & dads
Family had lived in Portugal for several years

Dining hall food, delish? Yes! With a little know-how and maybe a few minutes waiting to use the communal microwave, you can DIY concoctions that are healthy, yummy, and will definitely keep you from snoozing through your afternoon classes.

The dog days of summer may be well behind us, but that doesn't mean it's time to pack in the outdoor adventures quite yet.

Between the Halloween costume sewing and pumpkin patch outings, you probably don't have time to give your little one's nursery a full-blown Fall makeover. But luckily there are plenty of simple, sweet ways to incorporate the season.

During the prekids phase of marriage, the focus of your relationship is on a party of two, and if you're lucky, it's pretty blissful.

From about first grade all the way through college, back-to-school shopping meant color-coded lists and endless trips to the local Target. There's nothing like the giddy feeling of writing in a brand new planner (with colored pens of course). Maybe it was just my OCD kicking in, but getting organized for the new school year felt therapeutic in a Martha Stewart sort of way.

Every year, my mother insisted on the classic first day of school photo—uniform on, hair bow in place, plus frilly socks and Mary Janes, of course. But no photo opp was complete without my Kipling backpack that was about as big as I was (at least until 2nd grade or so).

Some people make big resolutions right before New Year's Eve, others on their birthdays, but mine always happen while back-to-school shopping. Something about the pristine, blank pages of my untouched notebooks and crisp, un-sharpened pencils has always made me feel like anything's possible: This will be the year I actually write down my assignments. I'm going to hole-punch and and organize all my handouts. No more showing up to class unprepared!

A special relationship that's worth noting.

You might have more in common than you think.

Feeling outsmarted by your little? So is this mother.

How can it possibly be that time again already? The summer has practically just begun and yet there they are, the school supplies lining store shelves, the new backpack trends, the wardrobe possibilities for our little ones. Here's what moms really think when it's time to prep for back to school...