Kid adopted by gay dad writes letter in support of gay marriage
Meet Daniel Martinez-Leffew, a 12-year-old boy from California who wrote a letter to Supreme Court Chief Justice John Roberts urging him strike down Proposition 8.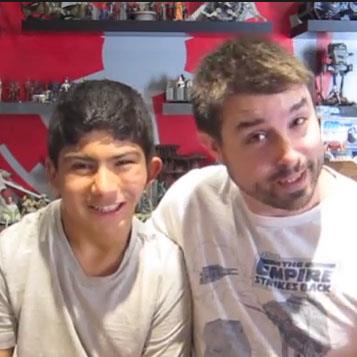 By Leonora Desar
Meet Daniel Martinez-Leffew, a 12-year-old boy from California who wrote a letter to Supreme Court Chief Justice John Roberts urging him to end the ban on gay marriage and strike down Proposition 8. 
In a moving video, Daniel reads aloud from his letter, which talks about how he and his sister Salina were adopted by their two dads when he was 5. Daniel had been told in foster care that he was "unadoptable" because he has Goldenhar syndrome, a genetic disorder that affects the whole left side of his body. "I lost my little brother Emilio because some people wanted to adopt him, but they weren't willing to adopt me because of my medical conditions," said Daniel as he read aloud from the letter. "Lucky for me, that's when my two dads came along." 
Daniel goes on to write about how he recently discovered that Roberts adopted a boy and a girl, which reminded him of him and his sister. 
Plus: AAP Strongly Supports Gay Marriage 
"Family means a lot of different things to different people, but some people believe that you have to have the same blood to be a family," wrote Daniel. "You and I both know that family goes deeper than blood. I was lucky to be adopted by two guys I could both call dad. They give me and my sister so much love." 
Later he adds, "I know you have a tough decision to make with the gay marriage issue, but my family is just as valuable and worthwhile as any other … If Prop 8 is allowed to stand, imagine the pain we would feel knowing that we are not considered equal to everyone else." 
Daniel was inspired to write the letter during a conversation at dinner where he learned that Roberts had two adopted children, reports NBC Latino. Daniel's dad Bryan Leffew said that the family had been talking about how John Eastman, the leader of the National Organization for Marriage, had called Roberts' decision to adopt "a second-best option." 
"Something just hit home for Daniel and he decided to write the letter," Leffew told NBC Latino. "It took him about a day to write. We went through and read what he wrote and were blown away.  
Plus: Gay Parents More Accepted Than Single Moms 
"The best thing would be for people to realize that two people of the same sex is not something that's scary," Leffew told NBC Latino. "It's two people falling in love, which a lot of people do every day. We want people to see that our kids will grow and thrive just like everybody else's kids do."
More from Parenting.com:
The Same-Sex Parents Next Door
News, stories, tips and laughs for moms & dads
6-year-old has rare brain condition

He wanted to know if woman was pregnant

Did your state make the grade?

A new dad finds an Epcot Center's worth of innovation after expecting none at all.

Alcohol and tattoos are not meant for the pre-teen set

But Debra Harrell now has custody of daughter again

I am probably not the first to tell you this: Kids come with lots of stuff. Even if you try to be as minimal as possible, the little creatures require an awful lot to keep things running smoothly. Here's a master-plan slideshow of ways to cut corners on space in every room to accommodate all the things that come along with kids.

You never know for certain what type of parent you'll be until you've actually become one and your parenting style, as it becomes evident, may surprise you. Here are 4 parenting books to help you figure it all out.

Sunshine! Camping! Pool parties! BBQs! The sunny season is here and to help you make the most of it, we've hand-picked 7 great products to make this summer the best your family has ever had. Click through for our list to inspire your sunny day fun. From our sponsor: Walmart

We all love a picnic. But do one quick search for 'picnic ideas' on Pinterest and you're instantly teleported into a land of overachieving home chefs clearly looking for their big break on Food Network. Well, never mind that, we say. Scratch the 25-ingredient recipes and the incessant trips to the craft store for that perfect tablescape. Here are 5 truly simple picnic ideas that will look great, taste great, and make you feel like the winner you are! From our sponsor: Walmart

Admit it — you do these things, too! And that's OK. But maybe — just maybe — it's time to think about changing things up a little bit, for the sake of your sanity, your relationship with your kids, and because life's too short.

We asked veterinary experts and readers which breeds they think and if it is OK to shave longhaired pets in the summer.