Kid adopted by gay dad writes letter in support of gay marriage
Meet Daniel Martinez-Leffew, a 12-year-old boy from California who wrote a letter to Supreme Court Chief Justice John Roberts urging him strike down Proposition 8.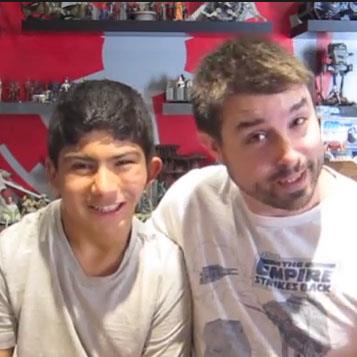 By Leonora Desar
Meet Daniel Martinez-Leffew, a 12-year-old boy from California who wrote a letter to Supreme Court Chief Justice John Roberts urging him to end the ban on gay marriage and strike down Proposition 8. 
In a moving video, Daniel reads aloud from his letter, which talks about how he and his sister Salina were adopted by their two dads when he was 5. Daniel had been told in foster care that he was "unadoptable" because he has Goldenhar syndrome, a genetic disorder that affects the whole left side of his body. "I lost my little brother Emilio because some people wanted to adopt him, but they weren't willing to adopt me because of my medical conditions," said Daniel as he read aloud from the letter. "Lucky for me, that's when my two dads came along." 
Daniel goes on to write about how he recently discovered that Roberts adopted a boy and a girl, which reminded him of him and his sister. 
Plus: AAP Strongly Supports Gay Marriage 
"Family means a lot of different things to different people, but some people believe that you have to have the same blood to be a family," wrote Daniel. "You and I both know that family goes deeper than blood. I was lucky to be adopted by two guys I could both call dad. They give me and my sister so much love." 
Later he adds, "I know you have a tough decision to make with the gay marriage issue, but my family is just as valuable and worthwhile as any other … If Prop 8 is allowed to stand, imagine the pain we would feel knowing that we are not considered equal to everyone else." 
Daniel was inspired to write the letter during a conversation at dinner where he learned that Roberts had two adopted children, reports NBC Latino. Daniel's dad Bryan Leffew said that the family had been talking about how John Eastman, the leader of the National Organization for Marriage, had called Roberts' decision to adopt "a second-best option." 
"Something just hit home for Daniel and he decided to write the letter," Leffew told NBC Latino. "It took him about a day to write. We went through and read what he wrote and were blown away.  
Plus: Gay Parents More Accepted Than Single Moms 
"The best thing would be for people to realize that two people of the same sex is not something that's scary," Leffew told NBC Latino. "It's two people falling in love, which a lot of people do every day. We want people to see that our kids will grow and thrive just like everybody else's kids do."
More from Parenting.com:
The Same-Sex Parents Next Door
News, stories, tips and laughs for moms & dads
What are we teaching our children when we focus on their achievements rather than their kindness?

Discover the seemingly insignificant things that can affect your chances of getting pregnant.

A thrill-obsessed subculture claimed another life this week.

A few suggested answers for the diciest questions

Must-haves for every mommy on the road

Here's our list of fifteen moms in the food industry that deserve some recognition.

The site gets high marks for its user-friendly interface and excellent and responsive customer service. And the reviews are also pretty accurate. Compare amenities and prices next to a hotel's in the same area, and you're likely to see Airbnb come out on top.

We captured a frame-by-frame look just for you.

Other moms can be ruthless when it comes to picking apart your parenting choices. From dissing your decision to go back to work to criticizing when you started baby on solids, here are the most ridiculous comments moms have heard. Bonus, we've got just the right way to respond to the haters! You're welcome.

Nope, you don't have to spend the next nine months in black elastic-waist pants and oversize sweaters. And you don't have to shell out a fortune on your "temporary" wardrobe either. Check out these stylish and affordable maternity clothes.

Because society crumbles without us

Another kid figured out how to get into a claw machine.