Kid adopted by gay dad writes letter in support of gay marriage
Meet Daniel Martinez-Leffew, a 12-year-old boy from California who wrote a letter to Supreme Court Chief Justice John Roberts urging him strike down Proposition 8.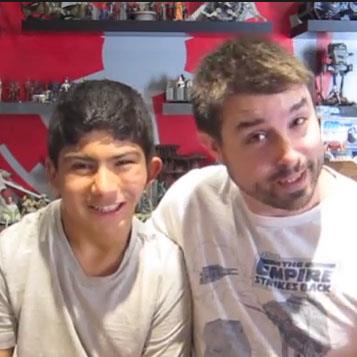 By Leonora Desar
Meet Daniel Martinez-Leffew, a 12-year-old boy from California who wrote a letter to Supreme Court Chief Justice John Roberts urging him to end the ban on gay marriage and strike down Proposition 8. 
In a moving video, Daniel reads aloud from his letter, which talks about how he and his sister Salina were adopted by their two dads when he was 5. Daniel had been told in foster care that he was "unadoptable" because he has Goldenhar syndrome, a genetic disorder that affects the whole left side of his body. "I lost my little brother Emilio because some people wanted to adopt him, but they weren't willing to adopt me because of my medical conditions," said Daniel as he read aloud from the letter. "Lucky for me, that's when my two dads came along." 
Daniel goes on to write about how he recently discovered that Roberts adopted a boy and a girl, which reminded him of him and his sister. 
Plus: AAP Strongly Supports Gay Marriage 
"Family means a lot of different things to different people, but some people believe that you have to have the same blood to be a family," wrote Daniel. "You and I both know that family goes deeper than blood. I was lucky to be adopted by two guys I could both call dad. They give me and my sister so much love." 
Later he adds, "I know you have a tough decision to make with the gay marriage issue, but my family is just as valuable and worthwhile as any other … If Prop 8 is allowed to stand, imagine the pain we would feel knowing that we are not considered equal to everyone else." 
Daniel was inspired to write the letter during a conversation at dinner where he learned that Roberts had two adopted children, reports NBC Latino. Daniel's dad Bryan Leffew said that the family had been talking about how John Eastman, the leader of the National Organization for Marriage, had called Roberts' decision to adopt "a second-best option." 
"Something just hit home for Daniel and he decided to write the letter," Leffew told NBC Latino. "It took him about a day to write. We went through and read what he wrote and were blown away.  
Plus: Gay Parents More Accepted Than Single Moms 
"The best thing would be for people to realize that two people of the same sex is not something that's scary," Leffew told NBC Latino. "It's two people falling in love, which a lot of people do every day. We want people to see that our kids will grow and thrive just like everybody else's kids do."
More from Parenting.com:
The Same-Sex Parents Next Door
News, stories, tips and laughs for moms & dads
As all the kids line up to go to school, your son, Timmy, turns to you and says, "I don't want to take the bus. My stomach hurts. Please don't make me go." You cringe and think, Here we go again. What should be a simple morning routine explodes into a daunting challenge.

Learning these 10 things is a good base with which to begin the tough preteen and teen years. Helping our children maneuver life is our jobs as parents, even if we haven't quite figured it all out ourselves yet.

We've all seen her... But should we judge her?

Unique, or downright strange?

In a few short weeks you'll be dropping your child off at college, where they'll spend the next four years learning, laughing, and probably partying. Of course, in true teen fashion, your child has already started shopping for their dorm room essentials. Don't panic just yet!

When tots burst through the door after a busy day at school, the first order of business is securing a snack.

The only thing more important than what you pack your child for lunch is what you pack it in.

Frustrated mom invents Ignore No More app

Do you have the right mix of moms surrounding you?

It's hard to keep young kids entertained while being confined indoors, but fear not, for we have some fun ideas to keep the entire family from climbing the walls during rainy days.

Back in our day, ending up with the same exact backpack as your BFF was a legitimate back-to-school concern. Nowadays? There are so many options, it's dizzying!

It is a parent's eternal dilemma: What do I make the kids for lunch today? And tomorrow? And next week? We fall into ruts, succumb to the tried-and-true, give in to our children's demands for junk food. No more! These school lunch ideas—for everything from sandwiches to snacks to hot meals—will freshen up your daily routine, so much so you may be tempted to make them for yourself.